Easy Cheesecake Recipe
Does your family have that one dish that everyone looks forward to during the holidays? Well, for my family it is my aunt's cheesecake which she makes using this really Easy Cheesecake Recipe! I mean my WHOLE FAMILY looks forward to this delicious and creamy cheesecake. My aunt even makes extra so that some of us get to take a whole cheesecake home with us (she's amazing)! For years I have thought this sweet treat had to be difficult to make and probably used more ingredients that I care for. Well, the recipe was recently shared with the rest of us and I couldn't believe my eyes! There are literally only 5 ingredients to make this Easy Cheesecake Recipe and it is so simple to make my jaw dropped!  We recently tried it with our Salted Caramel recipe and it's amazing too!  There are so many ways to serve this dessert!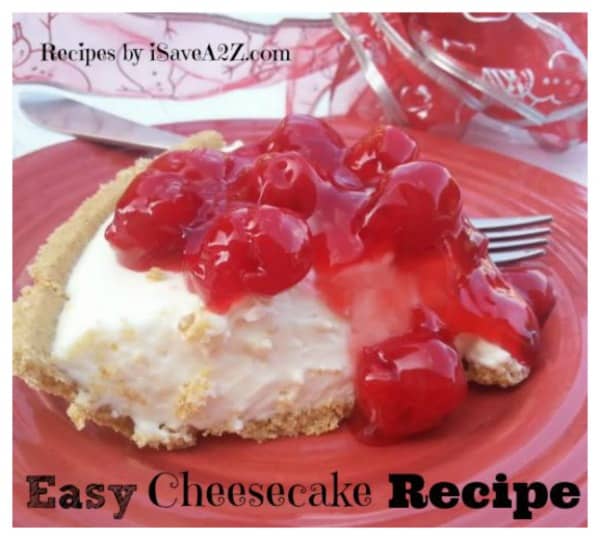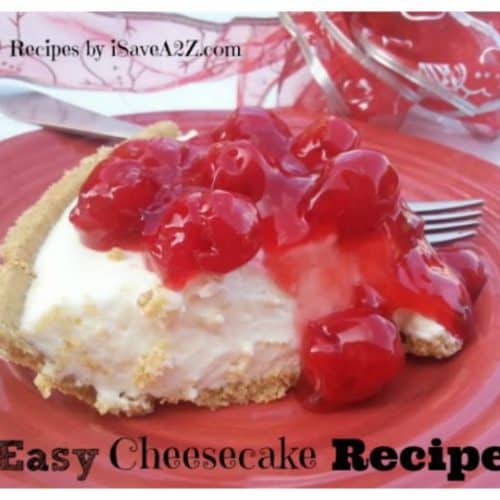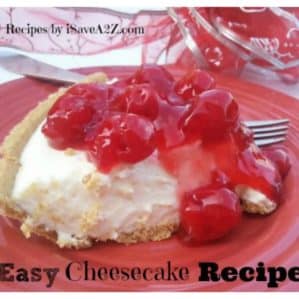 Easy Cheesecake Recipe
Instructions
Lay cream cheese out until it is softened.

Put all ingredients into a bowl and mix until smooth.

Pour mixture into graham cracker pie crust and chill in refrigerator until set (about 30 minutes).
Notes
The "cook time" listed is actually the time in the refrigerator.
Nutrition facts are provided as a courtesy.
See….I told you this was one Easy Cheesecake Recipe! We like to top our cheesecake with cherries! My aunt always buys a can of cherry pie filling for us to drizzle on top. Strawberries, caramel sauce or toffee pieces would also be great. For me, I like this just the way it is, with no topping at all. This really is a tasty treat and doesn't need to be dressed up at all! Another great thing about this recipe is that you can make it ahead of time and just keep it in the fridge until you need it.