Santa Belt Table Runner
I am off and running with the Santa Belt theme this year! And since our Santa Belt Christmas Wreath turned out so cute, we decided to carry it over to our table and make a Santa Belt Table Runner too! The actual runner only took three simple supplies to make and I had two of them left over from my wreath. I added in a few festive accessories, which I already had around the house, and our table is holiday ready! This Santa Belt Table Runner was so simple to do and we had it finished in no time.
Supplies:
1 piece of fabric cut to fit the length of your table plus a few inches to hang over the ends if desired. You can choose any kind of fabric you like and in any pattern that fits with your holiday decor. Who says the Santa suit has to be red??
Black Ribbon – This is the same 2 inch thick ribbon that I used for my Santa Belt Christmas Wreath. One spool got me through both projects and I still have some left over.
1 sheet of gold or silver glittery craft paper.
Step 1:
Lay your fabric out lengthwise on your table and center it how you want it to be. If you have a raw piece of fabric, you may want to fold the edges underneath and iron them down for a cleaner look. I ended up going with a dark red burlap for my fabric. As you can see, I had to piece mine together in the middle because it was actually cut for another project and then I changed my mind 🙂 But…I love the rustic look of the red burlap, and I really liked the look of the fringed edges.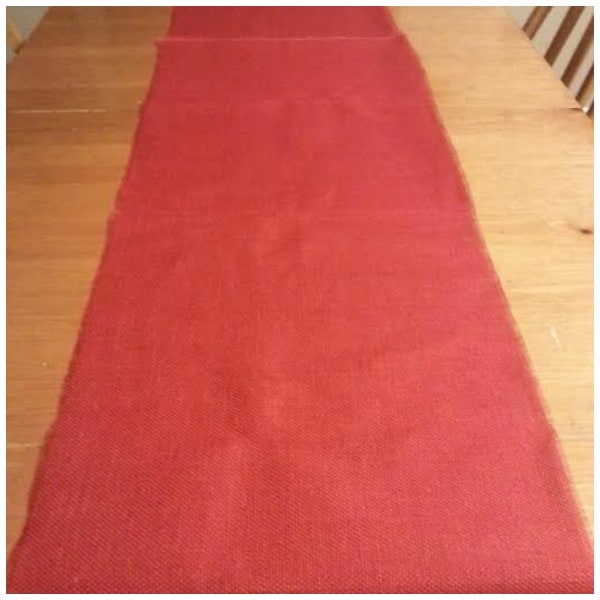 Step 2:
Cut a piece of ribbon the same length as your piece of fabric. Then, cut a buckle out of the glittery craft paper and string your ribbon through it. Lay the ribbon down the center of the fabric and attach it at the ends. I used 2 safety pins, one on each end, to pin my ribbon and fabric together.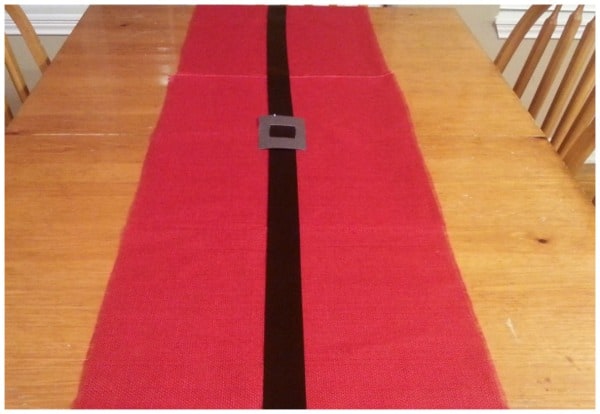 Step 3:
Accessorize your table with ornaments, flowers or any little finishing touches you prefer. We used candy, some extra ornaments we had and made a Wine Glass Lamp Shade for one of our country wineglasses.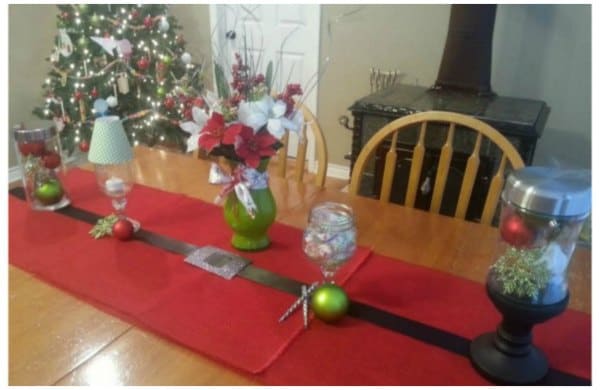 Another easy project done! If you like these Santa Belt crafts we have been doing, don't forget to try the Santa Ornament Craft too!