DIY: Drab To FAB Folding Chair
Drab To Fab Folding Chair
Check out my Drab To Fab Folding Chair that I recently finished! Remember that kids area I told you I was working on for homework and crafts? Well, this is another piece of the puzzle. It turned out AMAZING and was really cheap to do! This started as a garage sale find that I got for just $5!
I started by cleaning up the chair and removing the seat cushion. If you've never done this before, it's super easy. There are four screws holding it on (see below), so just remove those and pull the seat off.
I purchased an 18×18 decorative pillow cover from a local craft store for just $6.99 and used a 50% off coupon! So my final cost was $3.50 plus tax and that gave me the fabric I needed for both chairs. All you have to do with the pillow cover is cut the zipper out with scissors and then cut the seam apart so that you have two separate pieces of fabric. Obviously you can get any fabric you like, but this worked great for me.
Next, lay out the fabric (design side down) and place your seat, padded side down, in the middle. Pull the fabric tight over the edges and use a staple gun to attach it.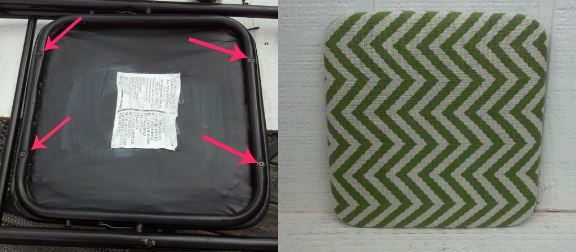 Simply re-attach your seat with the four screws you removed earlier! So the seat looked great but I still had the padded back and it just didn't look right.
I know this is going to sound CRAZY, but I decided to spray paint it! The spray paint I had could be used on fabric, and vinyl is fabric, right?? I had spray paint from my Tin Can Crafts project I did earlier, so no extra cost there.
I covered the chair and taped off the areas that I didn't want to get painted and went at it. It didn't look promising at first, but after several light coats and letting it dry for a few hours, it looked AMAZING!!!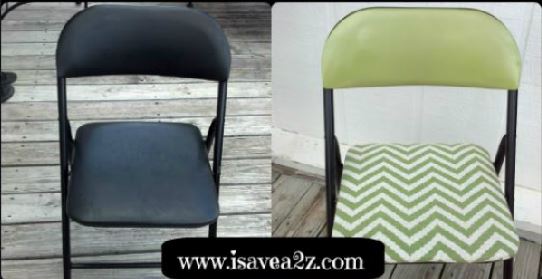 I was so happy with the chairs and they looked great at my kids table. I did end up getting some vinyl letters and adding their names to the chairs…SO CUTE!
We have a lot of black furniture in our house anyway, so this totally fit in. The table I used was given to me for FREE! I just spray painted the legs black and it was a total transformation.  You could also use our chalk paint technique because there's no prep work when painting furniture with that either.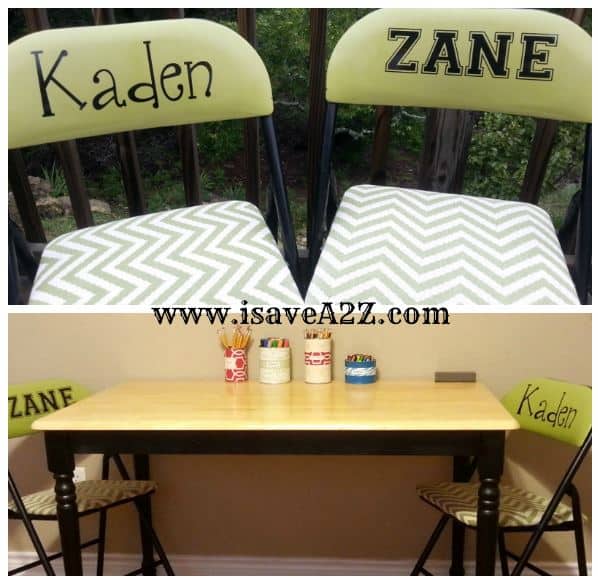 What do you think??  Leave a comment below!
Also check out some of our other crafts! Such as our: