Chalk Paint Recipe
I've been wanting to make my own chalk paint recipe for some time now. I scored a few awesome tables from a garage sale for only $5 each! Now was the time to test my homemade chalk paint recipe and technique. By the way, if you haven't read my Garage sale series yet, check it out here. It's amazing the stuff you can find at garage sales!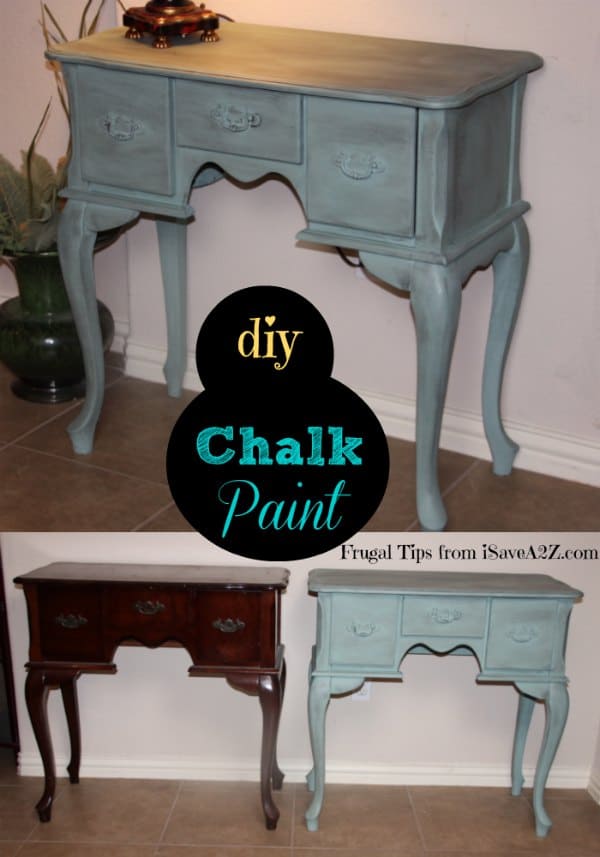 Chalk Paint Recipe
There are all kinds of chalk paint recipes on the net but how do you know what really works? You have to just dig in and try it and that's exactly what I did. Let me start off my telling you that the most popular chalk paint for furniture (or anything else) is Annie Sloan chalk board paint.
It's amazing stuff but it's also a pretty penny. You have to buy the paint, the clear wax and if you want a dark look you will also need the dark wax. I would highly suggest using Annie Sloan chalk paint for major projects such as a dining room table or kitchen cabinets for sure. I was not about to drop that kind of cash for a couple of $5 tables though.
Colors of Chalk Paint
Not gonna do it! One of the most popular colors of Annie Sloan paint is the Duck Egg Blue. I found the Behr "Green Meets Blue S-430-4" color is almost identical to it so that's what I used. Oh, one other thing.
If you have a beautiful piece of real wood furniture that has scratches, you may want to try this DIY Oil and Vinegar Furniture scratch removal recipe.
It's an old recipe my grandma used to make back in the day. It was her furniture polish solution and it works wonders on scratches!
Ingredients needed for homemade chalk paint: (this recipe will give you enough to do a small table)
1 jar of 7.5 or 8 oz sample size paint (I these photos I used Behr color: Green meets blue S430-4 that was only $2.59 at Home Depot)
2 1/2 tablespoons of Plaster of Paris (dry mix)
1 tablespoon of water (keep more on hand because you may need it as you go)
2 bowls
1 large paint brush
1 small paint brush
2 spoons for mixing
1 small wet wash cloth
1 can of Paste finishing wax
Optional: Antiquing glaze or Metallic paint is what I used.
Instructions for homemade chalk paint:
Start by wiping down your furniture to clear it of dust and particles. Add the sample jar of paint to one bowl. In the other bowl, add the Plaster of Paris powder and water. (Important: be sure to wear a mask.
Wear a Mask when working with Plaster of Paris
Plaster of Paris can be extremely dangerous if you inhale it) Mix until it becomes a smooth like paste. I had to keep adding a few drops of water to get that consistency. Once your plaster is smooth, add it to your colored paint and mix it until it's completely mixed in with no lumps.
Pro Tip: Keep water close by because if you paint starts to get too thick you can easily keep adding more water. I ended up adding more plaster than this recipe called for and I had to do this.
Note for chalk paint use
There's no need to sand or prime your furniture because chalk paint adheres nicely. That's one of the biggest benefits to using chalk paint on furniture. Coat your furniture with one layer of paint and let it dry.
Optional: Coat your furniture with a second layer of paint if you like a less distressed look. (this is what I did). Here's a photo of the finished painted project but before I added the metallic glaze: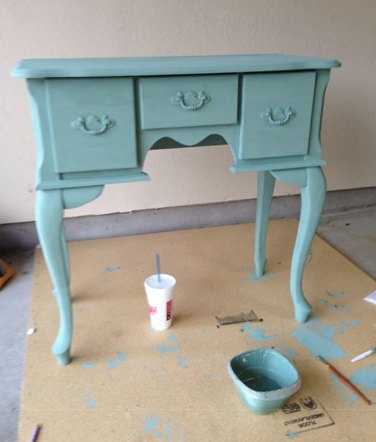 Once you have finished painting your project be sure to allow it enough time to dry. Then wipe it down with the finishing wax. The chalk paint is a bit dry and this will seal the color.
Adding another chalk paint color
If you add another color before putting the wax, the first coat of chalk paint will such up another coat. By adding the wax, it won't be as dry and won't absorb the second coat as quickly.
I did this before I put on my metallic coat of paint so that it wouldn't be too dark. I highly suggest you test what look you are going for on a scrap piece of wood before applying it.
The last optional step would be a slight amount of sanding around the edges if you are looking for that antique look. Use a fine grade sand paper sponge to achieve this look.
Now that I've created my masterpiece, I cannot wait to see what other pieces of furniture I find our local garage sales or flea markets!! Happy painting my friends!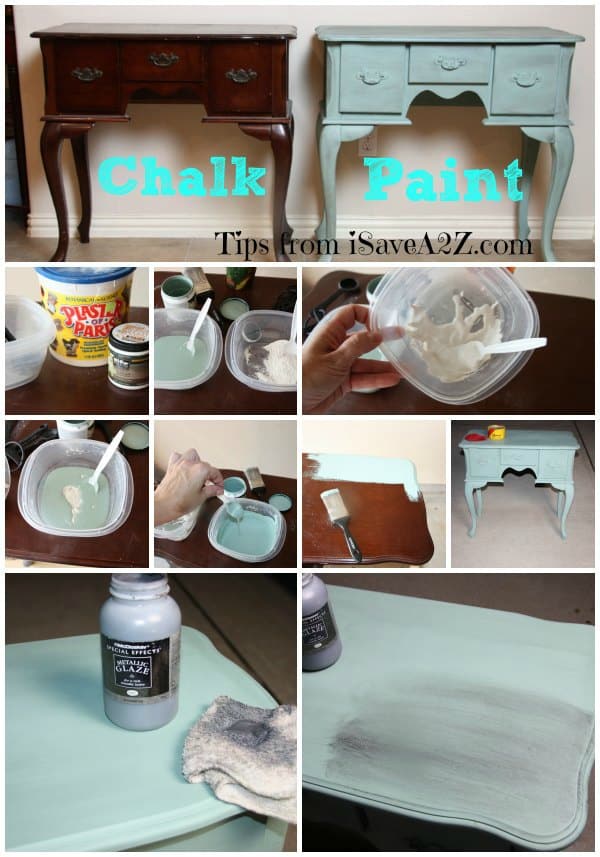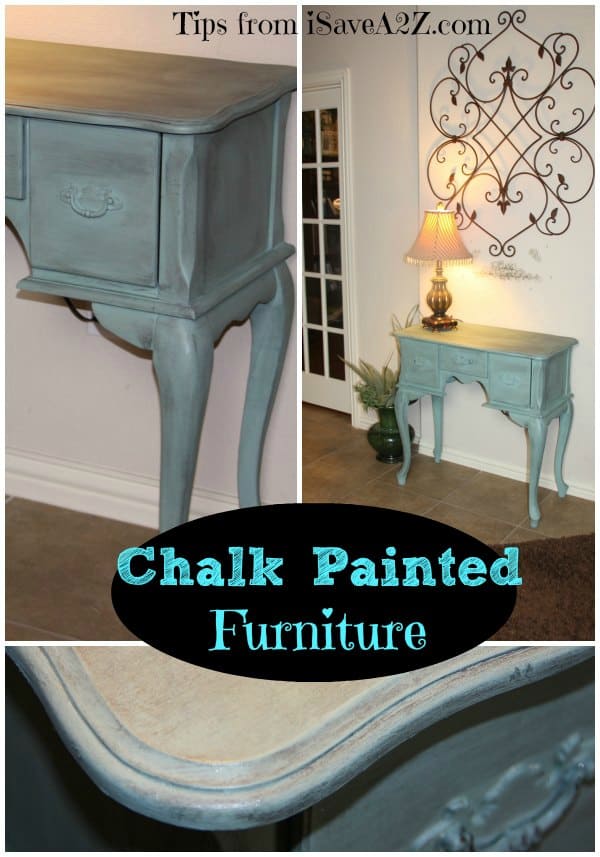 Chalk Paint Furniture DIY
Here's another before and after example. This one was a project done by a friend of mine. She was so excited after reading this article, it inspired her to update one of her furniture pieces. Beautiful!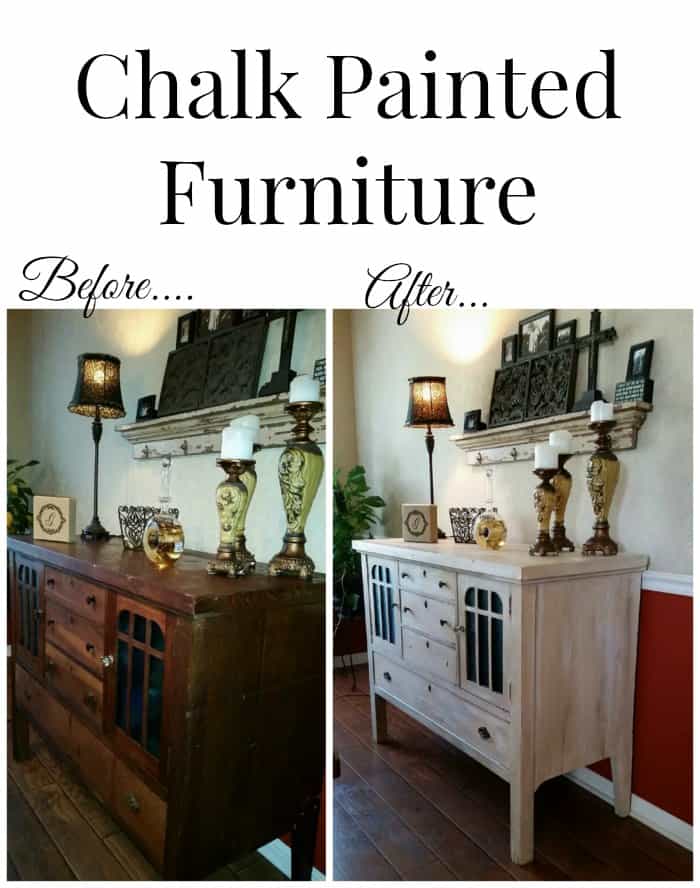 Another Chalk Paint Project
I just did another project with chalk paint!!! I'm hooked I tell ya!! Chalk paint is so easy and fun to do. I found a cute twin bed real wood bed set and a nightstand at a garage sale this morning.
I paid $15 for both pieces. They were ugly! Not when I got finished with them. What do you think?? You likey??

Have you ever made homemade chalk paint?