Fabric Wall Decals Tutorial (Easy and Fun Project for Beginners)!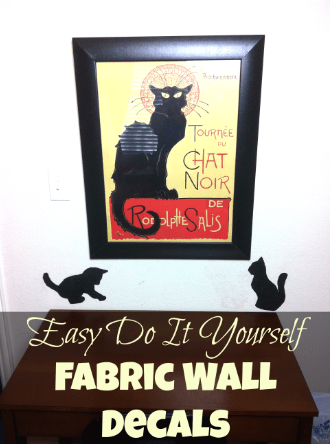 Fabric Wall Decals
My daughter and I just completed our first fabric wall decals project.  These fabric wall decals are removable too!  I rate this project easy and definitely for beginners!
There are all kinds of wall decals for the home.   I've got many plans for my bathrooms, bedrooms and even my kitchen.
You could let your imagination go wild with my huge list of ideas.
Ideas List:
Butterfly wall decals
Tropical Fish wall decals
apple wall decals
baby room wall decals (Image getting the cotton baby fabric of the same theme you already use)
soccer wall decals
fairy wall decals
animal wall decals
tree wall decals
ikea flower wall decals  (You know, those big flowers can be made out of any fabric design)
inspirational wall decals (cut out the decorative letters to create your inspiration)
dog wall decals
cat wall decals
kitchen wall decals (coffee pot, spices etc…)
sports wall decals
frog wall decals (there are lots of fabrics with frogs believe it or not)
damask wall decals (I could go crazy with this one!  Could you imagine your favorite word or inspirational saying in damask fabric print?!  U-la-la!)
Fabric Wall Decals instructions:
First, you need your idea.  Think of the room you have and how to incorporate the fabric wall decals into it.  My daughter loves cats, so of course we did cat silhouettes.  you want to pick a light cotton fabric.  The lighter the fabric the easier it is to hang.  You will be using fabric starch so this fabric wall decal will be removable once it dries.
When we were shopping at the fabric store it was easy to get inspiration just from the fabrics themselves.  There are animal prints, sports prints and tons of designs to choose from.  We saw a pretty fish print that would make very cute decals with just the fish cut out from the fabric.  I was think butterfly wall decals would be pretty interesting too because butterflies have so many different colors that could be taken from almost any fabric.  Same goes for flower wall decals.  The possibilities are endless!
Once you have your idea and fabric, next you will need some fabric starch.  I used the heavy starch.  Here are a few I found on Amazon
that you could use but you can find this at your local grocery store too.
Next you will want to cut out your designs from your fabric.  We used some cat silhouette photos we found.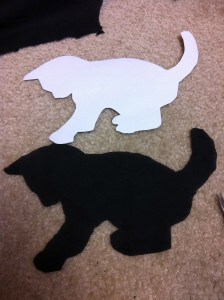 After we cut out our designs we placed them one by one in a bowl and saturated them with fabric starch.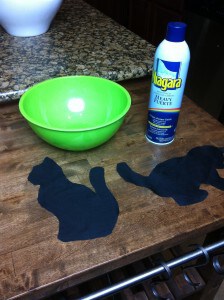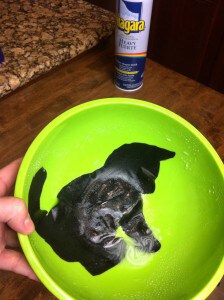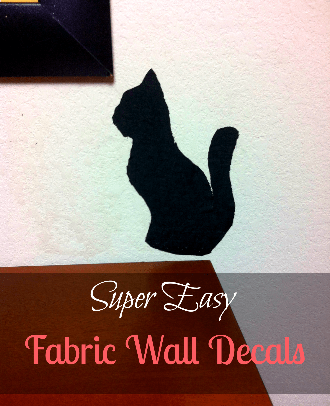 Once they were nice and wet we hung them on the wall.  We did clean the wall before hand to make sure it was clear of dirt or dust.  If you are hanging a small piece just like our cats, it will stick without sliding down but if you are doing a large piece (like a tree or something similar) you may want to cut your decal into multiple pieces and hang the pieces.  You can attached them like a puzzle and you will never know they were cut once they have dried.  Another idea for bigger pieces would be to use tacks to help them stay in place until they dry too.
Voila!  That's it!  You've completed your project (except for the clean up of course)!  See…  that was so easy!
If you ever decide to remove them, you just peel them off and wipe down the wall.  It doesn't hurt the walls at all.
Take a look at these beautiful Fabric Swatches on Amazon
and just imagine the flowers you could do with them! No need to purchase perfect swatches because the fabric store has a nice little remnants bin that always has cotton fabrics in it at highly discounted prices!
Here are a few of the fish fabrics I was referring to earlier. You could simply cut out the fish for the fabric wall decals for a cute bathroom idea! How fun would that be?!!
Here are a few kids cotton fabric print ideas:
Here are the damask prints I was referring to:
Enjoy!