Best Mother's Day Gift Idea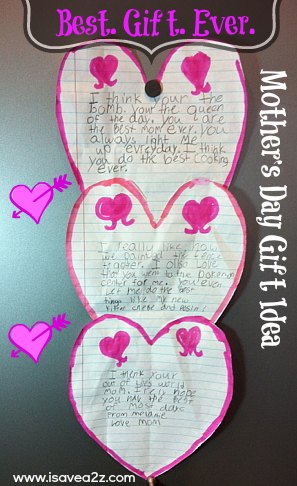 Best Mother's Day Gift Idea Ever!
My daughter insisted on giving me my Mother's Day Gift early.  I think it's the BEST. GIFT. EVER!  This just goes to show you that a gift does NOT have to cost a lot of money (or any money at all) to make a huge impact!
My Daughters Poem translation:
I think you're the bomb.  You're the queen of the day.  You are the best mom ever.  You always light me up everyday.  I think you do the best cooking ever.
I really like how we painted the fence together.  I also love that you went to the Pokemon Center for me.  You even let me do the best things like my new kitten Cheebee and Poohbear.
I think your out of this world Mom.  I really hope you have the best of most days!  From Melanie
Isn't that the sweetest and most heart felt gift a Mom could ever receive?  I THINK SO!  It had me in tears of joy!!!  This is a perfect gift idea for kids to give their Mom's on Mother's Day!!!
Here's how she made this project:
She cut out three different hearts.Write a poem to your Mom on each heart.
Tape them together
Voila!  You're done!