Fairy Garden Decorations: Fairy Door Craft Idea

Fairy Garden Decorations:  Fairy Door Craft Idea
I've been on the hunt for some good Fairy Garden Decorations lately.  Today I'm going to teach you how to make a very inexpensive fairy door out of wooden craft sticks!  This one is so easy the kids could do it (and will want too!).  You can get creative with your door too.  Pick your favorite color and let your imagination go wild.
Fairy Garden Door Craft Idea Supply List:
Large, wooden craft sticks
Craft glue or hot glue, glue gun
Small wooden knobs (found at your local craft store for less than $3 a bag)
Assorted craft paints in colors of your choice  (I use these kind of paints for most of my crafts)
Directions to make your Fairy Garden Door:
1. Begin by placing 4 sticks side by side. You do not need to glue them, just place them closely together.
2. Place a generous dab of glue in the four corners of the square you have just made.
3. Place a 5th stick diagonally across the four sticks. The ends of this stick should rest on two of the glue dabs.
4. Place a 6th stick going in the opposite diagonal direction. The ends should cover the remaining glue dabs. All of your sticks should now be attached together securely and a door shape will form.
5. You can now paint your door. We applied two coats of spray paint in the color of our choice.
6. Color the wooden knob the color of your choice. You can match or do something contrasting. When dry, glue the knob to the side of the door. You will now see your door formed and ready to go.
7. Apply any additional decals or embellishment you wish. You can use paint, beads, stickers, etc.
Once dry, place your fairy door at the base of a tree trunk. You can secure it with glue, a nail, hardware, or just let it prop against the trunk for display.
PRO TIP:  Be sure to seal your paint!  It will last longer outdoors if you do!  I used this sealer and it works great!
We later added this super cute miniature Fairy Garden Bridge with blue rocks underneath it.  So cute! I just ordered this Miniature Fairy Garden Vine Twig Bench
and I can't wait to add it to my display.  This Fairy Garden Decoration set has been in and out of stock on Amazon for weeks now!  It's a HOT item!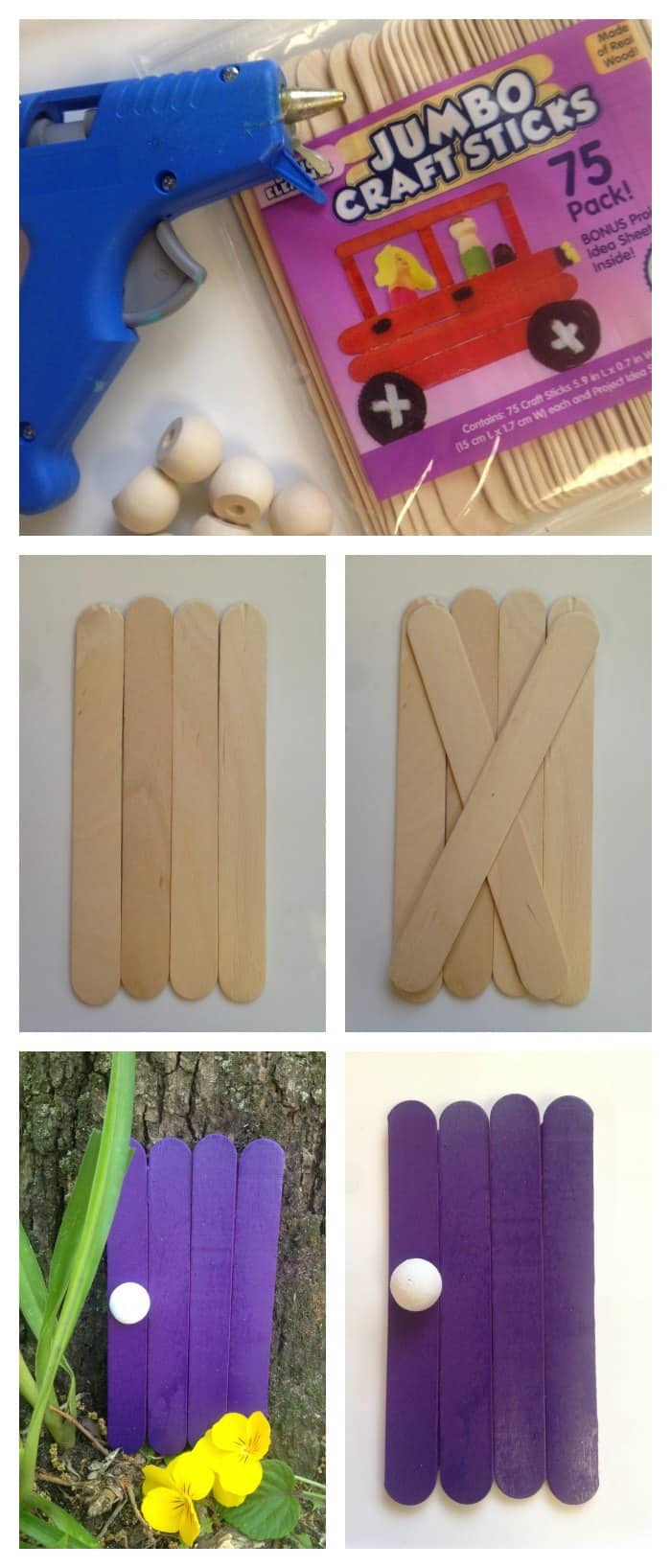 Also check out some of our other crafts! Such as our: