Exploding Box Card with Love Messages!
Exploding Box Card with Love Messages!
I have a super fun exploding box card that you can make and give for just about any occasion.  We've created a fun little free printable you can download for this easy project idea.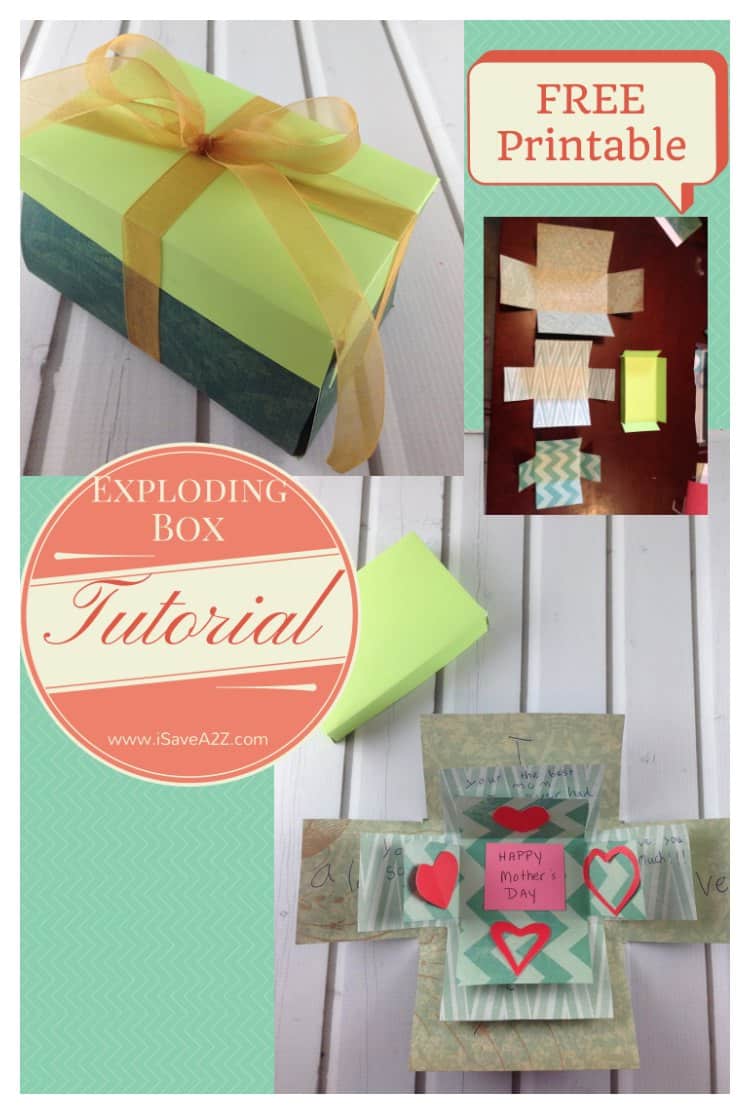 This box is created entirely out of paper.  It has three boxes and interlock together so that when you open it, it explodes like a flower.  You can write cute little love messages on each flap of each box too.
This is an excellent way to create love notes and give them in a unique way.  Once this box is complete, you can wrap it in a bow to create the 3D box!  This would make a cute Mother's Day or Father's Day card.  It would be perfect for birthdays too!  It's easy enough for the kids to make with little supervision.  My nine year old created a Mother's Day gift box for me!  It's something I will cherish forever!  You should have seen how proud she was to give it to me too!  Priceless!
In the attached Free Exploding Box Card Printable found here you will see shapes with dotted lines and solid lines.  The solid lines are the lines you cut out for each box.  There are three boxes and one box lid.  The dotted lines are the folding areas.  You can get crazy with embellishments too.  My daughter chose to cut out cute little hearts but you could take it much further if you wanted too.  Let your imagination go crazy with ideas for this exploding box card!  Right now I'm imaging a wedding exploding box card with all sorts of photos and messages for the bride and groom.  Wouldn't that be cute?!  Or how about Grandparents Day with beautiful photos of all the grandchildren?  How my goodness, the list goes on and on with possibilities for this card idea!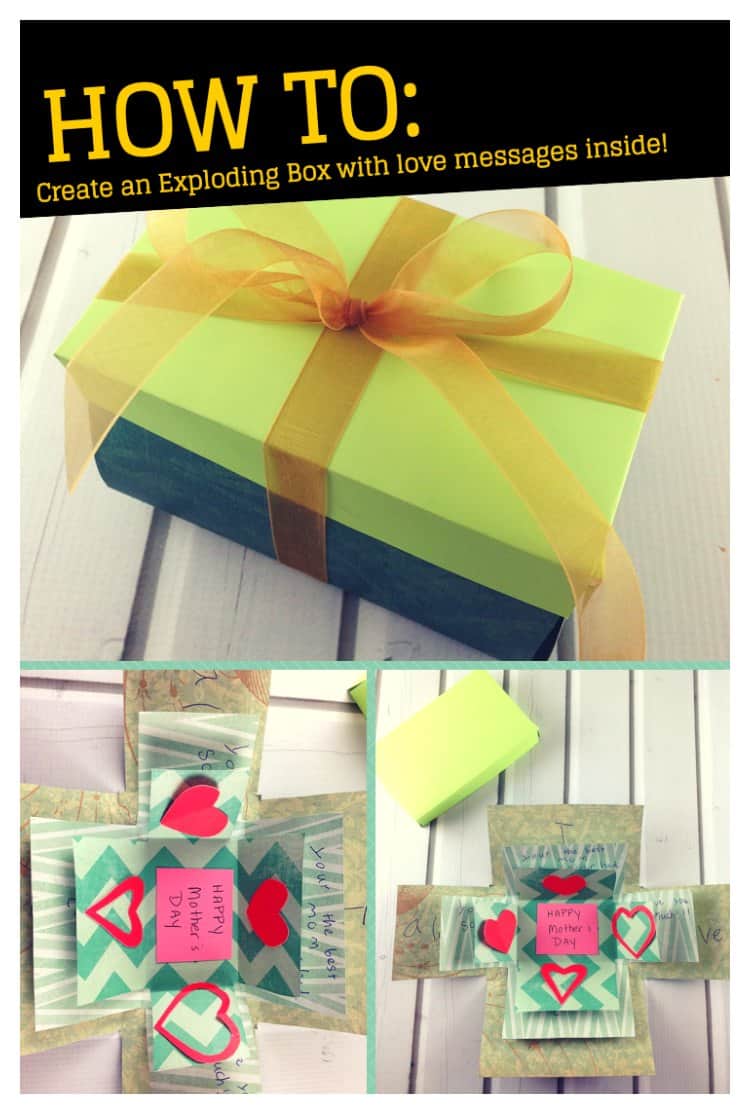 Directions for the Exploding Box Card:
1.  Cut out each template.
2.  Trace each template onto different colored paper or card stock.  I like to use a heavier paper on the outside box (the biggest template) and regular decorative paper on the inside but you can use either.  It's nice to offset each box with a different color so it explodes with color and design!  Once you have cut out each template, it should look like you have three cross like cutouts and one rectangle for the box lid.
3.  After you've finished cutting out each template, you will fold each box based on the dotted lines on the template.
4.  After you have folded all the templates based on the dotted lines, you will start to glue each box together starting with the largest box on the bottom.  The lid will be a bit my tricky.  You will have flaps on each end of the box lid that you will need to glue to the connecting lid flap to create a secure box lid that fits snug.
5.  Decorate it up!  Add love notes, special messages, photos or any type of embellishments you want.  You can get crazy with stamps, bling, buttons, lace, or you can even add a paper pocket too!  Get creative and let your imagination go wild on this part! Washi tape is your best friend in this project! You could use Washi Tape on the outer edges of this box flaps!
Here are just a few embellishments I love for this project if you need ideas:
Dress It Up Embellishments
Jesse James Dress It Up Embellishments: Pocket Full Of Posies
Butterfly Blossomwood Cut outs
Fabric Flower Embellishments (these are adorable)
Say It In Studs Self-Adhesive Embellishments 12/Pkg
Sparkly Sweet Grand Adhesions Embellishments
6.  Finally, close the box and add an optional ribbon for gift giving!
PRO TIPS: We love using inexpensive tape gliders like these.
They are easy to handle and stick together amazingly well. If you do lots of paper crafts you may want to purchase a Bone folder. It helps you fold the paper with ease. Best product ever! I can't live without mine.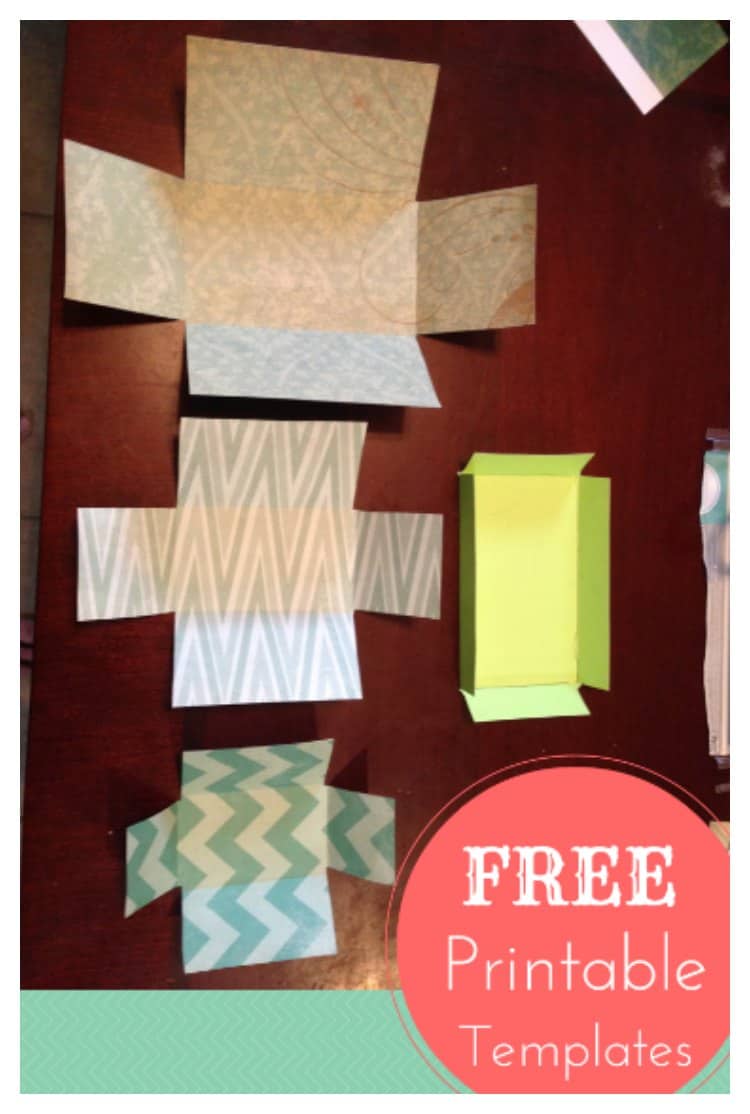 Download your free Exploding Box Templates here:
Exploding Box Template Largest box
Exploding Box Template Medium Box
Exploding Box Template Small Box
We hope you enjoy this project as much as we do!  What type of Exploding Box card are you planning on making?  Let us know below!  Send us a photo and we may even post it on our blog!
Also check out some of our other crafts! Such as our: