Homemade Christmas Ornament Ideas
Homemade Christmas Ornament Ideas
We have so much fun putting the Christmas tree up and having the whole family help. The kids get excited to put on all the ornaments and hang our old fashioned candy garland. But my favorite part, by far, is going through all of the ornaments my little ones have made through the years. So I always keep an eye out for new Homemade Christmas Ornament Ideas! We write their names and the year they were made on the back of each ornament to keep track of them all. If you love these kinds of ornaments too, here are some Homemade Christmas Ornament Ideas you can try this year.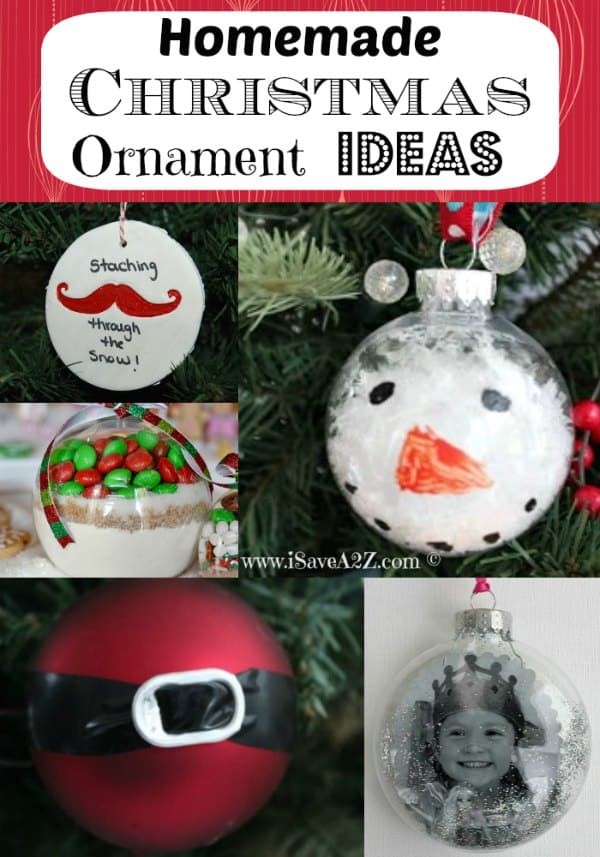 As you may have noticed, I am a little obsessed with the whole Santa belt theme this year. So this DIY Santa Ornament Craft Idea is a must for our family. It is so cute and simple to do. I do agree that the hardest part of this craft is saving up the tabs. But if that's the hardest part, then I've got this in the bag!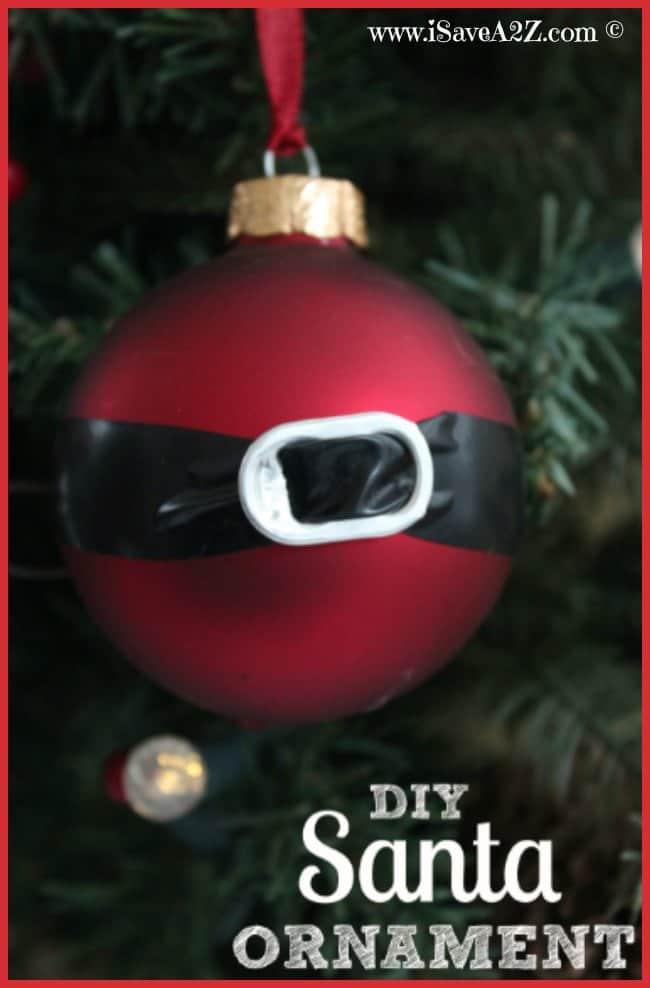 All little kids love snowmen….even kids who live in Texas and rarely get to make one 🙂 This DIY Snowman Ornament  is so easy to do you won't believe it. You only three little supplies to pull this off. If the kids are going to be doing these, I would suggest using clear plastic ornaments instead of the glass ones. I have Sharpies in almost every color, so I may try that instead of using paint.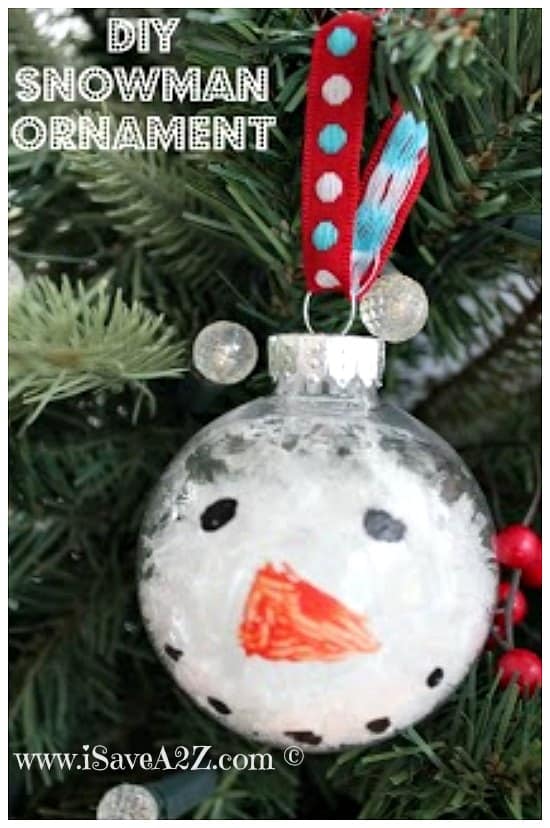 If you love the mustache theme that seems to be everywhere, then you are going to love this Staching Through The Snow Ornament! Why I find anything with mustaches on it hilarious all of the sudden is a mystery to me. But I love funny things, so people would at least get a good laugh if they saw this on your tree.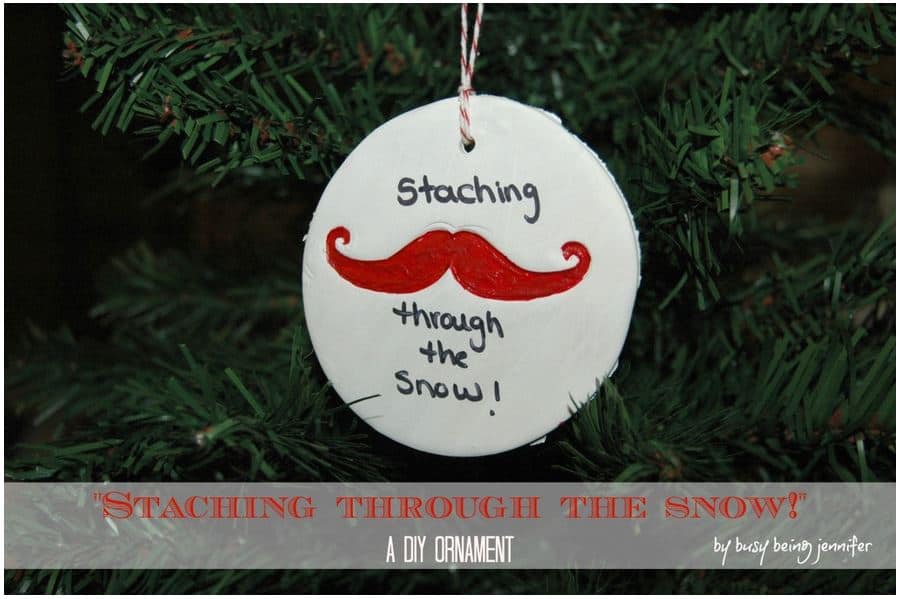 Photo credit by Busy Being Jennifer
Prepare yourself, because you are going to love this idea of a Homemade Photo Christmas Ornament. How cute would it be to make one of these each year to show how much your kids have grown and changed!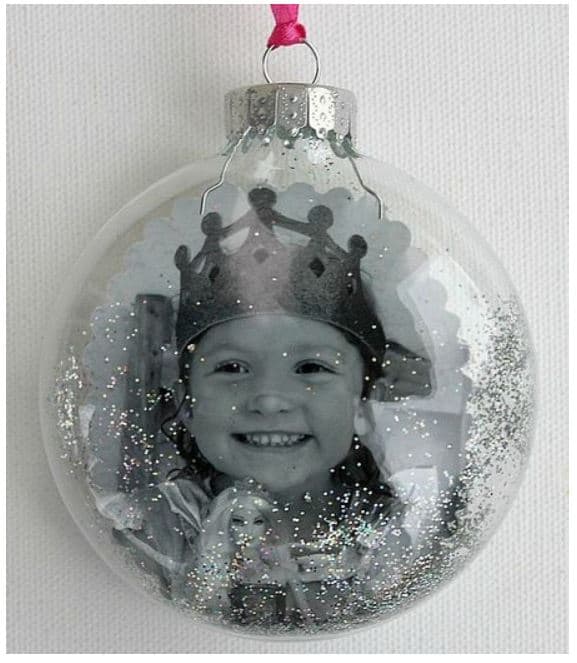 Photo credit by Tonya Staab
Even though this Hot Cocoa Mix Ornament is not one to put on the tree, these would be really cute to have ready for a party or to hand out at work or school. You could have all different flavors ready to go. Such a great idea!
Photo credit by Bubbly Nature Creations