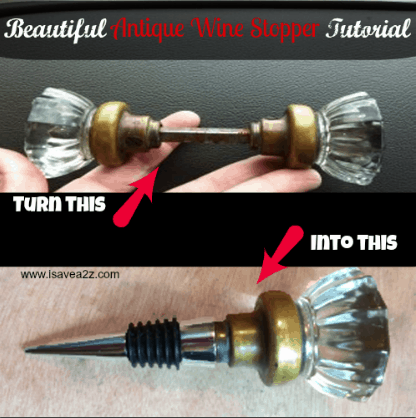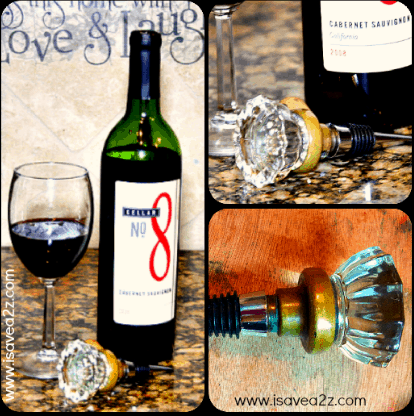 Handmade Antique Door Knob Wine Stopper
If you are looking for a neat handmade and unique gift idea, try this handmade antique door knob wine stopper project!
This craft idea rates easy on my list!  The hardest part about this project is finding the antique door knob but even that isn't too hard.  I found tons on eBay!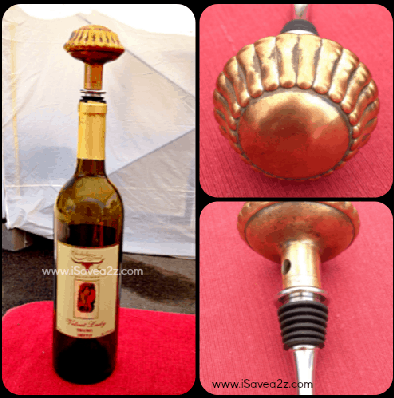 Here's what you need for this project:
Antique Door knob, Draw pull or faucet knob (there are tons on Amazon here or Ebay here)
Generic Wine Stopper (Metal, not the plastic cheapy kind)
Screw (I was able to get a screw that fit exactly into the wine stopper)
Hack Saw to cut the screw down to size
Adhesive or Electrical Tape (the black role is what I used)  this will depend on the size of your knob and screw.
Here's how to make this beautiful handmade antique door knob wine stopper:
First, find the perfect antique door knob.  There are all kinds to choose from depending on the look you are going for.  I found some beautiful brass knobs, crystal knobs, porcelain knobs and even beautiful old water faucet knobs that would work too!  Be creative!  If you don't want something as big as an antique knob you could always use a beautiful draw pull too.  There's a huge selection on Ebay and I found the prices to be a bit more reasonable for Antique Door Knobs on Amazon here
.    but I'm sure you can find some at your local antique shop too.
I've made a few but in this tutorial I'm going to show you how I made my antique crystal door knob wine stopper:
I started with this: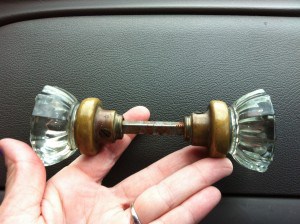 I started by unscrewing the screws on the side of the knob and took it apart.  I also found a screw that would fit in the wine stopper that I bought.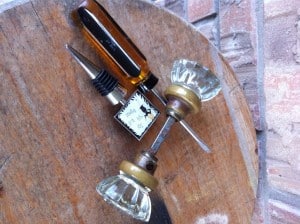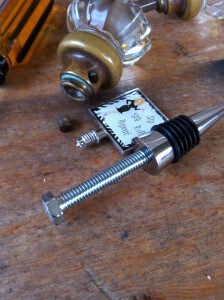 I found a simple metal wine stopper at my local grocery store for only $6 but I later learned they are much cheaper on Amazon here.  I unscrewed the top decorative piece.  I needed a screw to connect the antique door knob to the metal wine stopper.  The screw I choose fit the wine stopper exactly but it was too small to screw inside the door knob but don't worry, I will fix that later.
Next I cut down the screw to the exact size I need by placing it inside the door knob and inside the wine stopper to determine my measurement.  I used the hack saw the cut the screw down.  I secured it tightly in a vise and cut it down.  This wasn't hard at all.  I took about a minute to do.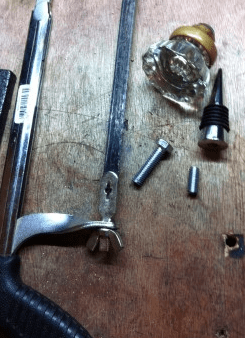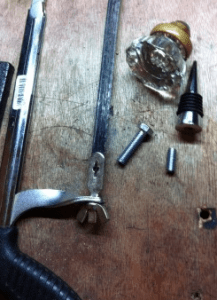 As you can tell my screw didn't need to be very long at all.  I screwed the end into the metal wine stopper.  Next I had to figure out a way to make the door knob part stick to the screw that was too small.  I ended up using black electrical tape to make the screw bigger.  I grabbed a piece and very tightly wrapped it around the screw.  It was so tight that I would see the threads of the screw.  Then I screwed on the antique door knob perfectly!  No adhesive was needed at all!  This worked like a charm!  I've done a few others and needed glue though so depending on your topper this may or may not work for you.

I was extremely happy with how secure it turned out using the electrical tape to make the screw a bit bigger!  That was important because I will be pulling this device off and on the wine bottle.
Finally the project is complete!  Cheers!!!  Now it's time to enjoy a bit of vino to celebrate!  Yay!  I really like how it came out!  These photos do not do it justice at all!  It's much more beautiful in person!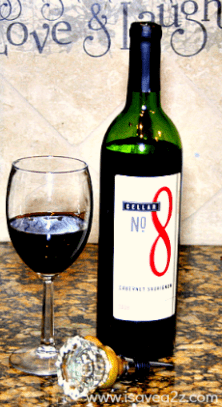 Here are a few others too: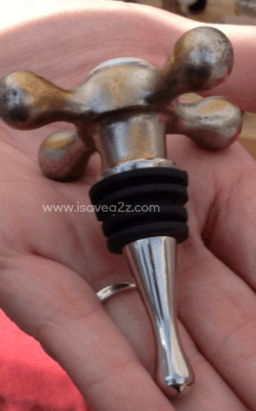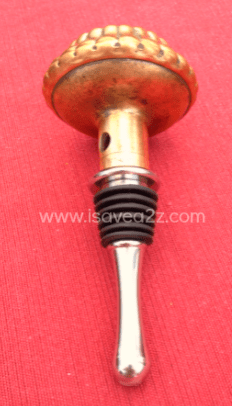 I just found these adorable green knobs on Amazon!  Wouldn't this be beautiful as a wine stopper?!  Oh yeah!!
Now what to do with all those empty wine bottles right?  Well check out these LED Cork Bottle Lights!!! Perfect way to recycle those empty bottles!  Clever right?!!