Copycat Chili's Queso Dip

Copycat Chili's Queso Dip
Check out our neat and amazing recipe for our Copycat Chili's Queso Dip! If you have been looking for some great copycat recipes, then you can look no further! We have plenty of amazing copycat recipes here for you to try! The recipe below will bring you through all of the steps that you will need to take in order to make this amazing Copycat Chili's Queso Dip! If you would like to try some other great copycat recipes, then you are in luck! Be sure to check out our Copycat Panera Autumn Squash Soup Recipe, our Copycat Cracker Barrel Fried Apples Recipe, our Copycat TGI Fridays Potato Skins Recipe, our Copycat Starbucks Cranberry Bliss Recipe, our Copycat Chick fil A Chicken Nuggets and Sauce, our Copycat Pumpkin Cream Cheese Muffins, and plenty more!
If you are a fan of all of these great copycat recipes, then you will be sure to enjoy this great cookbook filled with nothing else other than these fantastic copycat recipes! Now you can eat out for dinner, in your very own home, and still have the same delicious fast foods that the family loves at the same time! There's nothing better than having the food you love right at your very own kitchen, and we all know homemade food tastes a whole lot better, right?! Go explore these many great copycat recipes, and broaden your horizons when it comes to the great taste of the foods of your many favorite restaurants and experience them without having to leave home!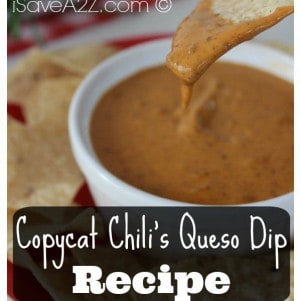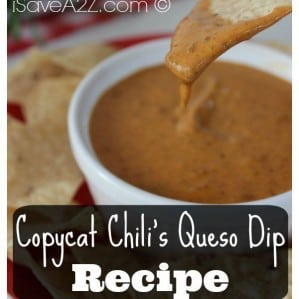 Copycat Chili's Queso Dip
Ingredients
16

oz

Velveeta

3/4

cup

Milk

1/2

tsp

Cayenne Pepper

optional, if you like it spicy

15

oz

Wolf Chili

No Beans

2

tsp

Chili Powder

2

tsp

Lime Juice

1/2

tsp

Cumin
Instructions
Cut the velveeta into cubes.

Heat all ingredients in pan over medium heat stirring frequently.

Serve with tortilla chips
Nutrition facts are provided as a courtesy.