Copycat TGI Friday's Baked Potato Skins

Copycat TGI Friday's Baked Potato Skins
Check out our neat and amazing recipe for our Copycat TGI Friday's Baked Potato Skins! If you happen to like the Baked Potato Skins from TGI Friday's, then you're in luck! The recipe below will bring you through all of the steps you will need to take in order to make these amazing Copycat TGI Friday's Baked Potato Skins! If you happened to like this recipe, then you should be sure to check out our other great copycat recipes! such as our Copycat Nutella Recipe, our Copycat Pumpkin Spice Latte, or even our great Copycat Bang Bang Shrimp Recipe!
If you are a fan of all of these great copycat recipes, then you will be sure to enjoy this great cookbook filled with nothing but copycat recipes! Now you can eat out for dinner, in your very own home! There's nothing better than having the food you love right at your very own kitchen! Go and check it out now!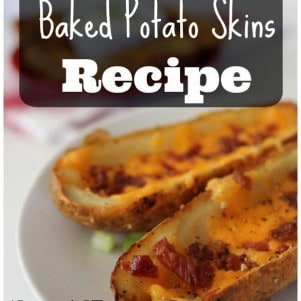 Copycat TGI Friday's Baked Potato Skins
Ingredients
4

Russet Potatoes

1

tbsp

Olive Oil

Salt and Pepper to taste

1

tbsp

melted Butter

3/4

cup

Shredded Cheddar Cheese

1/2

cup

Chopped Crispy Fried Bacon
Instructions
Preheat oven to 425.

Line a baking seet with aluminum foil.

Wash, scrub and dry potatoes.

Pierce each multiple times with a fork.

Rub with olive oil and season with salt and pepper.

Bake for 1 hour.

Allow to cool.

Preheat oven to 375.

Cut each potato lengthwise into thirds.

Reserve middle slice of each for something else.

Use a spoon to scoop out white middles of each remaining slice, leaving about 1/4" thickness in each.

Brush potato skins with melted butter and bake for 25 minutes until crisp.

Sprinkle with cheese and bacon and return to oven until cheese is melted.

Serve with sour cream and sliced green onions.
Nutrition facts are provided as a courtesy.