Mini Cranberry Cheesecakes

Mini Cranberry Cheesecakes
Check out our neat and amazing recipe for our delicious Mini Cranberry Cheesecakes! If you are looking for some unique sweet recipes then you can look no further! The recipe below will bring you through all of the steps you will need to take in order to make these great Mini Cranberry Cheesecakes!
If you happened to like this recipe, then you should definitely check out some of our other great sweets! Such as our Coconut Cream Cheese Pound Cake, ourPumpkin Pie Cake, our Pumpkin Pie Bites, our Pumpkin Pie Fudge, or even our Baked Apple Chimichangas, and plenty of others!
If you happened to like any of the recipes I have listed here, then you should definitely try out this neat cookbook for everything sweet and wonderful! You will be sure to find the best dessert recipes with this! With all of these recipes here, you will be sure to find the perfect recipe for any occasion that you could need something sweet!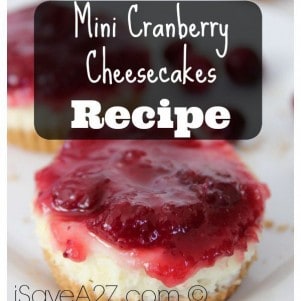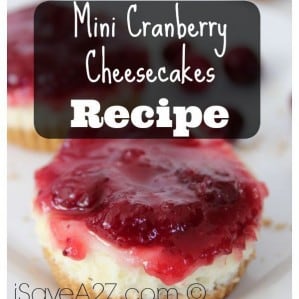 Mini Cranberry Cheesecakes
Ingredients
Instructions
Whisk together cornstarch and orange juice in small pan over medium heat.

Add in cranberry sauce, stir, and bring mixture to a boil for one minute.

Allow to cool.

Pre-heat oven to 350.

Place paper liners in 9 cups of muffin pan.

Mix together graham cracker crumbs and melted butter mixing well.

Divide between the lined cups, pressing gently to flatten.

Cream together the cream cheese and sugar until creamy.

Add in the egg and the vanilla and mix until blended.

Divide and spoon into the lined cups to about 2/3 full.

Put a tablespoon of cranberry mixture into each and gently swirl with a knife.

Bake for 20 minutes.

Allow to cool completely in pan.

Remove from pan.

Top with additional cranberry sauce and refrigerate at least 1 hour.
Nutrition facts are provided as a courtesy.