Buckeyes
Check out out neat and amazing recipe for these super delicious Buckeyes! If you have been looking for some unique dessert and sweet recipes, then you can look no further! The recipe below will bring you through all of the steps that you will need to take in order to make these amazing Buckeyes! If you happened to like this recipe, then you should definitely check out some of our other great sweets! Such as our Coconut Cream Cheese Pound Cake, ourPumpkin Pie Cake, our Pumpkin Pie Bites, our Pumpkin Pie Fudge, or even our Baked Apple Chimichangas, and plenty of others!
If you happened to like any of the recipes I have listed here, then you should definitely try out this neat cookbook for everything sweet and wonderful! You will be sure to find the best dessert recipes with this! With all of these recipes here, you will be sure to find the perfect recipe for any occasion that you could need something sweet! May it be for a holiday, some other type of special occasion, or just for your friends and family! You will be all set!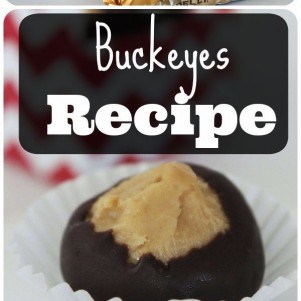 Buckeyes
Instructions
Line cookie sheet with parchment paper.

Mix together peanut butter, butter, and vanilla.

Gradually add the powdered sugar, stirring it into the mixture until it is incorporated.

Roll into 1-inch balls and place on the prepared sheet.

Insert a toothpick into each ball.

Place in freezer until hard (about 30 minutes).

Combine the chocolate chips and shortening.

Melt by microwaving for 1 minute, then stirring and repeating until smooth and melted.

Use the toothpick to dip into the chocolate (leave a small circle uncoated on top of each).

Gently shake off excess and place back on sheet.

Refrigerate several hours until chocolate sets.

Remove toothpicks and smooth over the hole.
Nutrition facts are provided as a courtesy.