Broccoli Pizza Crust Recipe
We just make a Broccoli Pizza Crust recipe that is fantastic!
First a bit about the broccoli. I highly recommend using a frozen bag of riced broccoli to make this recipe. It's quick and easy! If you use fresh broccoli, you will really need to work extra hard to get most of the liquid out of it.
This recipe is fantastic if you love broccoli. Broccoli has a distinct flavor that cannot be covered up like it is when using cauliflower for this recipe. Cauliflower tends to take on the seasonings you add to it and it has a mild taste. Broccoli is not as mild so before you attempt to make this recipe, make sure you are making it for someone who enjoys broccoli.
If you prefer a milder tasting vegetable that doesn't come through as much, I highly suggest making this Cauliflower Pizza Crust recipe. It's low carb, keto-friendly, and fantastic!
This is a photo of the Cauliflower Pizza Crust Recipe we like: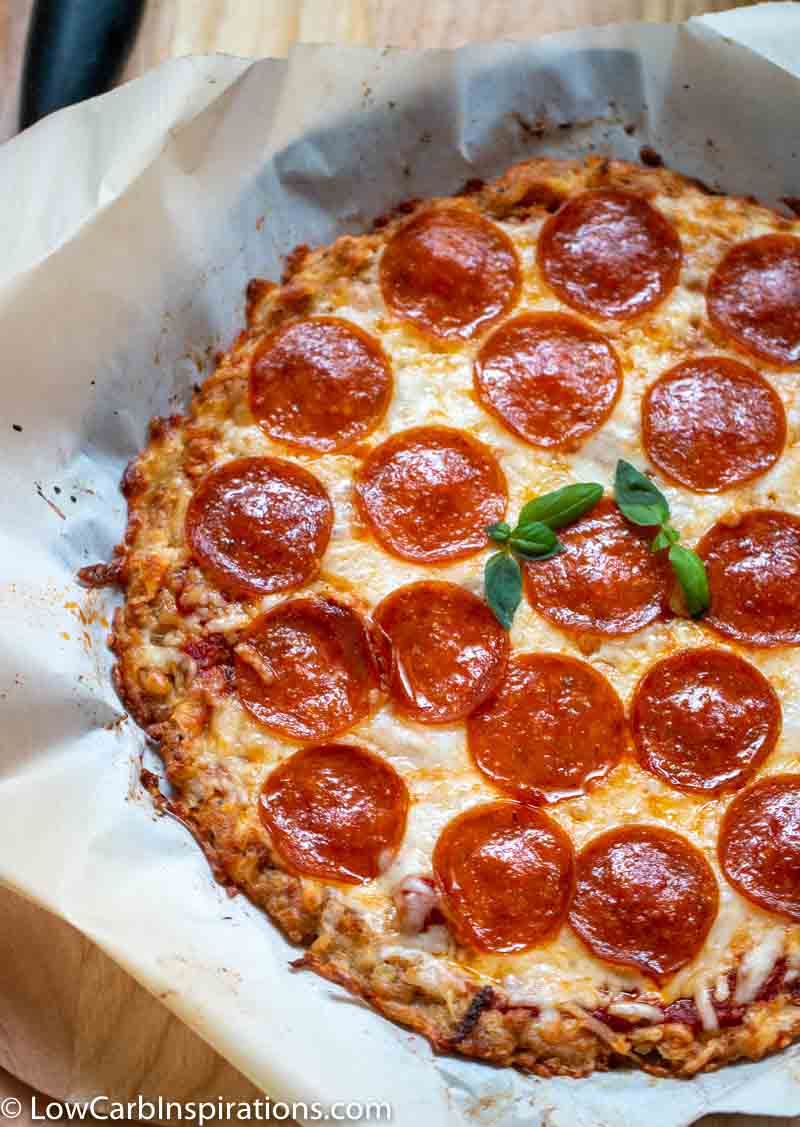 My husband does not like broccoli so I always make him that recipe instead. I love broccoli so I'm happy to have this recipe in my book!
This recipe is very different from the Keto Fat Head Dough Recipe too. This recipe tastes absolutely amazing and makes the best thin crust pizza on the planet. This broccoli pizza crust is a bit different. The crust is much thicker! If you like a thicker crust, this recipe is for you!
The crust has a slight green tint. We split the toppings because we had a divided opinion on what the toppings should be. Half of them wanted pepperoni and the other half wanted fresh mozzarella and basil! This broccoli pizza was terrific!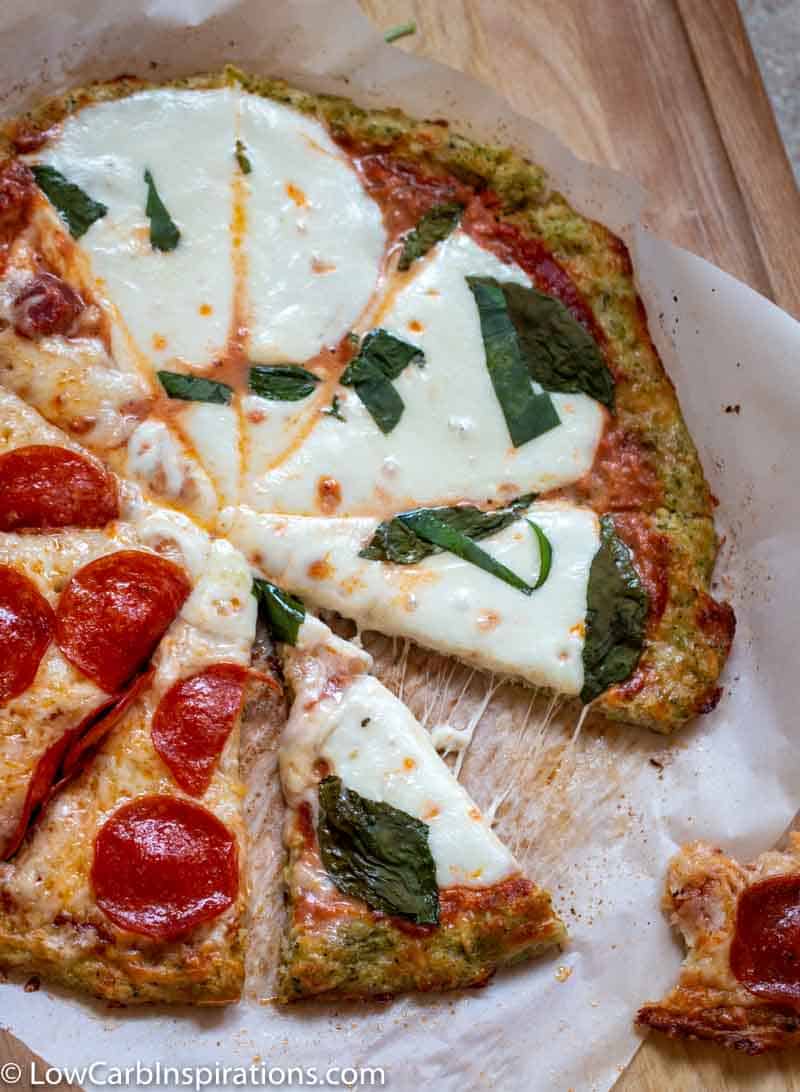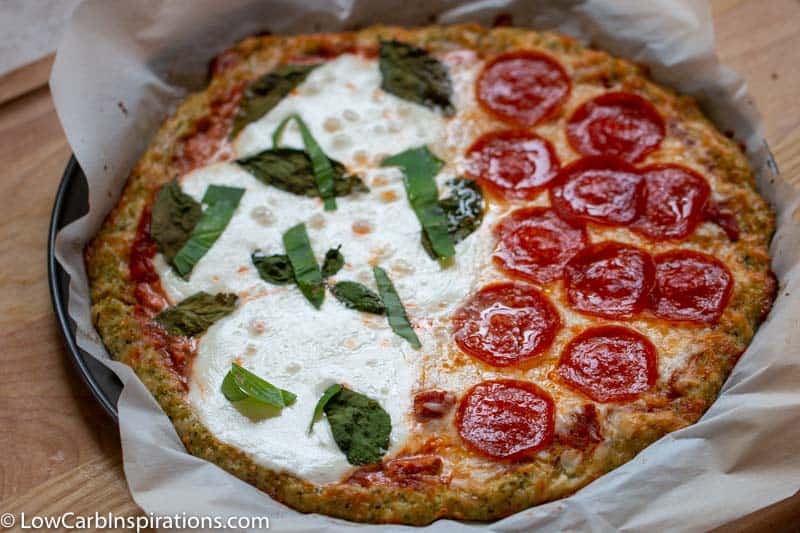 These next photos show the close up of the broccoli pizza crust! SO YUMMY!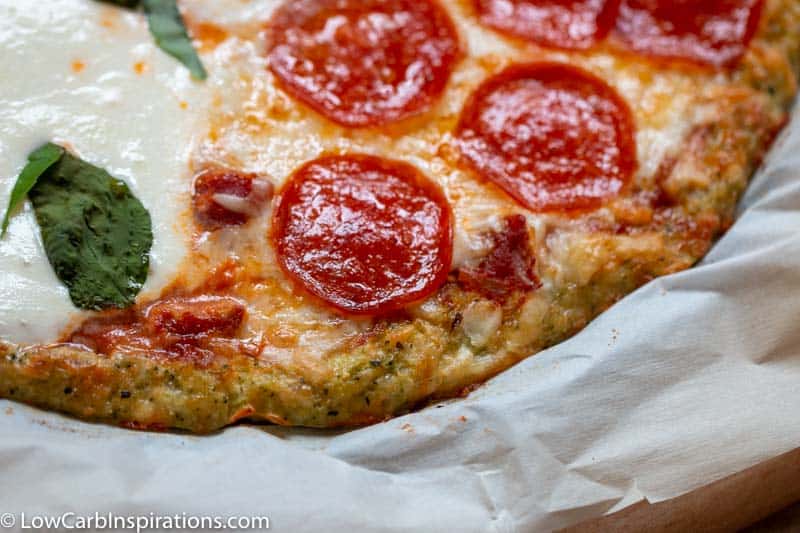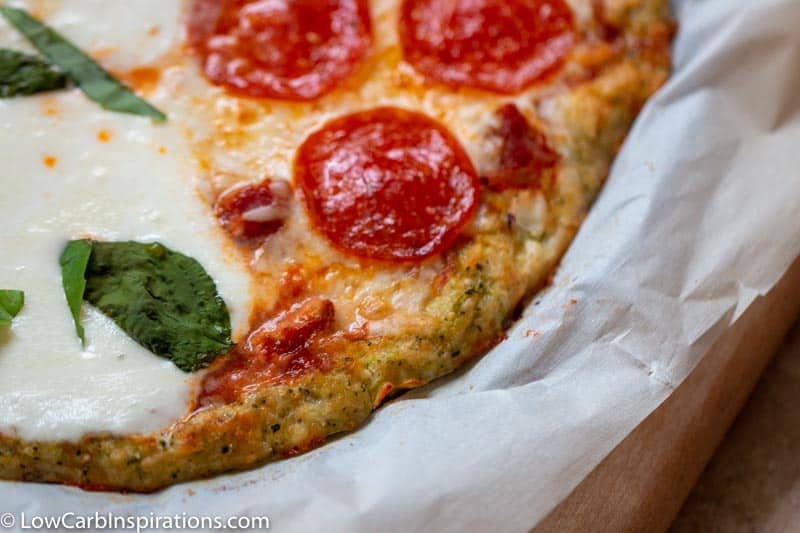 Broccoli Pizza Crust Recipe Ingredients
10 oz bag of frozen broccoli, riced
1/2 tsp salt
1 tsp Italian blend seasoning
1/2 tsp garlic powder
1/2 tsp onion powder
1/2 cup pork panko (finely crushed pork rinds)
3/4 cup Mozzarella cheese, grated
1/2 cup Parmesan cheese, shredded
2 eggs
Optional for the crispy crust: extra 1/4 cup Parmesan cheese, shredded
Broccoli Pizza Crust Topping Options
3 tbs sugar free marinara sauce
1/2 cup shredded mozzarella
layered with pepperoni
or
3 tbs sugar free marinara sauce
Fresh sliced mozzarella
Topped with fresh basil
If you like a spicier pizza try adding crushed pepper flakes (about 1/4 tsp) to the seasonings in the crust.
Broccoli Pizza Crust Recipe Instructions
Grab the printable recipe card below with the full instructions.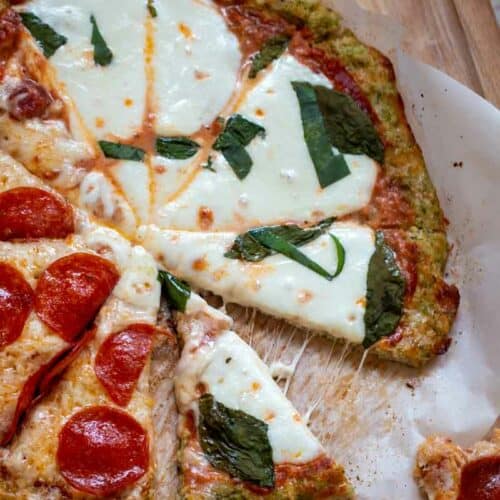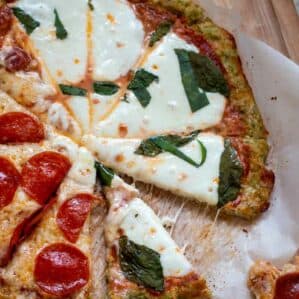 Broccoli Pizza Crust Recipe
Broccoli Pizza Crust recipe that is fantastic!
Instructions
Preheat the oven to 350 degrees.

Defrost the bag of frozen broccoli. The goal for this broccoli is to get as much liquid out of the vegetable as possible.  To do this, you can microwave the frozen riced broccoli in a steamable bag for 5 minutes and then put the broccoli rice in a frying pan with no oil and heat it until all the liquid has been removed.

The riced broccoli will stop sizzling when all the liquid has evaporated.  This may take about 5 to 10 minutes frying it over medium heat.  Place a 1/2 teaspoon of salt in with the riced broccoli to help evaporate the water.

Once the riced broccoli stops sizzling start adding the Italian seasoning blend, garlic powder, and onion powder to the broccoli.  Mix it until the seasonings are fully combined.

Turn off the heat and place the riced broccoli in a medium bowl to cool down for a minute or two.

Add the pork panko, parmesan cheese, mozzarella cheese, and 2 eggs to the warm riced broccoli mix.  Mix it until it fully comes together.

Cover a 12-inch pizza pan with parchment paper.  This step is very important.  You don't want the cheese in this recipe to stick to the pan so parchment paper is required even if you use a non-stick pizza pan.

Spread a small amount of shredded parmesan cheese on top of the parchment paper if you want a crispier crust.

Place small spoonfuls of dough around the pizza pan.

Use a fork or your hands to spread the riced broccoli mixture into a pizza shape.  Press the edges a bit thicker to make a crust bump to hold the toppings.

Sprinkle the remaining shredded parmesan cheese on top of the crust.

Bake it at 350 degrees for about 20 minutes or until the crust is golden brown.

All the dough to cool for about 5 minutes before adding the toppings.

Spread a thin layer of sugar free marinara sauce over the cooked broccoli pizza dough.

Top it with shredded mozzarella cheese and finish the pizza toppings with a layer of pepperoni (or other toppings of your choice).

Bake for an additional 5 minutes which will be just long enough to melt the toppings.

Allow the broccoli pizza to cool for about 5 minutes before enjoying it.  The crust will set and it won't be too terribly hot to handle but yet warm enough to enjoy!
Notes
ou could also shape this recipe into 4 individual broccoli pizza crust shapes if you are meal prepping for the week too.
Nutrition
Serving:
2
slices
|
Calories:
189
|
Carbohydrates:
6
g
|
Protein:
16
g
|
Fat:
11
g
|
Fiber:
2
g
|
Sugar:
2
g
|
Net Carbs:
4
g
Nutrition facts are provided as a courtesy.
If you like this recipe, you are sure to love a few of these also!
Low Carb Keto Friendly Pizza Recipe(Opens in a new browser tab)
Keto Green Bean Casserole Recipe(Opens in a new browser tab)
Easy Bacon Cheeseburger Soup (Keto Friendly Recipe)(Opens in a new browser tab)
Keto Pumpkin Bread Recipe(Opens in a new browser tab)
Creamy Blueberry Keto Popsicles Recipe (No Sugar and Low Carb)(Opens in a new browser tab)
Keto Fruit Pizza Dessert Recipe(Opens in a new browser tab)
Keto Chicken and Cheese Enchiladas(Opens in a new browser tab)