This is a sponsored conversation written by me on behalf of Shamrock Farms. The opinions and text are all mine.

Easy Cream Horns Recipe
You won't believe how quickly you can whip up this easy cream horns recipe! I'm excited Shamrock Farms reached out to me to help create a recipe using my favorite heaving whipping cream! This recipe is easy but it's even easier when you use a store bought frozen pastry dough. The delightful part of this recipe is the creamy center. Let me show you how I whip up a quick batch of goodness.
The dough is really not hard to make. It's just a combination of flour, salt, butter and water. I usually skip the homemade dough process because the store bought dough found in the freezer section doesn't taste much different at all. The easier the better, right?
This dessert looks like it will be really difficult to make because of it's shape and because of how delicate they look but don't let the looks fool you. Once you realize how easy this recipe is to make, you will make them all the time! Just look at how the whipped cream holds up nicely!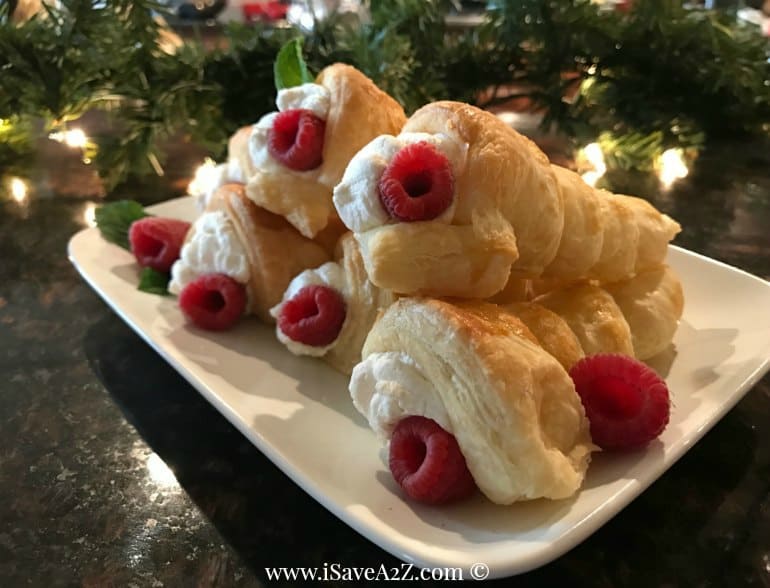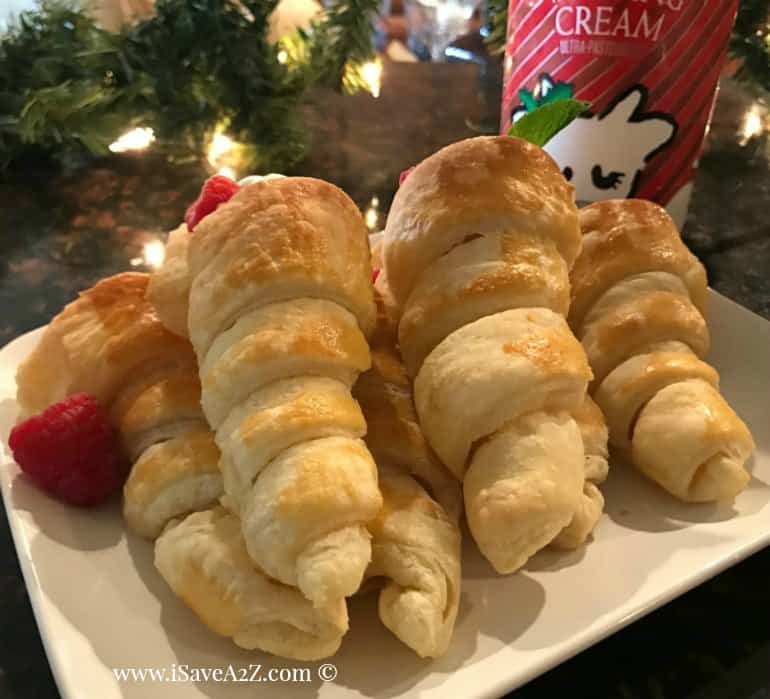 Before you think of making this recipe, there are a few tools you need to have on hand. You need to have a cream horn mold. Well, you don't need one but it does make the job a lot easier. I grabbed a cream horn mold set on Amazon because I've never seen them sold in local stores. You might find them at a specialty bake shop. I highly suggest getting a set of 12. They do sell them in sets of six or twelve.
If you don't have the cream horn mold set, it's okay. Don't invest in a set until you know you plan to make this recipe often enough to need a set. You can easily use a ice cream cones and tin foil to make the mold too!
Be sure to use the pointed end Sugar Cones that look like these found on Amazon. All you have to do is cover the cones with tin foil to create the shape you need. It's a great temporary mold!
Another idea for an inexpensive mold is to just use tin foil. Grab a sheet of tin foil and crumble it until it's shaped like a cone. Try to smooth the outside as much as possible. The smoother the outside is, the smoother the finished pastry cone will come off the tin foil. This is not my recommended technique because I like it the easy way. The easiest way is to use the cream horn mold set. But, this will work. I know because I tried it myself. Here's a few photos I took: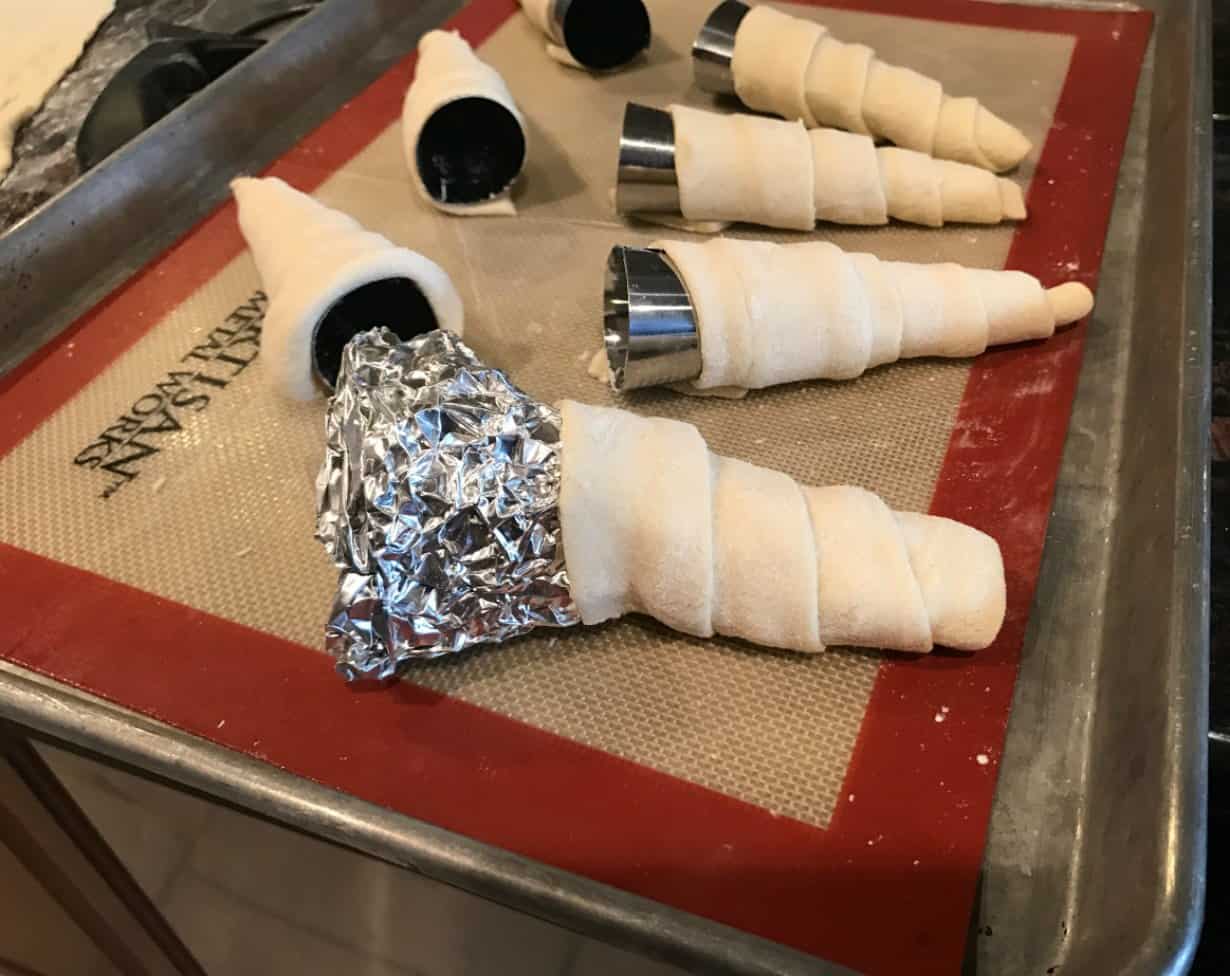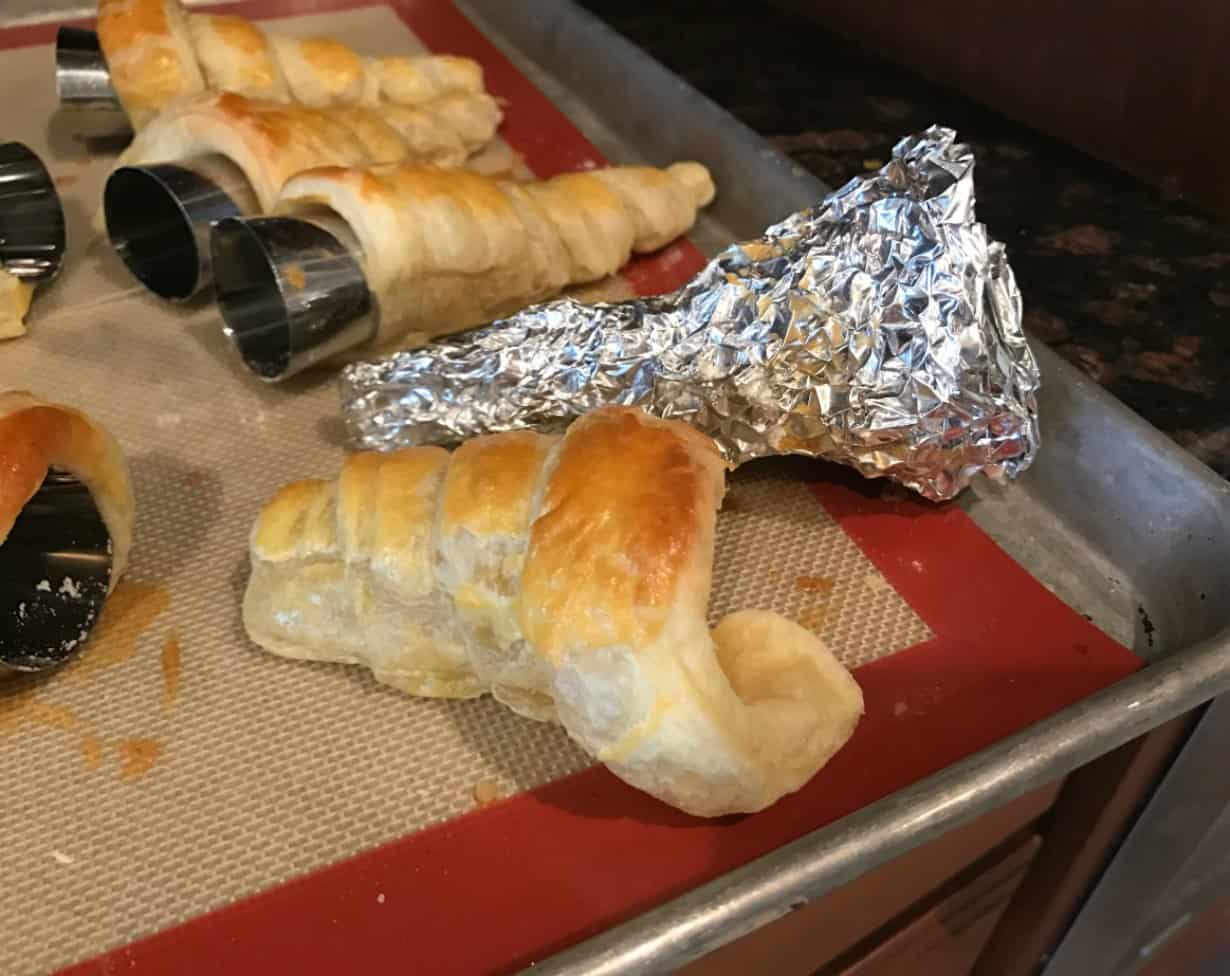 Now let's talk about the filling for a minute. If you like a dessert that is not too sweet, then this is your recipe! Now, you have the option to make this filling as sweet as you want but I prefer a light sweet taste myself. The key ingredient in the center of this cream horn is heavy whipping cream. I prefer to use Shamrock Farms premium Heavy Whipping Cream because it contains a higher butterfat, which is preferred by chefs for everything from rich sauces to decadent dressings, but most importantly for this recipe, it leads to stronger peaks and longer hold times! This is a must for this recipe especially if they will be sitting out on a table during a party.
Shamrock Farms premium Heavy Whipping Cream is my preferred for a few other reasons too:
Shamrock Farms have a reputation for being rich and creamy because they are made with real dairy from cows never treated with growth hormone rBST.
Shamrock Farms creams lineup includes traditional half and half – with zero trans-fat and Shamrock Farms heavy cream, both with an easy to use flip top cap.
It tastes AMAZING!!!
If you've followed my blog for any amount of time, you already know how much of a coffee addict I am. Shamrock Farms Half and Half is also my favorite with my morning coffee. It gives my coffee a rich, smooth texture that I crave! If you prefer the sweeter blends, try the Fat Free French Vanilla Half and Half. My husband swears by it.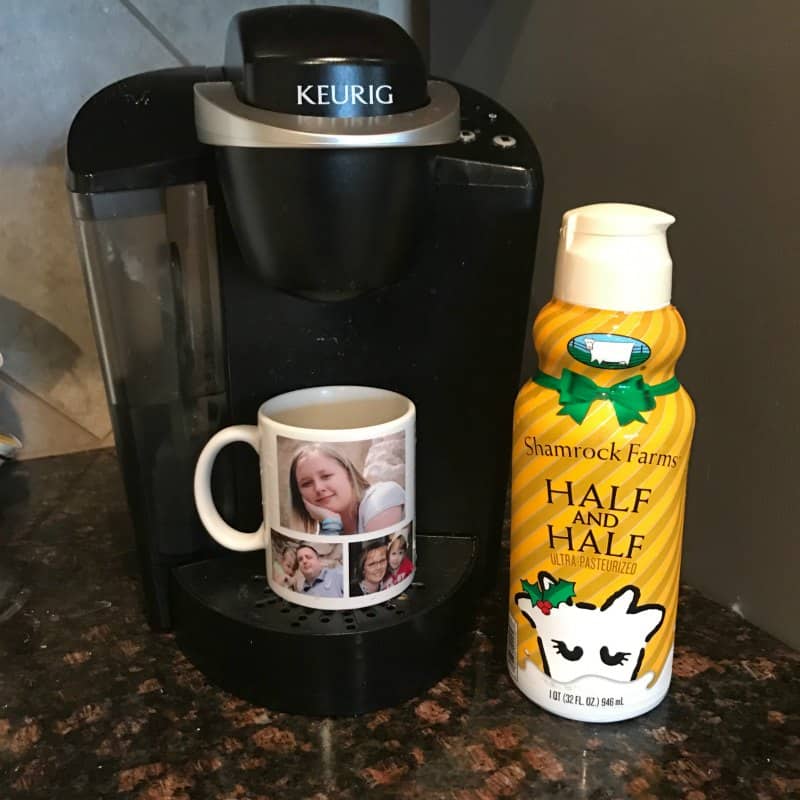 Easy Cream Horns Recipe Ingredients:
1 package of Frozen Pastry Puff dough
1 cup Shamrock Farms Heavy Whipping Cream
1/2 cup powdered sugar
1 teaspoon vanilla
egg
Raspberries
1 tablespoon flour
Optional: Mint or Lemon Zest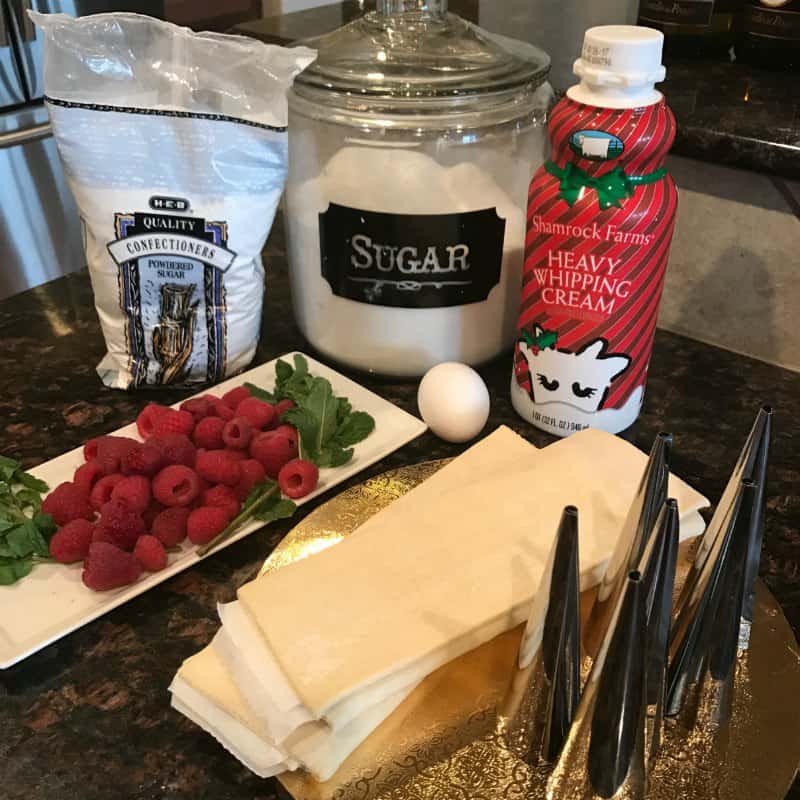 Easy Cream Horns Recipe Tools Needed:
Cream Horn Mold Set
Knife or Pizza Cutter to cut the dough into strips
Cookie sheet
Silicone liner or parchment paper
1 tall glass
Mixer
Brush for the egg wash
Easy Cream Horns Recipe Directions:
First, start by defrosting the frozen pastry puff dough. This could take up to 40 minutes.
Sprinkle a bit of flour on your work surface and roll out the dough to thin it a little bit. (see photos)
Use a pizza cutter to cut 1/2 inch long strips of pastry dough.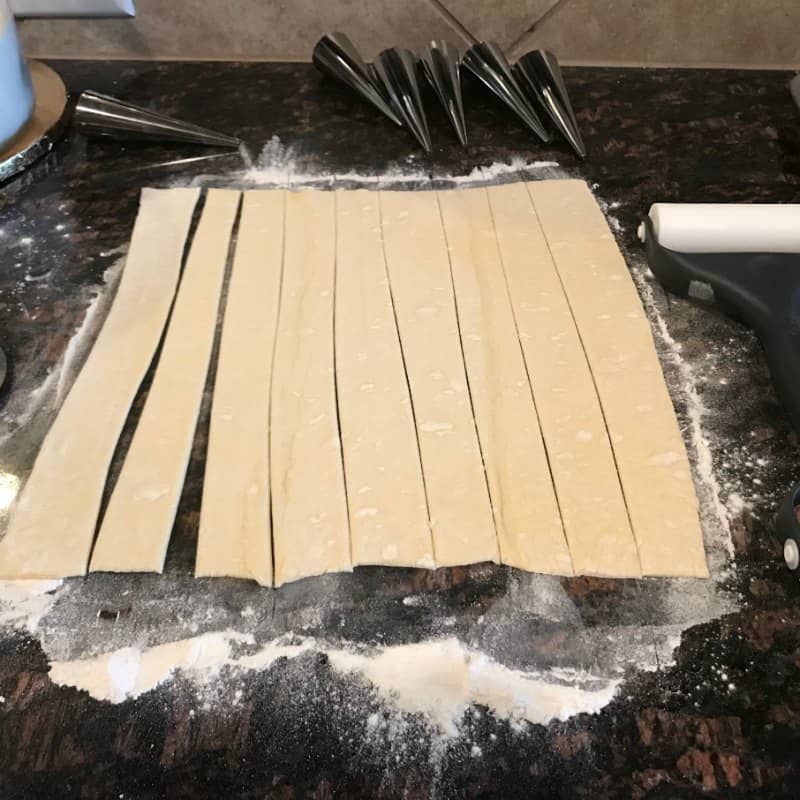 Spray the cream horn molds with non stick cooking spray.
Wrap the pastry puff dough up the mold as seen in the photos to create a cornucopia horn. Be sure to overlap the dough when you are wrapping it. Place each horn on the cookie sheet with the seam faced down.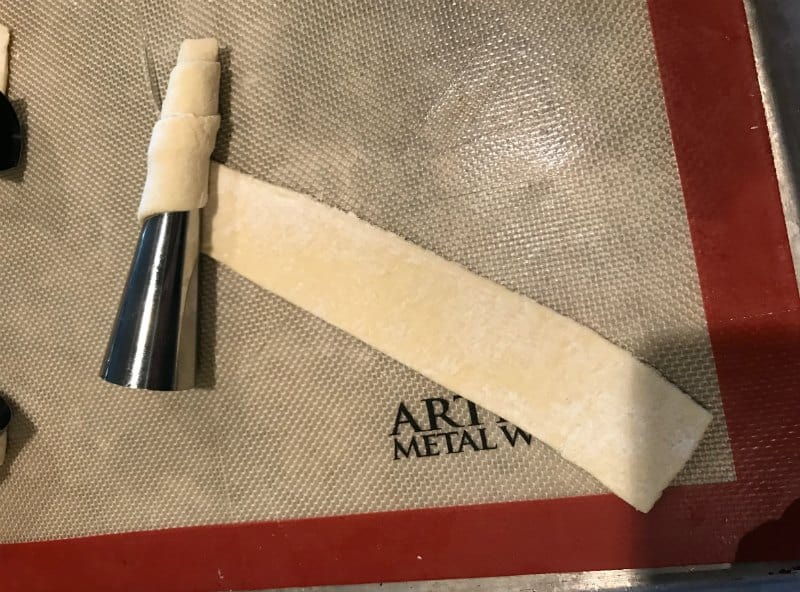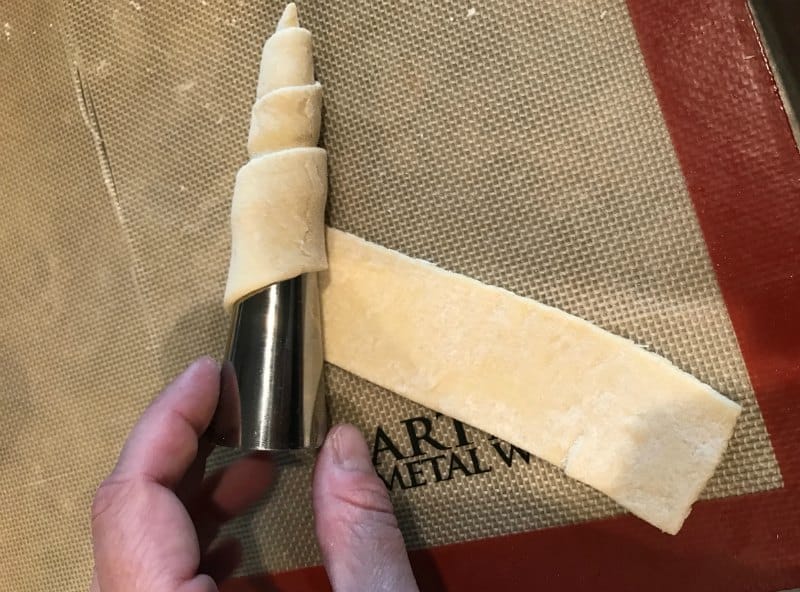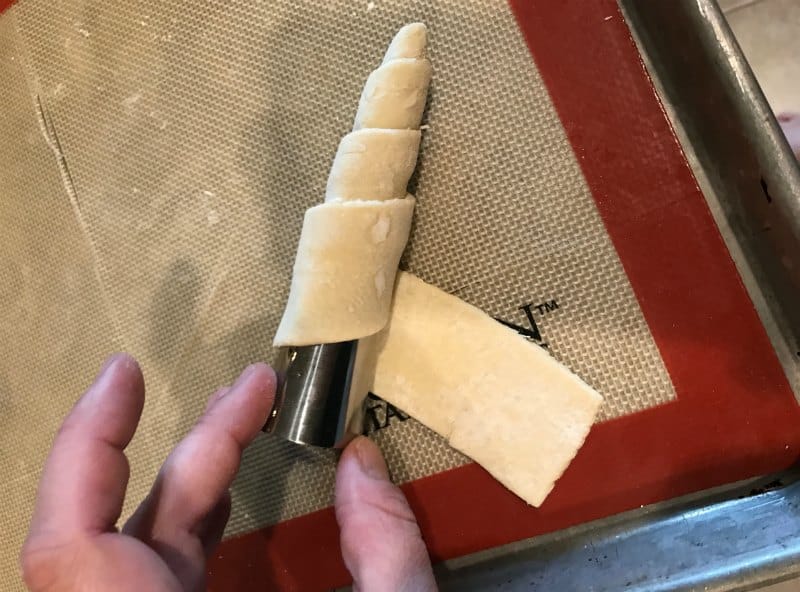 Brush each wrapped pastry with an egg wash.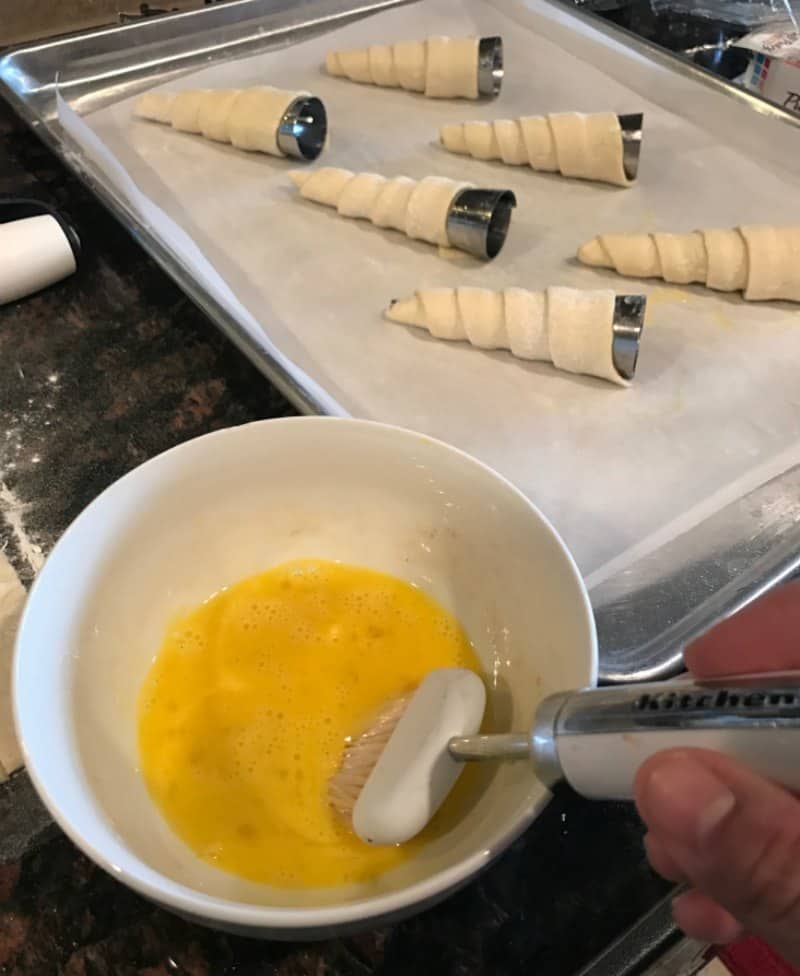 Bake these cream horns at 400 degrees for about 20 minutes or until the are golden brown. I've noticed the split ovens tend to cook faster so be sure to watch them closely.
Remove them from the oven and allow them to cool before removing the cream horn molds from the center.
While the pastry horns are cooling, start making the filling.
In you mixing bowl combine 1 cup of Shamrock Farms Heavy Whipping Cream, 1/2 cup of powdered sugar and 1 teaspoon of vanilla. Mix it well until it forms peaks. I think it only took about 4 or 5 minutes on high for mine to form.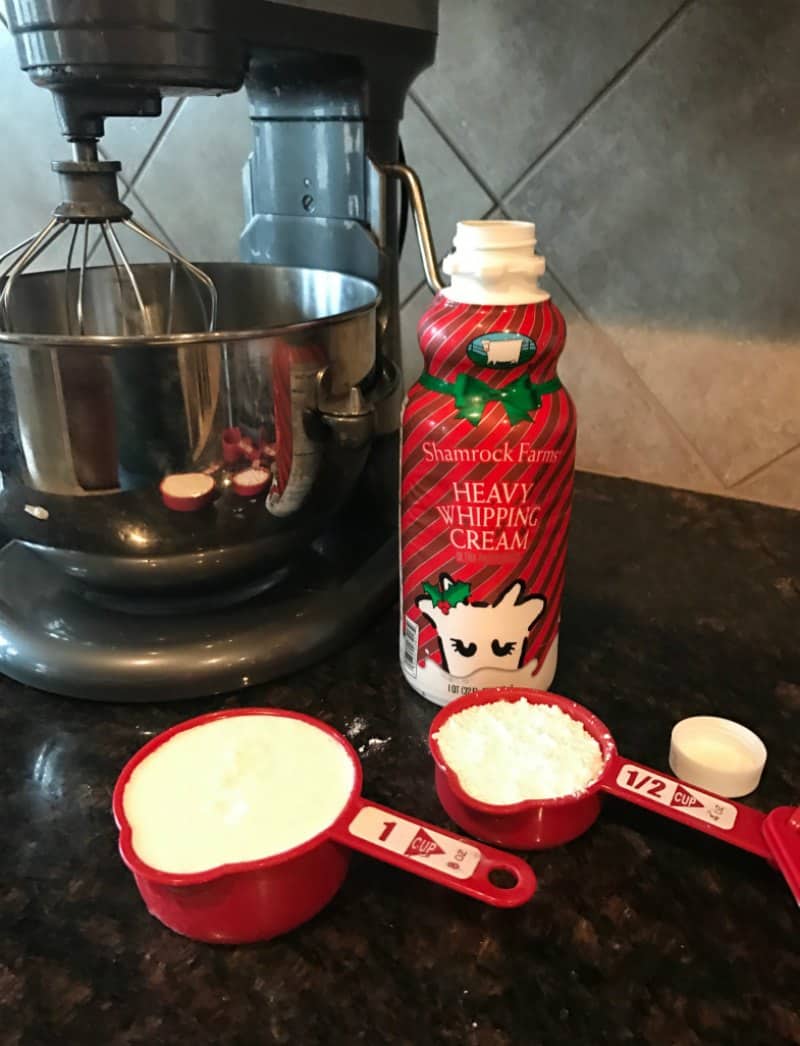 Place your pipping bag into a tall glass to hold it in place. Fill the pipping bag with the whipped cream mixture.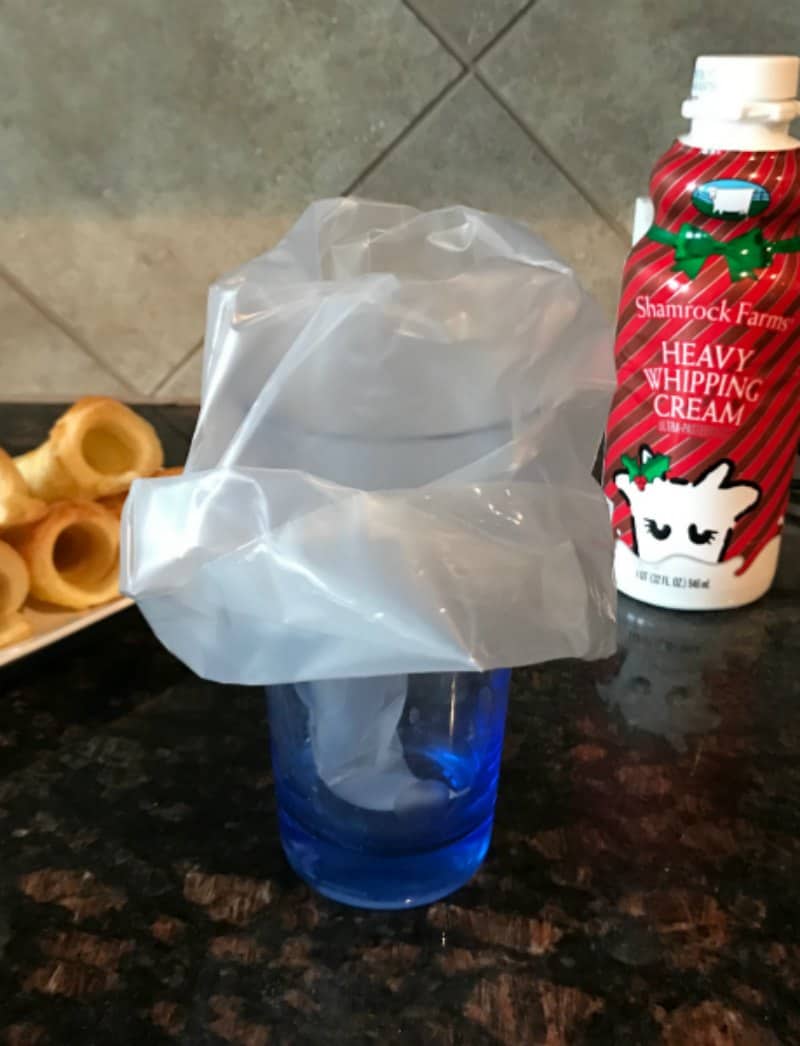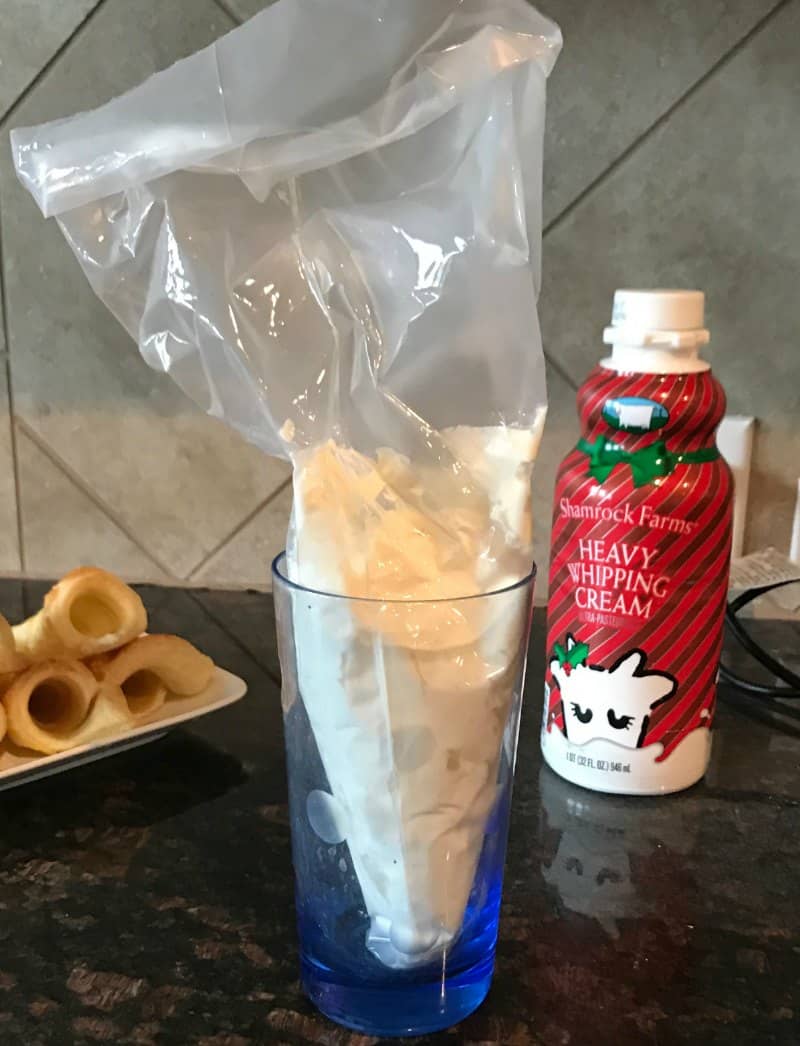 Cut a small portion off the tip of the pipping bag.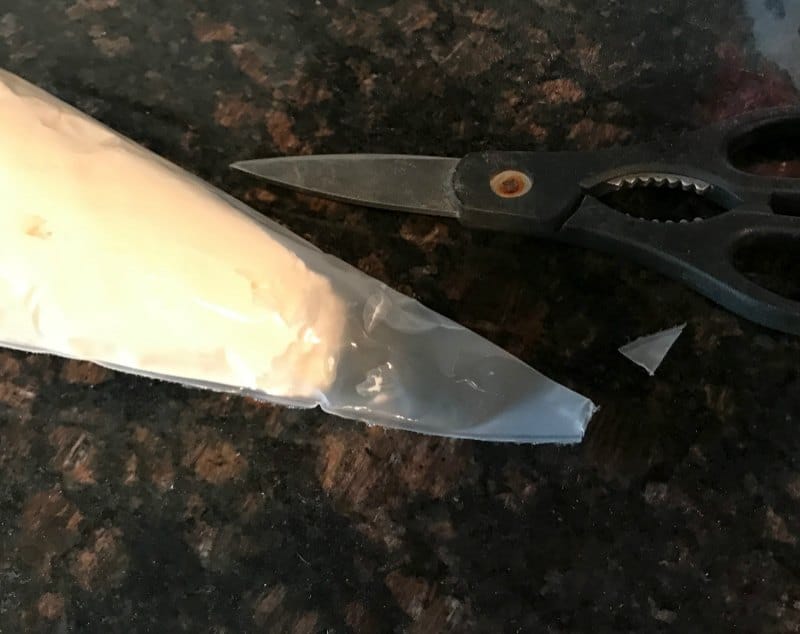 Fill each pastry with a raspberry and the filling.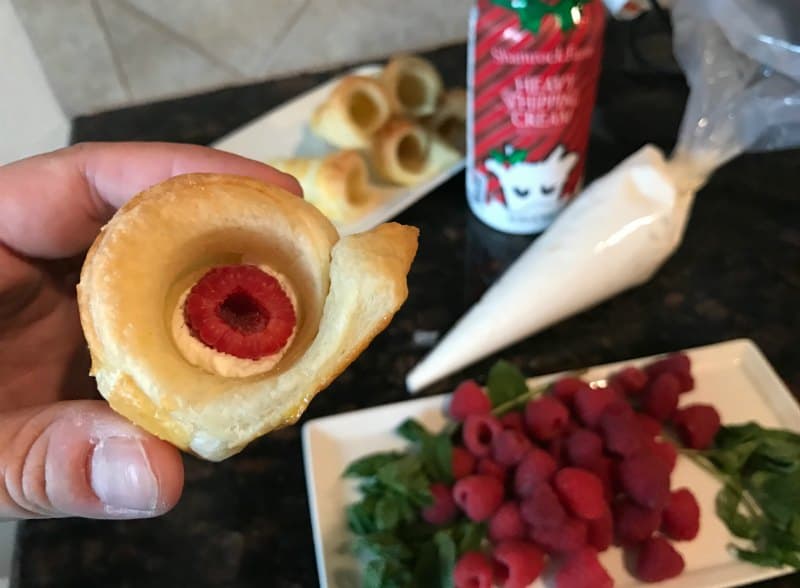 Keep cool in the refrigerator until you are ready to serve.
You can dust these cream horns with powdered sugar right before you serve them or you could even drizzle them with melted chocolate! I've tried them with Nutella and they are amazing! Feel free to switch up the fruits you use too. Kiwi or Strawberries are more favorites around here.
Feel free to pin this recipe on Pinterest for later too:

Enjoy!