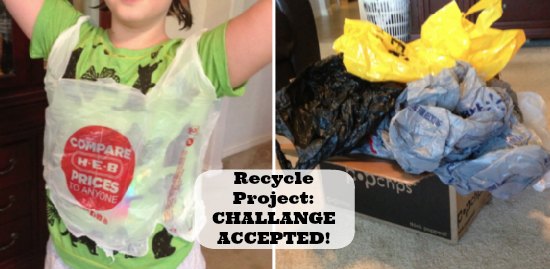 Plastic Bag Curtains
This recycle project of ours all started with a challenge.  I challenged my daughter to make something useful out of bags that we have an abundance of.  She challenged me back and said I have to do it too.  Challenge accepted!
She asked if she could destroy a bag and I said only if you can use it in another way.  She tore out the bottom of the bag and put in on light a shirt.  This is now her apron when she paints!  I like that idea.  Kinda cute!
After dumping out our huge box of plastic bags my creative juices started flowing.  I love red and white.  I obviously shop and Target way too much.  I had a vision in my head for a curtain or a shower curtain of some sort.  I could just tape bags together could I?  Yes, I could!  But I didn't want them to look plain either.  I sorted out all the bags and grabbed only the white and red colors I planned on using.  I grabbed my clear scotch tape (the wide kind as seen here), scissors and a curtain rod.
I ended up with some beautiful "no sew" Plastic Bag Curtains!  I laid out all the bags in the size I wanted.  I started from the top and worked my way down.  I taped five bags together but I only taped them halfway down the bag.  I had an idea to put a bag inside the each bag to give it a fluffy look.  It worked like a charm!  I also taped the ends of each side of the curtain so the bag would stay in place.  Once I finished the first row, I started another. This time I would do the same thing as the first row but when I was done taping them I would now tape the handles to the middle part of the bag on the previous row.  Once I got the length I wanted I stopped.
I took a few different photos because you could see it better in the outdoor light.  Here's a front and back view of the plastic bag curtains.  I could easily see a college student making these!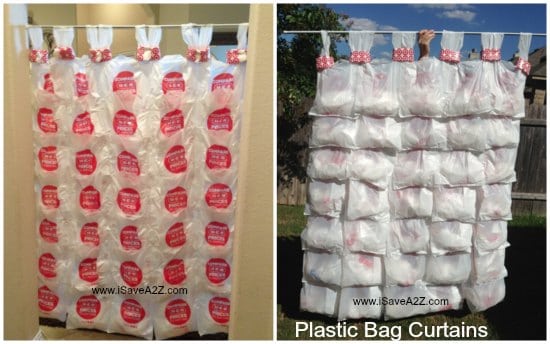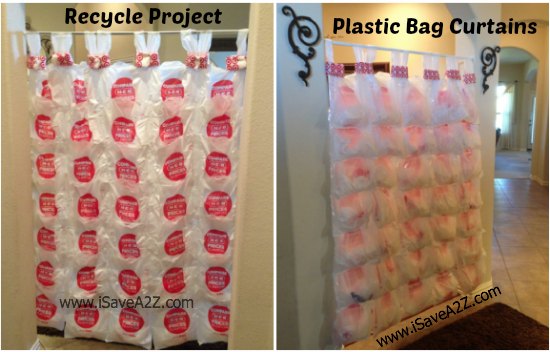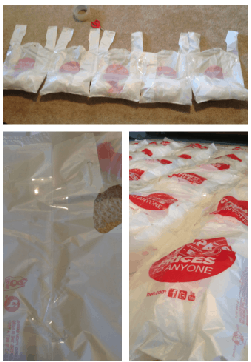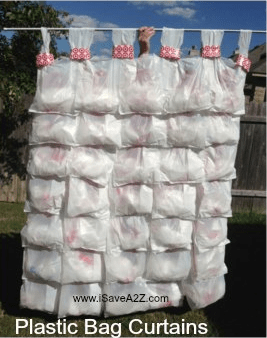 I hope this inspires you to give a thought about recycling items in your home.  We had a blast doing this project.  It was definitely quality Mother-Daughter time!
Enjoy