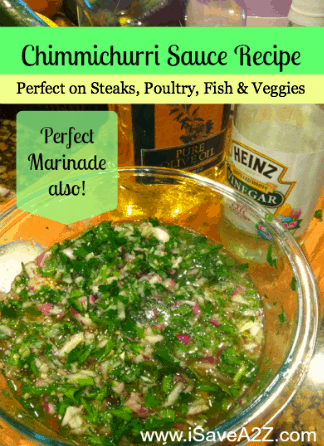 Chimichurri Sauce Recipe
If you want to spice up your Steaks, Poultry Fish & Vegetables then you need to try the Chimichurri Sauce Recipe!  Not only can you add these to your foods when served but you can also use this as a marinade too!
My husband is a big steak eater.  Boy does he love a good steak!  When I asked him to try it with the chilled Chimichurri Sauce he was a bit reluctant but did anyway.  I'm sure that was just to make me happy. :-/
I am happy to report he has renamed this Chimichurri Sauce to ChimiYumYum Sauce and prefers to eat it with almost every meat he consumes!  That says a lot for a recipe too!
I encourage you to give this sauce a try.  It's not spicy be any means.  It simply brings out an amazing flavor to your meats.  It's made of mostly vegetables, olive oil and vinegar.  I prefer mine lighter flavor so my oil to vinegar combination has more vinegar.  It's a very lite sauce this way.  You can flip the oil and vinegar measurements around to see which way you prefer it.  Try it different ways to see which way you like it best.
Guess what?!  It's Paleo friendly too!  It's a bit hard to find any type of sauce that I can add to my Paleo Meal without breaking some sort of rule.  😉
This will last in the refrigerator about a week.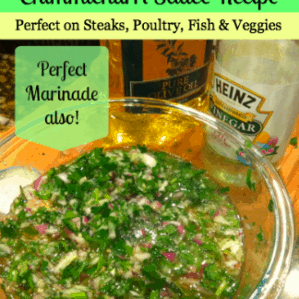 Chimichurri Sauce Recipe: Adds tons of flavor to Steaks, Poultry, Fish & Veggies!
Ingredients
2

cups

fresh Parsley

4

garlic cloves

minced

3

tablespoons

chopped red onion

2/3

cup

vinegar

1/3

cup

olive oil

If you like a bit of spice feel free to add some red pepper flakes too
Instructions
Add the onion and garlic in the food processor until its finely chopped

Next add all of the parsley and continue until all of it is finely chopped

transfer the chopped ingredients to a bowl and all the remaining ingredients

Store in the refrigerator until you are ready to serve it

Tip: Some people also prefer to make it with Cilantro instead of Parsley. (optional)