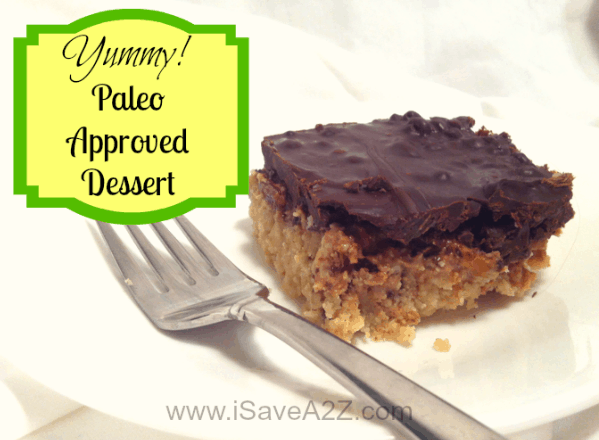 Paleo Recipes:  Chocolate Almond Butter Bar No Bake Recipe
If you are looking for Paleo Food, I am in the same boat!  It's kinda hard to find Paleo recipes on the internet without paying for them.  It's not easy trying to create a Paleo meal when you don't have recipes.  The first of the year I started the Paleo diet.    I am determined to have a paleo diet success story that will soon be written but first, I need Paleo recipes!
I started with a Paleo Diet Food list before I attempted to make any desserts.  I was surprised at all the substitutions that I could use to make a Paleo Dessert recipe!  Voila!  I created Paleo bars!!!!  But wait!  Here's the best part…  the kids and hubby even liked it!  Yay!  Success!
If you are starting the Paleo diet and need recipes, I plan to write many, many more!  Be sure to bookmark the Paleo Recipes Category here.
Here's my attempt to make a substitution for a Peanut Butter bar recipe.  I call it the Paleo approved Chocolate Almond Butter Bar!
Here's how I make it: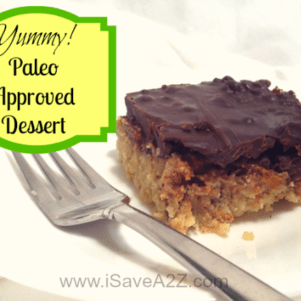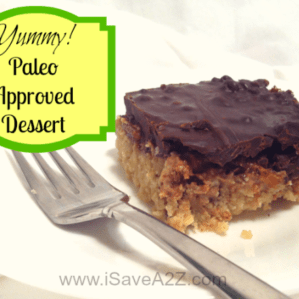 Paleo Diet: Chocolate Almond Butter Bar No Bake Recipe
Paleo Approved Dessert Recipe
Ingredients
Butter

grass feed

Shredded Coconut

Semi-sweet Chocolate Chips

The Enjoy Life brand is dairy, nut and Soy free

Pitted Dates

about 4 or 5 of them
Instructions
Mix together 1 1/2 cups Almond Flour with about 4 tablespoons of melted butter to create a crumb base for the bar.

Press the mixture into the bottom of a small pan and set in the freezer.

Cut up the pitted dates into small pieces

Mix together 1 cup of Shredded coconut, 1/2 cup of Almond Butter and the cut up dates. (it should be a thick and pasty consistency, add more almond butter if needed)

Take the crust out of the freezer and spread the almond butter mixture over the crust. Set it aside.

In a separate bowl, Melt 1 cup of Semi-Sweet Chocolate chips in the microwave for 30 seconds at a time and stirring them between heatings. (it took mine 1 full minute to melt them completely)

Cover the melted chocolate on top of the bar and refrigerate for about 5 to 10 minutes (or until the chocolate has hardened again)

Cut into squares and serve