Paleo Diet: Almond Crusted Salmon Patties Recipe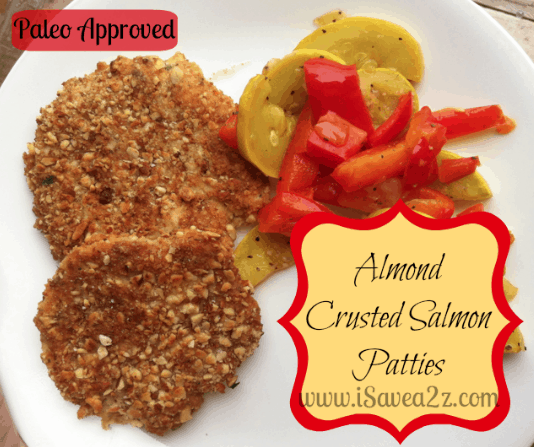 Paleo Recipe:  Almond Crusted Salmon Patties
At the first of the year we started the Paleo Diet and I just have to tell you that I am highly surprised that we like it!  I don't really want to call it a diet because I think of it as a lifestyle.  It's not too hard at all to come up with a Paleo Meal!  Here's a Paleo Meal that was a huge success at my house.  I call it the Almond Crusted Salmon Patties.  On a scale from 1 to 10 of Paleo Recipes, I give this one a 10!
Finding approved Paleo Diet foods can be a bit of a challenge (or at least it was for me) but it's getting easier and easier the more I experiment with my paleo approved ingredients.  I have a few books I recommend to get you started:
Almond Crusted Salmon Patties Recipe
Here's a printable recipe for the Almond Crusted Salmon Patties I made.  I ended up getting a sweet tooth later that even and experimented with the paleo ingredients for dessert.  I made Paleo Bars!  You have got to try the paleo bar recipe!  I made it with almond butter and the Enjoy Life Semi-sweet chocolate chips!  The chocolate chips are Paleo approved because they are made from cane juice and they are also dairy, nut and soy free!  They are worth every penny and then some!  YUMMY!!!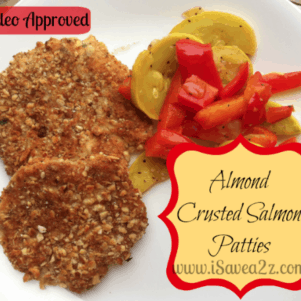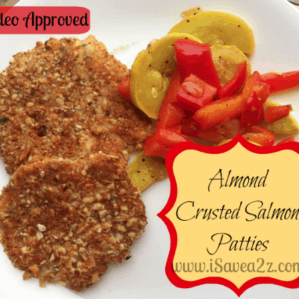 Paleo Diet: Almond Crusted Salmon Patties Recipe
Ingredients
Fully cooked salmon

I used the leftovers from the meal before

Eggs

Onions

optional

Green Peppers

optional
Instructions
Salmon Mixture:

Fully cooked salmon approx 1/2 cup per serving (I used the leftovers from the meal before) I used about 3 cups worth approx.

Mix together 1 cup of almond flour and two eggs

add 1/4 cup of onions and or green peppers for flavor (optional)

You are going to create a thick paste consistency (thick enough to be able to mold a patty from it. If it's not thick enough, add more almond flour)

Add salt and pepper.

Almond crust:

Use about 1 cup of plain almonds shredded in the food processor or chopped small enough to make a chunky crust but not too small to where it turns into flour.

Create a patty from the Salmon mixture and coat it with the chunky almonds. Place it in a preheated frying pan with oil and begin to fry it until it's golden color on both sides.

Serve warm.
Nutrition facts are provided as a courtesy.