Paleo Diet Grocery Shopping List Suggestions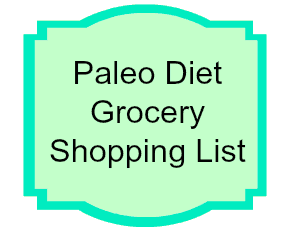 Here's a quick start list of approved Paleo Diet Foods.  I've also included foods you should avoid.  This was very helpful to me when I started shopping.
Approved Foods:
Lean Meats (free range, grass fed and organic are best)
Lean Poultry
Any Wild Game Meat
Fish
Shellfish
Eggs
Dairy – only Coconut milk
Beverages – coffee, tea (unsweet) and water
Fruits
Vegetables
Nuts and Seeds
Foods to be used in Moderation:
Be sure to check out the Paleo Recipes here for some great ideas.
Foods to Avoid:
All Dairy foods
Cereals
Starchy Vegetables
Processed foods
Soft Drinks and Fruit Juices
Sweets (candy and sugar)
Grains and Legumes
Example of my Paleo Grocery List:
Coffee
Tea
Eggs
Almonds (unsalted)
Coconut Flour
Arrowroot powder (thickening agent)
Shredded Coconut
Coconut Oil
Tomatoes
Garlic
Onions
Zuchinni
Broccoli
Celery
Asparagus
Alvacados
Cauliflower
Blueberries
Dates
Grapefruit
Coconut Milk (no sugar added)
5 pounds of Turkey Ground Turkey Meat  (stay tuned for an amazing Meatloaf recipe)
Salmon
Steaks
Bacon
Roast Beef
Beef Jerky for snacks