Homemade Peppermint Sugar Scrub Recipe (Free Printable Label Included)
Homemade Peppermint Sugar Scrub Recipe
Check out our super fun Homemade Peppermint Sugar Scrub Recipe!  Perfect for a homemade holiday gift too!  We love our homemade scrubs.  One of our most popular posts is our Mary Kay's Satin Hands Copycat Sugar Scrub recipe!  Another reader favorite is our homemade Brown Sugar Scrub Recipe too!
We go crazy for homemade beauty products that we can make using ingredients found in our kitchens.  If you have a remedy to share please leave a comment below and we may just feature your tip!
Oh, and our #1 most favorite homemade beauty tip is our Cracked Heel Remedy!  This recipe has been tried and tested by many readers and left with amazing results!!  Check out that post!  It's a must read for sure!
Now we have another that you are sure to love!  Try this homemade peppermint sugar scrub recipe for yourself!  Plus download the Free Peppermint Sugar Scrub printable Labels here!  It's a fun and frugal gift giving idea.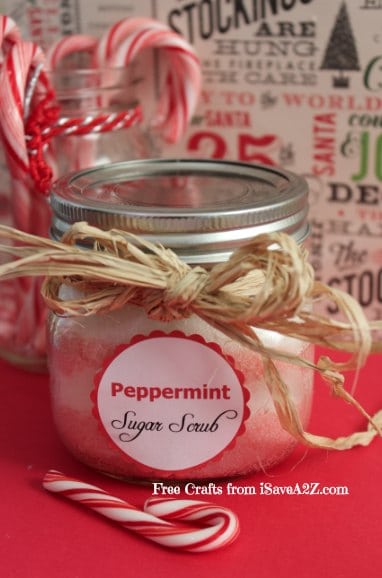 Homemade Peppermint Sugar Scrub Recipe
INGREDIENTS
2 cup Sugar
1/4 cup Coconut Oil (or Almond oil if you prefer)
Red Food Coloring
Peppermint Essentials Oil (found near Candle Making Supplies at Hobby Lobby or Online)
Optional:  Add a tablespoon of Vegetable Glycerine for extra moisturizer.  Glycerine is not easily found in stores so do yourself and favor and order it online.  It will save you time and gas.  Trust me.  It makes your skin amazingly soft.
DIRECTIONS
Pour sugar into medium sized bowl.
Mix in coconut oil (add more if you like a wet consistency).
Add a few drops of your Peppermint Essentials Oil.
Divide your sugar mixture into two equal sized portions.
Mix in a few drops of red food coloring to one portion (be careful not to add to much or you will have a bright red).
Add your sugars to the jar in layers. Press your Sugar down with a spoon or I use a can to compact.
Alternate between your pink and white layers
Add a Label to the front and maybe a ribbon to gift.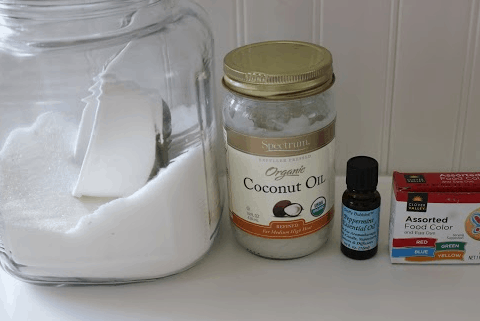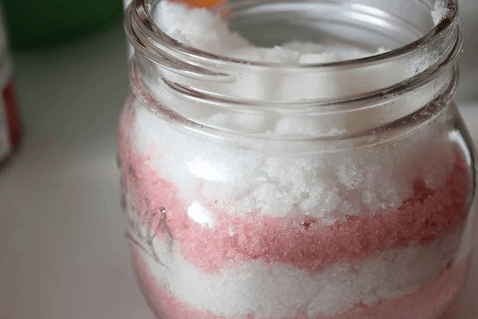 Here are a few other recipes that you may be interested in if you like to give gifts in a jar!
Homemade Coffee Sugar Scrub Recipe In a Jar
Homemade Body Butter Cream Recipe In a Jar
Mary Kay's Satin Hands Copycat Sugar Scrub recipe In a Jar
Brown Sugar Scrub Recipe In a Jar