Ikea Copy Cat Homemade Occasional Table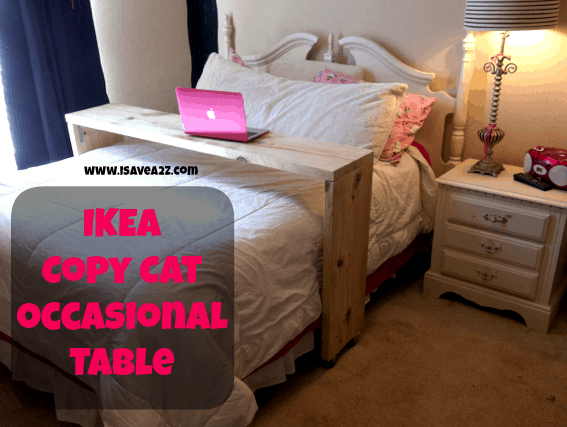 Ikea Copy Cat Homemade Occasional Table
I just completed my very own Ikea copy cat homemade occasional table!  It was so easy!!!  I say if you can use a drill or a screw driver you can do it too!
My daughter and I were shopping at Ikea the other day.  We were trying to find some shelving for all of her stuffed animals and knickknacks.   We found the coolest bed set up with a occasional table on wheels to use while you are in bed!  It's definitely different but in our age of laptops and tv it's a fun idea!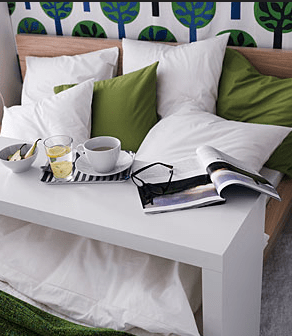 My daughter wanted it but guess what, it costs $129!  That wasn't the only problem.  It's made for an Ikea bed that was extremely low to the ground.  My daughter has a double bed that has a plush mattress.  Extra plush!  It's high off the ground.  There's no way that Ikea occasional table would even fit over her bed.  Besides.  It was really light, hollow and very wobbly.  I didn't like how it was made.  I told her we could easily make that for a fraction of the price and with a higher quality of wood.  She said "Let's do it Mom!"  Oh boy,  what did I get myself in to.  I told her that we would go to our local hardward store and price the wood and see if we could come up with something.
Here are the supplies we used:
1 – 2x12x12 Top Choice board $12.35  (We asked the employees to cut this to the exact measurements we needed so we didn't have to do any cutting.  There is a 25¢ charge for each cut.  Well worth it in my opinion!)
4 – 2″ Ridgid locking Casters (wheels that only move backwards and forwards and don't swivel) $11.32
Don't use the Caster wheels that swivel as seen here.  Your table will move in a different direction.  You only want you table to move forward and back.
1 box of wood screws 8 x 1 1/2 $5.30
Sandpaper $3.78
Cost total:  $33.50
Directions for a Double/Full sized bed:
Get your local hardware store to cut 2 pieces at 29 1/2 inches and once piece at 60 inches.  (If you are attempting to make this for a different size bed I would add an extra 3 to 3.5 inches on each side of the bed to allow for the comforter space.)
After it's cut, just screw the "L" brackets into place and sand it.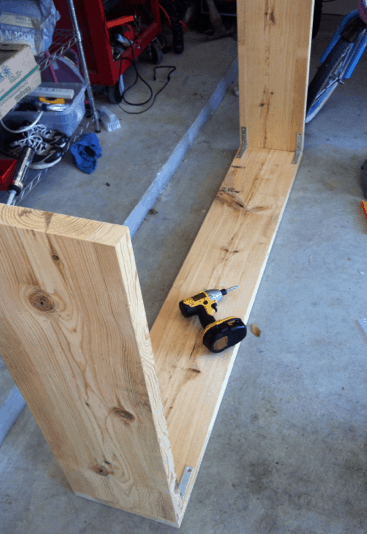 She insisted on helping me do some sanding!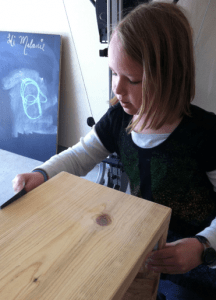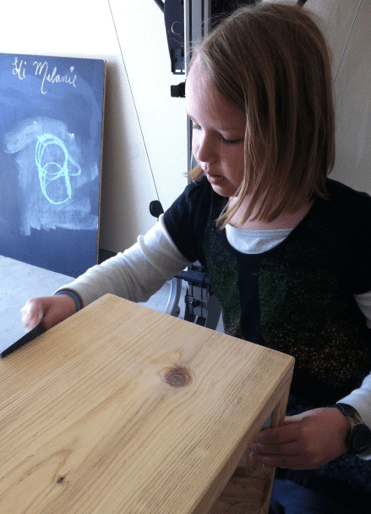 Screw the wheels into the bottom and Voila!  It's done!  Well kinda,  we plan to paint ours black but my daughter just had to see how it worked first!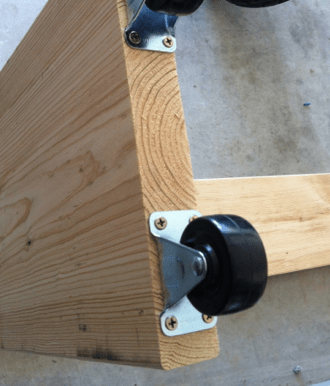 Stay tuned for the updated photo after it's painted.  Not bad for only $33.50!  We saved almost $100~
UPDATE:
Here's the painted version!  We painted it with Black Chalk board paint!
Enjoy!