Cheese Crusted Chicken Spinach Crepes Recipe
Cheese Crusted Chicken Spinach Crepes Recipe
I want to encourage you to this Cheese Crusted Chicken Spinach Crepes Recipe for dinner one night! I attempted to make these when I had left over chicken. I didn't have enough chicken for a complete meal so I made it with crepes and it came out so good.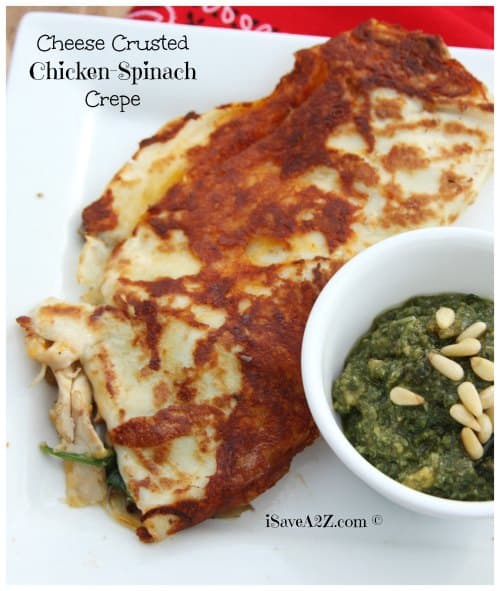 We plan to have this recipe way more often now that we've tried it!
I'm no stranger to crepes. When I think of crepes I usually think of sweets or desserts even but I never realized how you can make a dinner meal out of a crepe! You should try our Strawberry Nutella Crepe recipe here for dessert too! It's amazing!
The crepe recipe for the Strawberry Nutella Crepes are just a tad different from these. I don't add sugar in my dinner crepes. I do realize I could make near perfect crepes with this tool but I haven't received mine yet (Just ordered it).
Here's the recipe: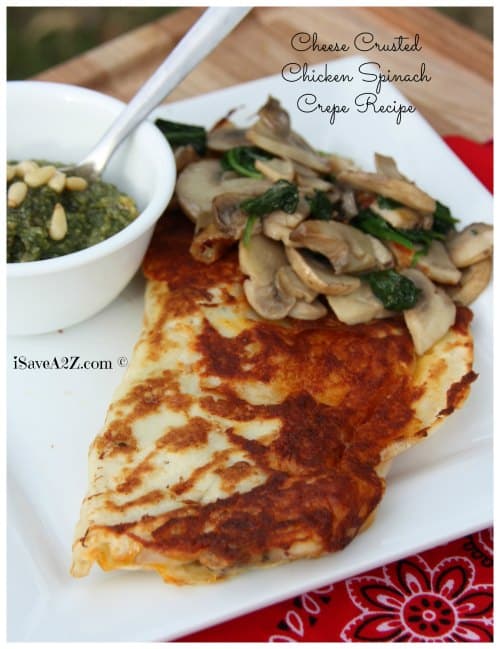 Cheese Crusted Chicken Spinach Crepes Recipe
Classic
Ingredients
2

eggs

1

cup

flour

1 1/4

cup

milk

2

tablespoons

vegetable oil

1/4

teaspoon

salt

Filling Ingredients:

Left over chicken

Spinach

Mushrooms

cheese
Instructions
First heat the filling ingredients:

Heat the chicken, spinach and mushrooms in a pan sauteed with olive oil or butter. Set aside when it's completely heated.

To make the crepes:

Twisk two eggs. Combine all the other ingredients until the batter is rich and smooth. It should be the consistency of thick milk. Add more milk if needed to reach this consistency.

Spray the frying pan with cooking oil.

Heat the pan on medium heat.

Add a small amount of batter and pick up the pan and move it in a circular motion to allow the batter to spread into a circle.

Once the top part is dry on the top (only takes about 30 seconds) then flip.

Quickly add cheese, filling and fold in half. It only takes about 30 to 45 seconds to heat the other side.

For the cheese crusted crust option: When your crepe is almost done add a layer of cheese directly on the pan and flip the other side of the crepe back over on the cheese you just laid out on the pan. Cook until the cheese starts to bubble. It will create a crispy cheese crust that is absolutely delicious! See the video for visual instructions.
Nutrition facts are provided as a courtesy.
Stay tuned for the Walnut Basil Pesto Recipe I served this with! Even the kids love it!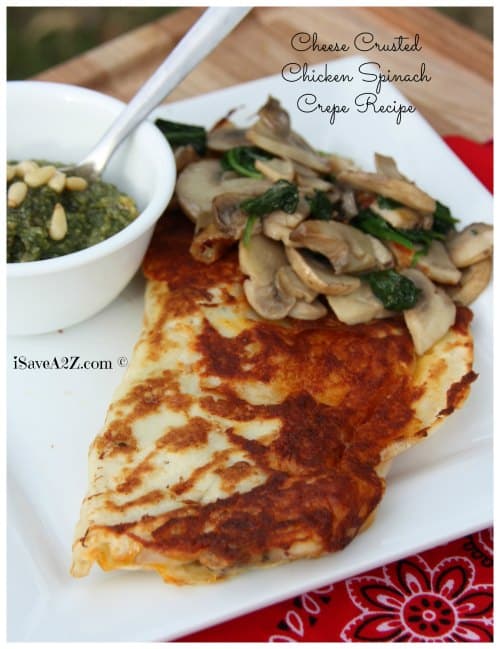 We topped ours with even more mushrooms and spinach! So yummy! I just the crispy cheese crust!