Easter Pretzel Chicks
Are you ready for Easter!? Not until you've checked out our newest Easter Pretzel Chicks! Liven up your Easter get-together with these festive snacks! They are super easy to make, and they are great finger foods for any guests, or even just for the family! Be sure to check it out, and try it if you're interested! They would make a cute addition to an Easter party! Looking for some other Easter festive foods? Try our Easter Mini Cakes and our Easter Bunny Bread Recipe!
Don't miss out on some other great snacks!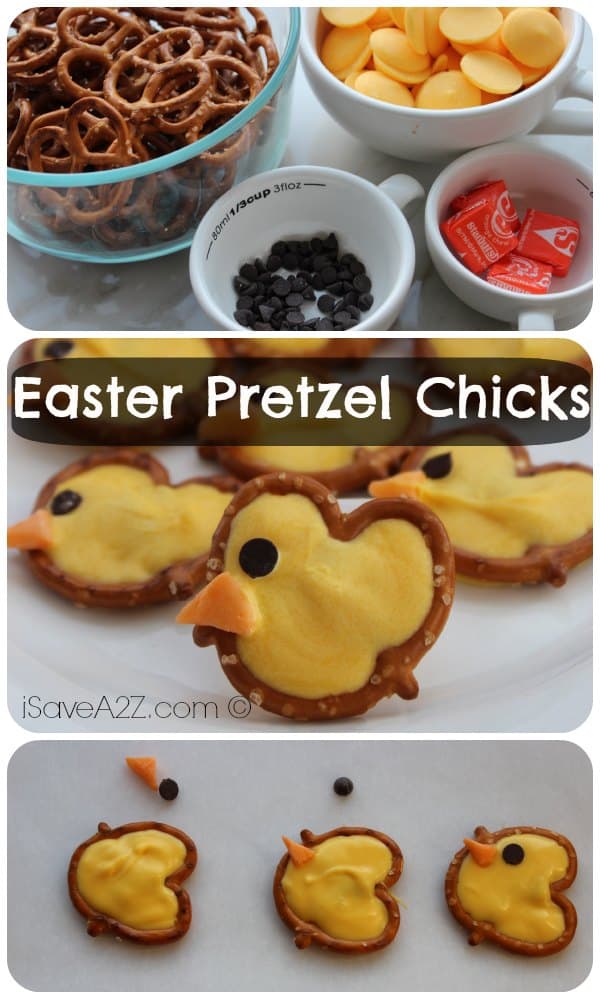 Easter Pretzel Chicks
Ingredients
24

Mini Pretzels

24

Mini Chocolate Chips

2

Orange Starbursts
Instructions
Cut Starburst into 3 rectangular strips (1/4" x 3/4")

Cut each of those in half, creating 6 - 1/4" x 3/8" rectangles.

Now cut each of those diagonally creating 12 triangles for beaks.

Repeat with other Starburst, giving 24 beaks.

Lay pretzels out on wax paper lined cookie sheet.

Heat Yellow Candy Chips by microwaving for 30 seconds stirring and repeating until melted. Allow to cool for 2-3 minutes.

Transfer chocolate to corner of zippered bag and clip tiny piece off of corner to pipe.

Pipe candy over insde of pretzel to form shape of chick. Smooth with finger if necessary.

Place mini chocolate chips for eyes and Starburst triangles for beaks.

Place cookie sheet in refrigerator for 20 minutes to allow candy to set.
Hope you enjoy! If you like this recipe be sure to PIN IT here!  Follow us on Pinterest too so you don't miss anything!