No Bake TWIX Caramel Apple Salad Recipe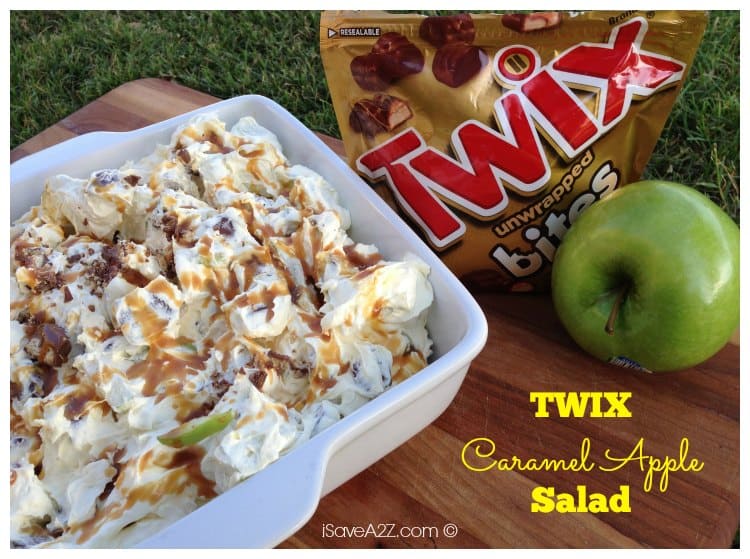 I just can't express to you how happy I am with this super easy No Bake TWIX Caramel Apple Salad Recipe!  It took just under 10 minutes to whip it up too!  The hardest part was not eating the TWIX Candy bars before you put them in the recipe!  I had lots of little fingers trying to sneak a few from the bag when I wasn't looking!
I started with a few ingredients: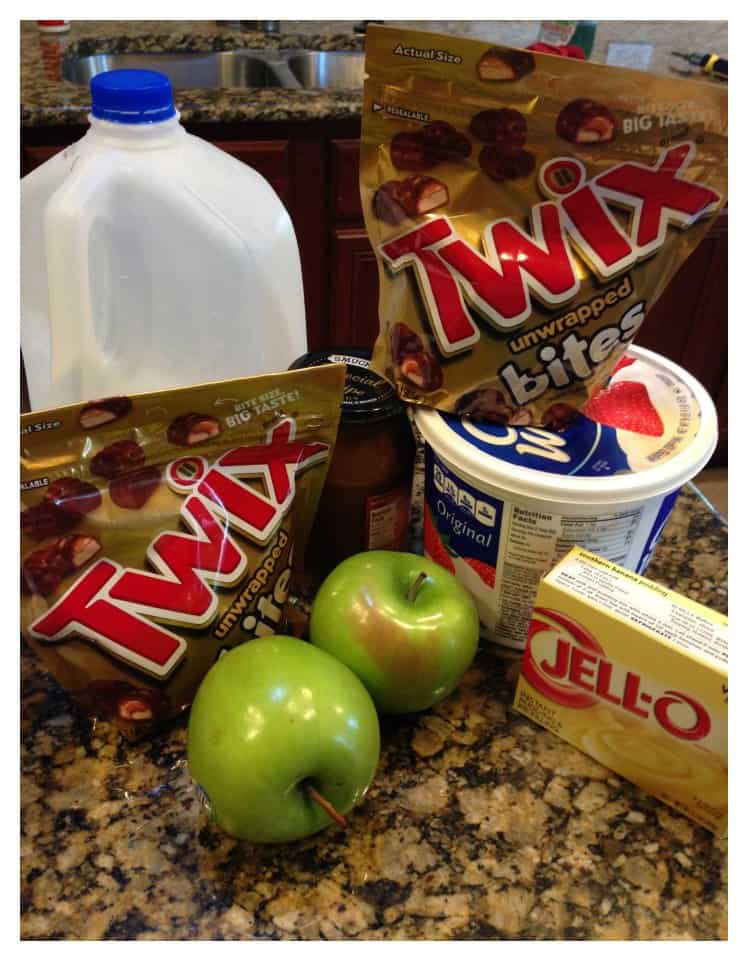 Then I busted out the TWIX Bites!  I'm so happy about the TWIX Bites for a couple reasons.  First, I feel as though I get more chocolate in every bite of these and I love chocolate!  Next is because they are small and easy to cut.  OH Wait!  There's another reason!  They are not individually packaged!  I didn't have to spend lots of time opening them up.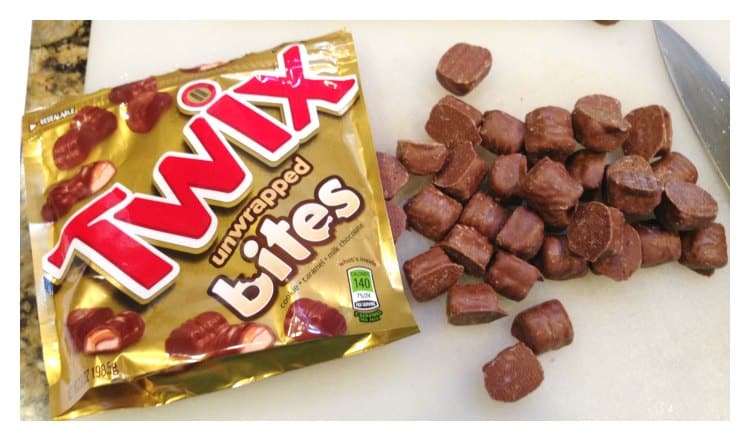 I literally just dumped them on my cutting board and cut them one time!  TWIX Bites are my favorite because it doesn't have any nuts.  You can make this recipe with your favorite candy bar but I highly recommend you try it with TWIX!  My kids will agree.  If you do like nuts, I suggest try making this with Snickers.
You can use any kind of apple with this recipe but I prefer the Granny Smith apple in this one.  It's crisp and a tad bit tart which is perfect when you want a nice balance of sweetness in a dessert.  I love the crunch of this apple too.  It pairs perfectly with the cookie, caramel and chocolate in the TWIX Bites!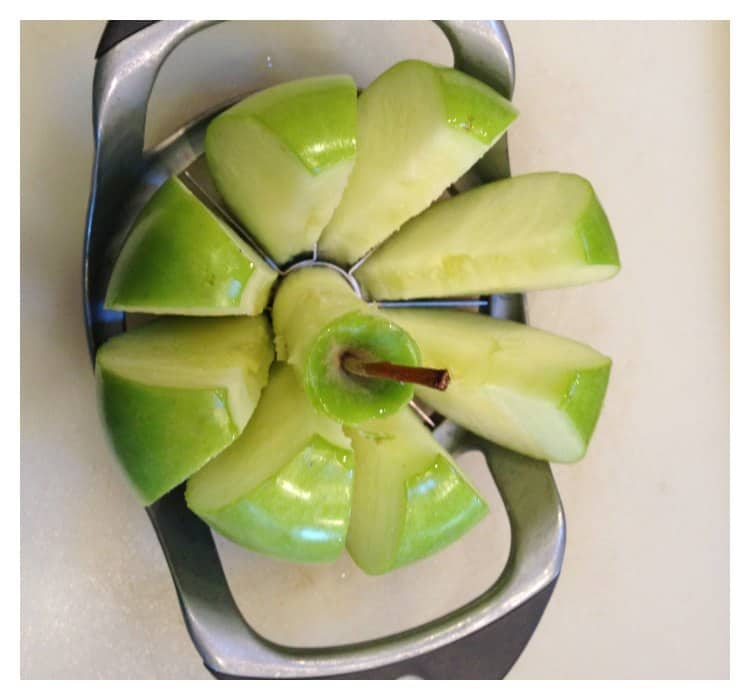 Here's the easy part!  You start by mixing the vanilla pudding as instructed on the package but only use 1/4 cup milk.  Then you just mix the rest of the ingredients together!   I will let it set in the refrigerator to allow the pudding mixture to set a bit.  Usually it's between 30 minutes to an hour.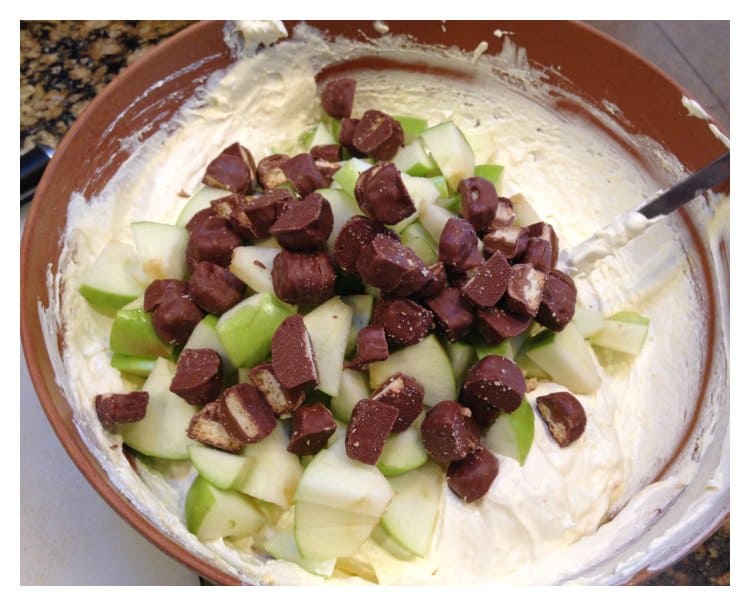 To finish this off, you can drizzle a caramel sauce over the top of it to make it look pretty but it's not necessary.  There's plenty of caramel in the TWIX Bites!
Here's a printable version of the No Bake Twix Caramel Apple Salad Recipe: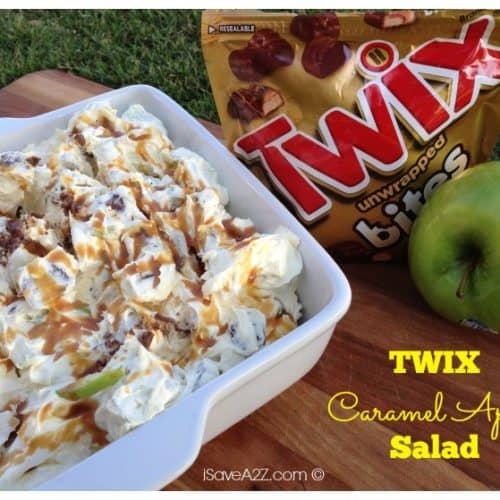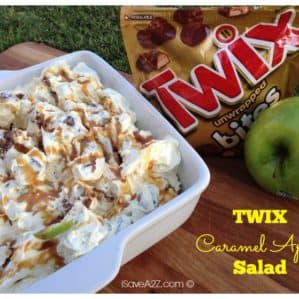 No Bake Twix Caramel Apple Salad Recipe
No Bake Twix Caramel Apple Salad Recipe
Ingredients
1

small package of Vanilla Pudding

Instant

Milk

only use 1/4 cup of milk

1

large tub of whipping cream

1 to 2

packages of TWIX Bites

3 to 4

Granny Smith Apples
Instructions
Prepare the vanilla pudding according to the box instructions and immediately add the tub of whipping cream in it before it sets. Don't use the full amount of milk as the box says, only use 1/4 cup milk.

Dice the TWIX Bites into halves

Dice the Granny Smith apples

Mix all the ingredients together.

Allow it to set in the refrigerator for at least 30 minutes.

Optional: Drizzle with Caramel Sauce before serving it.
Feel Free to Pin It Here: