Top 20 "REALLY GOOD" Pressure Cooker Recipes
Top 20 "REALLY GOOD" Pressure Cooker Recipes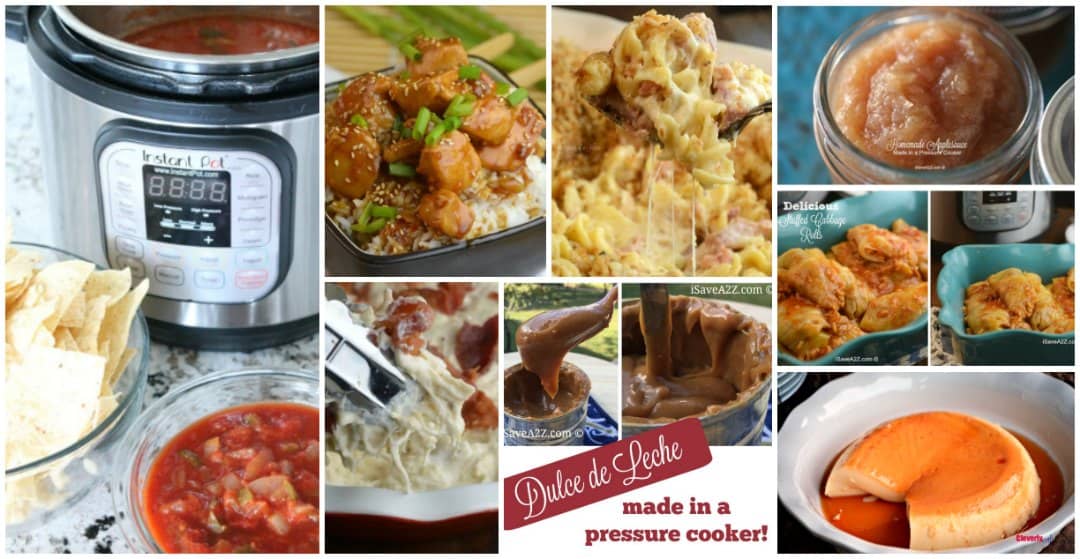 I've seen and tried so many pressure cooker recipes that I decided to do a round up of my favorites!
If you don't own a pressure cooker yet, I highly recommend the Instant Pot DUO 7 in 1 multi-functional Pressure Cooker model.  I have a family of four and there hasn't been anything I can't make in this cooker due to it's size.  If you have a larger family, I might suggest the 8 quart Instant Pot DUO instead.   I like the DUO model because it has the yogurt function and the removable cord for easy storing.  Other than that, most of them are the same.
Here are a few of my favorite Pressure Cooker Recipes: 
Honey BBQ Wings made in the pressure cooker
Pressure Cooker Meatloaf Recipe
Rotisserie Chicken Pressure Cooker Recipe
Pressure Cooker Chicken Noodle Soup Recipe
Pressure Cooker Recipe for Mexican Rice
Pressure Cooker Stuffed Cabbage Rolls
Perfect Pot Roast made in the Pressure Cooker
Instant Pot Salsa
Homemade Pressure Cooker Applesauce
Easy Mac & Cheese made in the Pressure Cooker
3 Ingredient Japanese Cheesecake Recipe made in the Pressure Cooker
Dulce de Leche made in the Pressure Cooker
Chocolate Peanut Butter Cheesecake Recipe
Chicken Alfredo Pasta made in the Pressure Cooker
Instant Pot Chicken and Stuffing Recipe
Perfect Hard Boiled Eggs made in an Electric Pressure Cooker
Home Sushi Rolls with Everything Bagel Seasoning (rice made in the pressure cooker)
Instant Pot Crack Chicken
Instant Pot General Tso's Chicken
Instant Pot Chicken Cordon Blue Casserole
Instant Pot Caramel Flan Recipe
Pressure Cooker Must Have Accessories:
For just under $3 you will find this Stainless Steel Steamer Rack very helpful.  This 8.5 inch diameter fits perfectly into both units!
I also have the Norpro Stainless Steal Vegetable Steamer too.  I had this steamer way before owning a pressure cooker.  I find this one to be extremely helpful when you want to stack different foods in your pressure cooker!  It folds out big enough to touch the sides which is perfect for separating foods.
Another option is the OXO Good Grips Silicone Steamer.  This is flexible and it has handles so you can easily pull it out of the steamer when it's done.
A beginners pressure cooker cookbook I started out with was Bob Warren's Ultimate Pressure Cooker Recipes.  It's a really good basic cookbook that allows you to get started with cooking times and such.
Feel free to Pin It on Pinterest for later: