Dulce de Leche made in a Pressure Cooker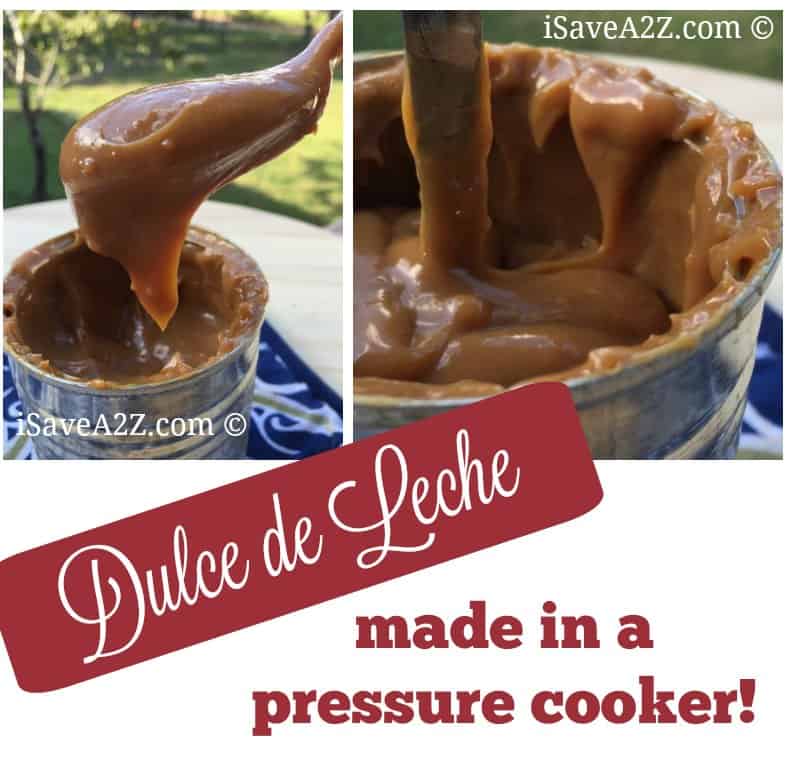 I am so excited to tell you that I just made Dulce de Leche made in a Pressure Cooker!!!  I made it in my Instant Pot Electric Pressure Cooker!  I've become quite brave since I finally got the hang of using this handy dandy kitchen gadget.  I can't believe how scared I was at first to even turn it on.  I'm not sure why either.  I guess just the thought of something cooking under pressure is pretty scary.  That, and the fact that I've heard horror stories of the old time stove top pressure cookers grandma used to use.  Yeah, scary.
This is a big change from just a year ago.  I remember having to look up recipes and cooking times in my Instant Pot Electric Pressure Cooker cookbook.  It's an excellent cookbook.  I still use it today.
Dulce de Leche is a caramel sauce.  Actually, it's a traditional Argentinian dessert made by caramelizing sugar in milk.
Here's what you need to make Dulce de Leche in a Pressure Cooker
Approximately 10 cups of water
Electric Pressure Cooker Trivet
Instant Pot Electric Pressure Cooker 
Dulce de Leche in a Pressure Cooker instructions:
First, I removed the label of the Eagle Brand sweetened condensed milk can.
I placed the trivet (that comes with the pressure cooker) in the bottom of the pot.
I placed the sealed, unopened can of sweetened condensed milk on top of the trivet in the very center.
I filled the pressure cooker up with water until it covered at least 1/2 of the sweetened condensed milk can.  This took approximately 10 cups of water for my 6 quart DUO Instant Pot Electric Pressure Cooker.  You can fit up to three cans in my unit but you will fill it with less water the more cans you cook at a time.  The timing doesn't change by adding more cans of milk either.
I sealed the lid and turned the vent to the seal position.
I pressed the manual button and added 30 minutes to the timer.
When it was done I let it sit for about 50 minutes doing a natural pressure release.  This means you don't touch the top of the vent to release the steam.  It will slowly lose pressure as time goes by.
After 50 minutes was up ( you can tell because the pressure cooker counts the minutes), I turned the vent at the top to release any pressure that was still built up before opening the lid.  Careful not to place your hand on top of the vent button where the steam will release from.  Always keep your hand to the side to prevent burning from the released steam pressure.
I used a pair of tongs to remove the very hot can of sweetened condensed milk from the pressure cooker and let it sit on the counter for about 15 minutes until I could handle it.  I still used hot pad (oven mitt) to handle the can.  I held the can and popped the top open.
Stir the warm Dulce de Leche until it becomes a creamy texture.  I've noticed the more it cools the thicker it gets so don't be surprised if it seems a bit runny when it's newly opened.  It will thicken.
Here's a sum up of quick instructions for those that use the Instant Pot Pressure Cooker:
Use Trivet
Fill water to cover can 1/2 way.
Manual Pressure for 30 minutes.
50 minutes NPR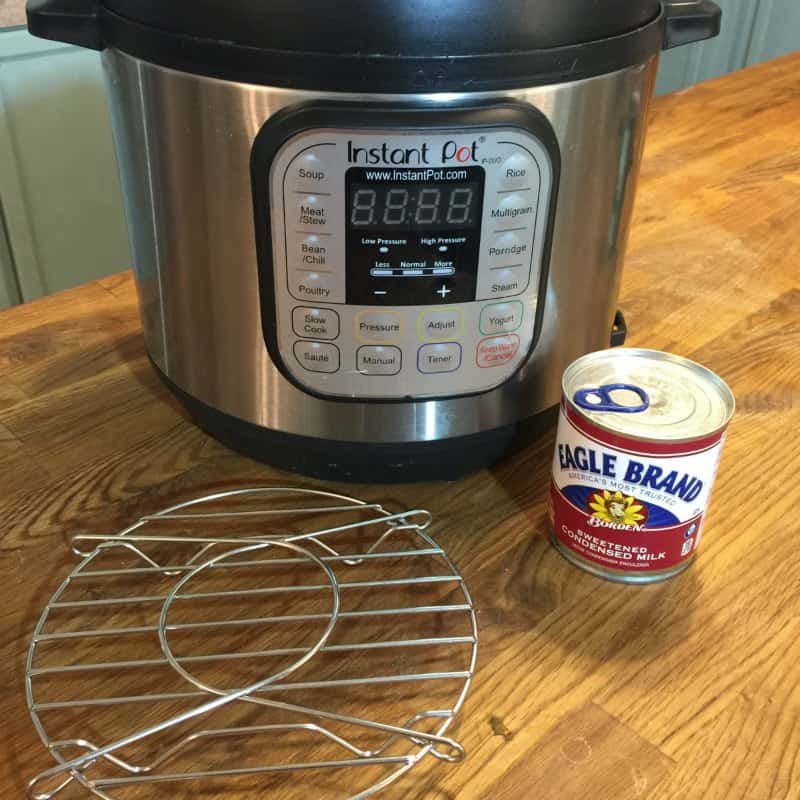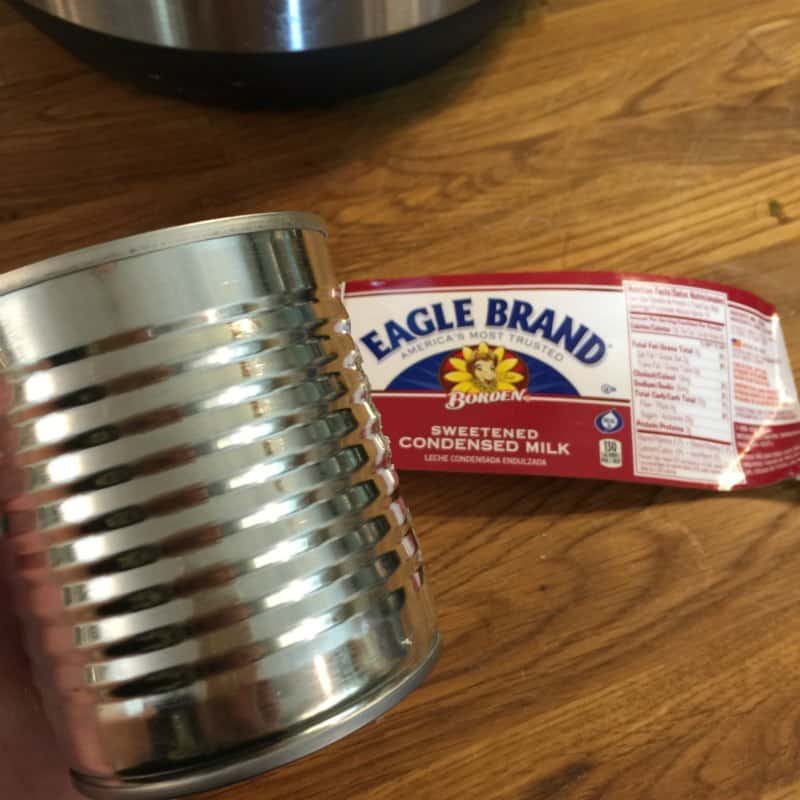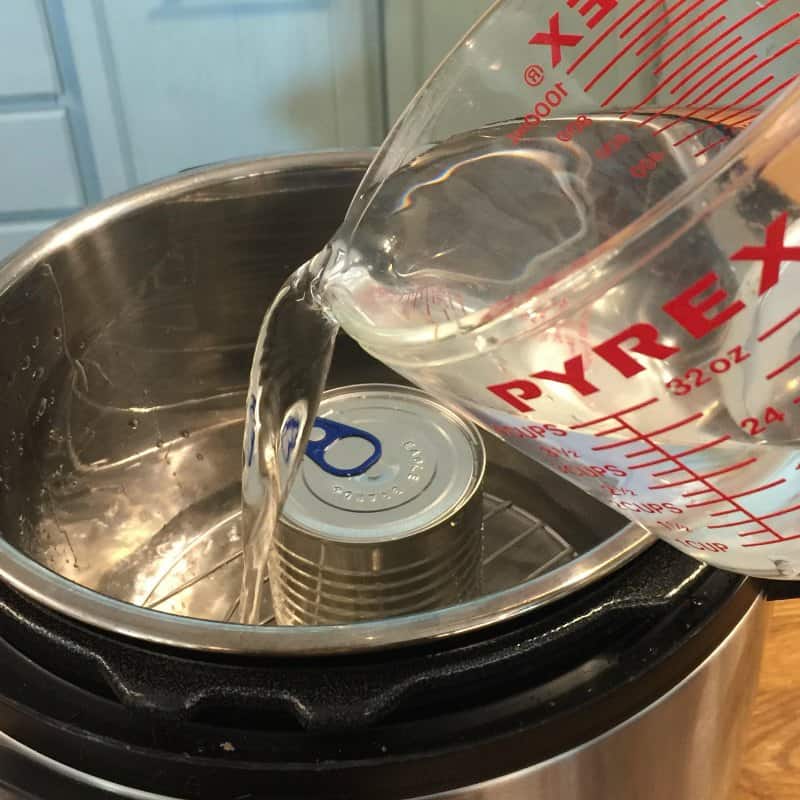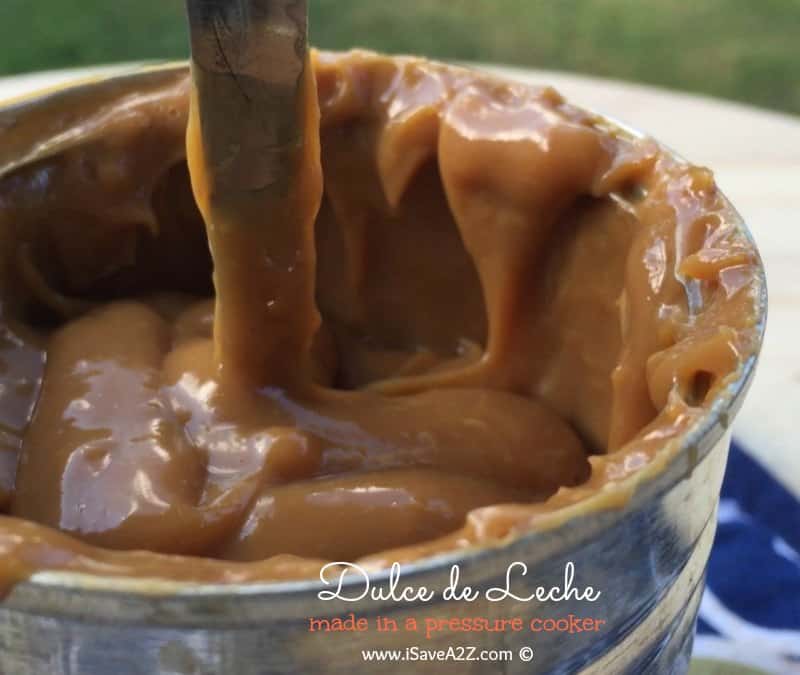 How to use Dulce de Leche?
You are probably asking yourself what do you use Dulce de Leche for, right?   There are many, many uses for it.
Here are just a few:
Drizzle it on muffins
Drizzle it on cupcakes or cakes.
Drizzle it on French Toast.
Drizzle it on Donuts.
Use it as a dip for apples.
Drizzle it on cheesecake!  We've made a Chocolate Peanut Butter Cheesecake in the pressure cooker before but sometimes we make a plain cheese cake and drizzle this sauce on top!
You can use it to make caramel pie just like O'Charley's!
Drizzle it over banana bread!
Spread it on toast (I've not done this but some friends have)
Or, just eat it by the spoonfuls!  This is what my kids would say.