Chocolate Peanut Butter Cheesecake Recipe

Chocolate Peanut Butter Cheesecake Recipe
What if I just told you that I successfully made a Chocolate Peanut Butter Cheesecake Made in the Pressure Cooker!!! I haven't found a food I didn't like that I've made in my Instant Pot Electric Pressure cooker. This thing is amazing! I love that I can forget to take out chicken breasts from the freezer to defrost for dinner and I can put them directly in the pressure cooker and have a delicious dinner in no time! Cheesecake is one of my favorite desserts! I used to make the "no bake" cheesecake recipes all the time. Remember this Mason Jar No Bake Strawberry Cheesecake recipe? Yup, another fav!
Ingredients to make a delicious Chocolate Peanut Butter Cheesecake:
12 oz cream cheese
2 eggs
4 oz peanut butter
1/4 cup heavy cream
1/2 sugar
1 tbs vanilla
For topping:
1 cup semisweet chocolate chips
1/3 cup heavy cream
1 cup Reese's Peanut butter cups
For Crust:
12 crushed Oreo cookies
2 tablespoons butter
Instructions to make a delicious Chocolate Peanut Butter Cheesecake:
Start by getting those Oreo cookies into crumbles for the crust. You can do this one of two ways. You can add them to a big plastic zip lock bag and roll them with a rolling pin (manual way) or you can use a handy, dandy food processor and whip those babies into crumbs in no time flat.
Next, you will press the Oreo crumbs into a pan to make the crust. Add 2 tablespoons of melted butter to the Oreo cookie crumbles and press that into your pan.
TIP: It's best to use a 7″ springform pan like this Springform Pan I found here on Amazon. These pans are non stick and really easy to use. Or, if you have a small cake pan that fits in your Instant Pot Electric Pressure cooker you can use that too. I personally own the 6 quart Instant Pot DUO model see here but I would have purchased the 8 quart if it was available when I was ready. If you do have a cake pan that fits in your pressure cooker all you have to do is cut out a circle of parchment paper to fit in the bottom of your pan. You will also need to cut a long strip of parchment paper in the length and thickness your pan is for the sides. I've used the springform pan and the parchment paper method and both work wonderfully. Don't spend the money on a springform pan if you don't already use one.
Now mix together the cream cheese, sugar, vanilla and eggs until the mixture is nice and creamy. Stir in the peanut butter and heavy cream at the end. It should be very smooth when you are done combining all of your ingredients.
Place a long strip of aluminium foil under your instant pot creating a sling. This will allow you to pull the cheesecake out of the pressure cooker easily when it's done.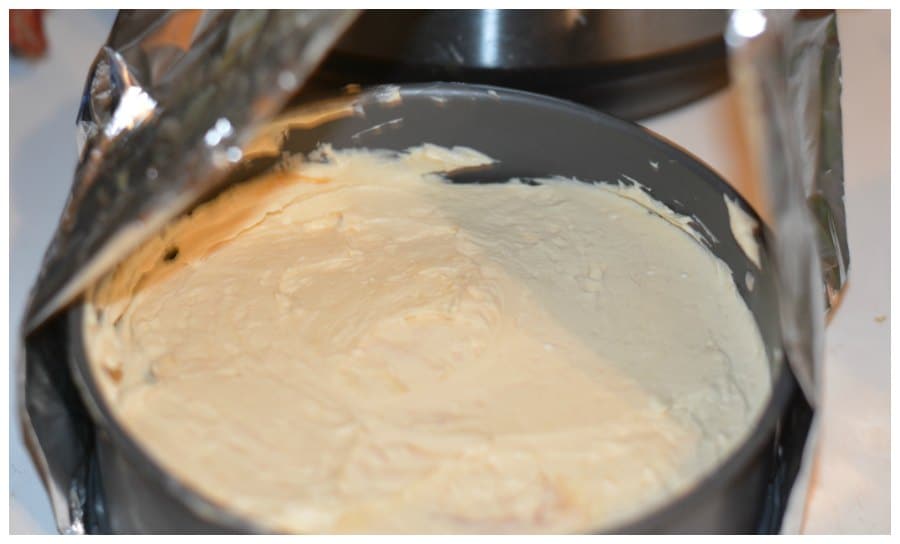 Pour 1 cup of water into the bottom of the Instant Pot pressure cooker. Lower your pan into the pot on the trivet.
Cook on manual high pressure for 40 minutes then do a quick release when the time is up.
Remove the cheesecake from the Instant pot electric pressure cooker. Allow it to cool for about 2 to 3 hours in the fridge.
Once it's completely cooled, you will make your toppings.
Start by melting 1 cup of semisweet chocolate chips in the microwave according to directions. I usually put melt these in 30 second time bursts so the chocolate doesn't melt. Now stir in 1/3 cup heavy cream until it's completely incorporated. Pour the mixture over the top of your cheesecake and top with Reese's Peanut Butter cups.
Feel free to Pin It using this photo below for later: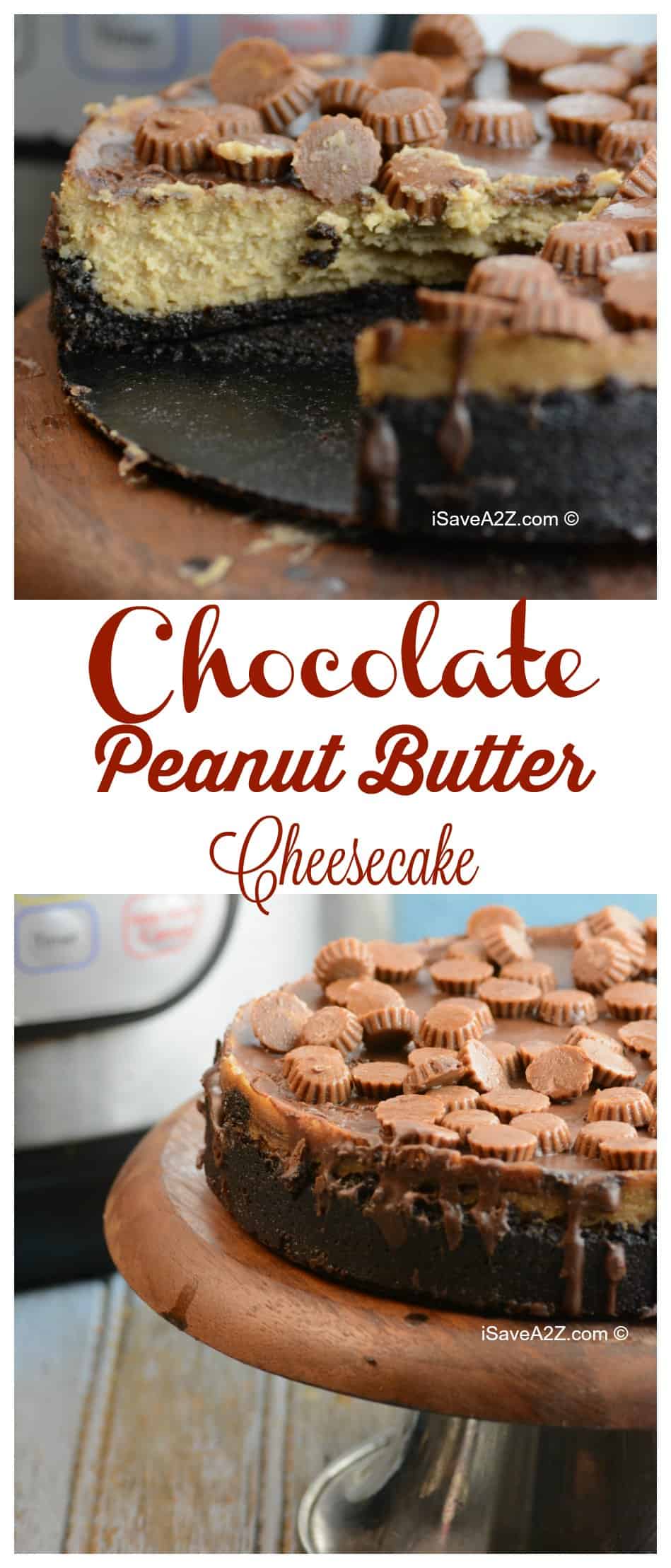 I hope your family enjoys this recipe as much as mine does!
Thanks for reading!