Easy Fortune Cookies Recipe

Easy Fortune Cookies Recipe
Check out our new and Easy Fortune Cookies Recipe! If you've ever wanted to make your very own unique fortune cookies, now you have the chance! This recipe will bring you step by step into fitting your fortune into a cookie you can make in your own kitchen! The recipe is straightforward, and what makes this recipe great, is that you have the freedom to write whatever you like on the fortunes you put in the cookies! There's some room for creative freedom here! If you liked this recipe, then you will definitely have to check out our Easy Sweet Mochi Recipe too!
You may even like some other Asian-inspired desserts as well! If so, then you're in luck! There's a whole cookbook dedicated to asian desserts!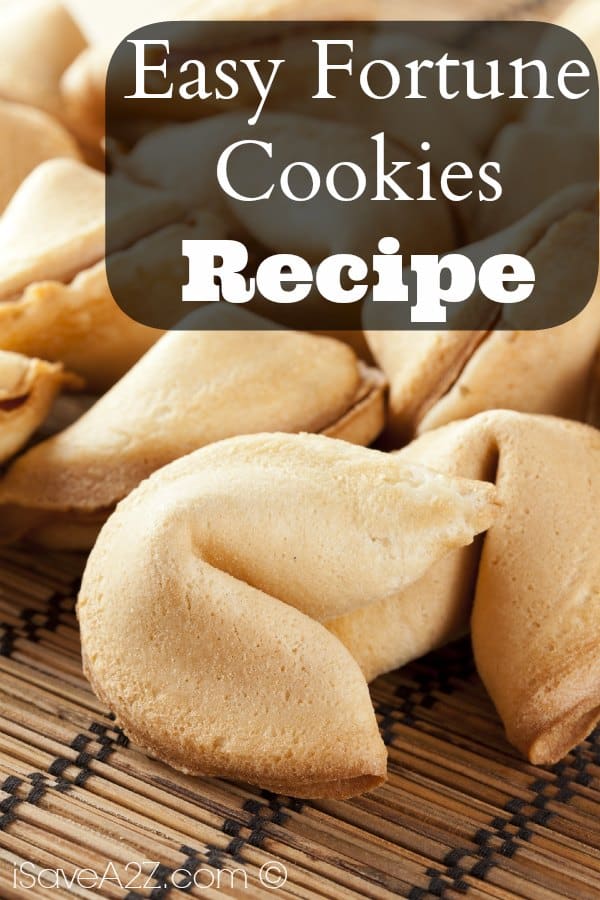 Easy Fortune Cookies Recipe
Instructions
Preheat your oven to 400 degrees F. Take out a cookie sheet and butter it. Take strips of paper, preferably 4 inches long, 1/2 an inch wide, and write your fortunes on them. Then generously grease 2 cookie sheets.

Mix your egg whites and vanilla extract until foamy. Sift the flour, sugar, and salt, and blend unto the egg white mixture.

Take teaspoons of the batter at least 4 inches apart on one of the cookie sheets you have prepared. You can tilt the sheet to move the batter into round shapes, preferably about 3 inches in diameter. Be careful, and make sure the batter is as round and even as it can get. Don't make too many either, because the cookies will be very hot while you are forming them. Once they cool, it's way too late. You may want to start with 2 or 3 to a sheet, just to see how many you can make.

Bake the dough for 5 minutes, or until the cookie turns to more of a golden color, 1/2 an inch wide around the outer edges of the circle. Don't worry the center will remain pale. While one sheet is in the oven baking, you can prepare another sheet.

Remove from the oven and move the cookie quickly with a spatula and place it upside down on a wooden board or surface. Place your fortune onto the cookie, then you can close the middle and fold the cookie in half. Place folded edge across the rim of a measuring cup, then you pull the edges down. One of them on the inside of the cup, the other on the outside. Once folded, place said cookies into the cups of a egg carton or muffin tin to hold their shape.
Nutrition facts are provided as a courtesy.