Healthy Butternut Squash Recipes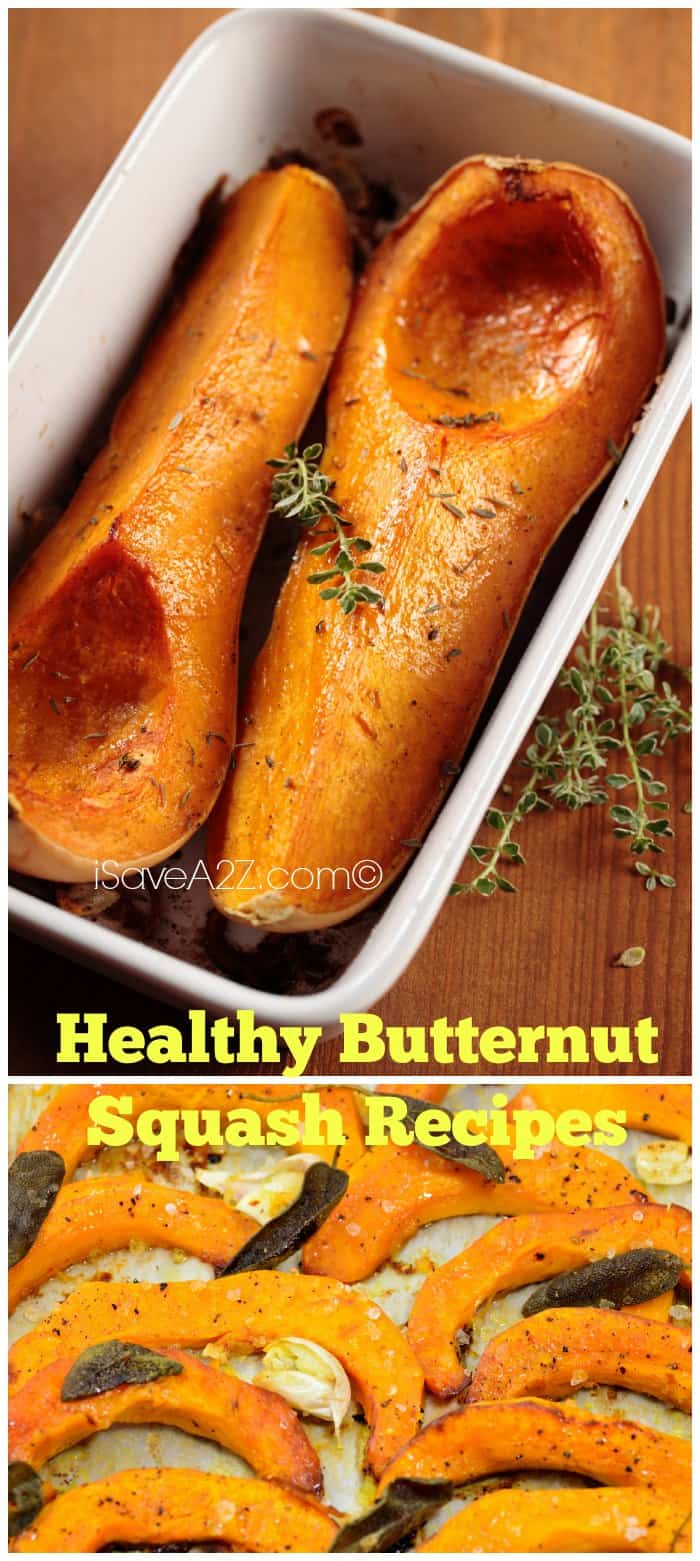 I have a few healthy Butternut Squash recipes that are totally worth trying!  Healthy recipes don't have to taste blah or boring.  With the right seasonings you can have an amazing healthy dish!
I love butternut squash.  It's probably my favorite of the squash family.  It has a smooth buttery taste and flavor when roasted!  Peeling it can be a pain though.  I've tried baking it with the skin on and the skin off and both are equally tasty.  I think it's much easy to bake it with the skin on.  The only problem is that you don't get the roasted flavor and seasonings on all sides of the squash.
My favorite is roasting it after it's been peeled and seasoned.  I use a really good vegetable peeler and then chop it into chunks before seasoning it.  My favorite vegetable peeler is this  OXO Good Grips Pro Peeler because it has a bigger handle than most.  It's much easier to peel the butternut squash with a good peeler.   You can add as much or as little seasonings as you want.  Sometimes I will drizzle it in olive oil and add just a dash of sea salt and pepper.  You can chop them up into slices as seen in the photo above or diced into cubes.  If you want to make sure every bit of butternut squash is seasoned I would add it to a large plastic zip lock baggie and add your olive oil and seasonings, then shake it well.  When you roast it, the natural flavors come out and it really doesn't need much more seasoning than that.
However, you can get creative with your seasonings too.  Sometimes I will add some Sage leaves, Fresh Garlic and maybe even some lemon to my dish.  Another seasoning is Thyme.  Most of these are fresh and come straight from my garden.  Be sure to check out my raised garden bed post here in case you missed it.  Or check out our how gardening section here.  Herbs are the easiest to grow!  These are extremely tasty healthy butternut squash recipes for you to try and both ways are amazing!
PRO Tip: I always keep stock of the McCormick Grill Mates Montreal Steak Seasoning
in my kitchen. This seasoning is perfect on almost anything, especially when you don't have fresh herbs on hand! You can purchase a big bottle of it here om Amazon or I've even seen them at my local Costco store. I use it on meats and veggies! It has the coarse salt, coarse peppers and even roasted garlic chunks in it! My mouth is watering just telling you about this amazing seasoning!