Mount Rushmore KOA Review
I just recently went on an RV Road Trip to Mount Rushmore KOA which is technically called The Lodge at Palmer Gulch. This KOA is a little slice of Heaven right here on Earth!  It has the most breathtaking views with the most pleasant staff members.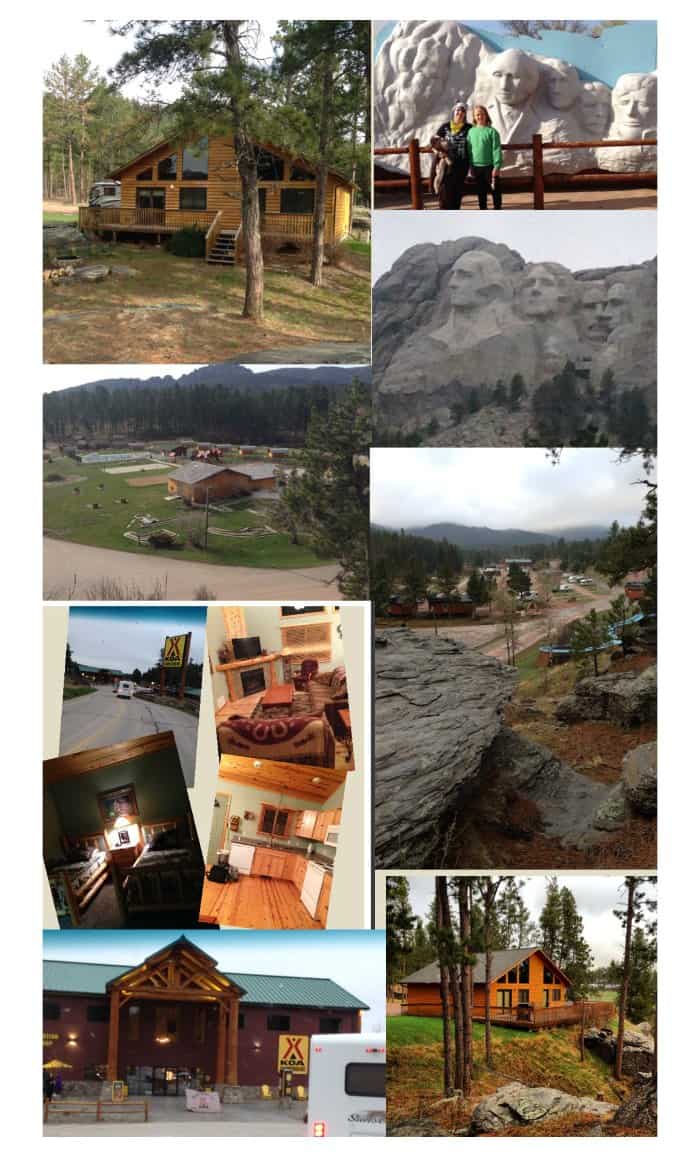 Here at the Mount Rushmore KOA they have tons of ways you can stay.  It just depends on what you like or want.
The Lodges at Palmer Gulch include:
Camping
RV Parking
Rooms and Suites
Executive Cabins
Palmer Cabins
Deluxe Cabins (New)
Camping Cabins
I had the opportunity to stay in one of the Executive cabins for 3 full days!  It was a gorgeous cabin that is nestled in the hills at the top of the mountain that has three bedrooms with a wrap around deck.  The deck was perfect to enjoy the views during sunrise and sunset!  The cabin included anything and everything you needed to make your stay pleasant!  It even had a coffee machine.  I felt right at home!  This cabin can range between $600 and $1000 a night depending on what time of year you rent it.
When I woke up the first morning I walked out at the edge of the mountain in the grass just near a huge rock.  It was so quiet and peaceful.  My family was still sleeping and all you could hear were the birds chirping.  All of a sudden beneath my feet I hear a slithering.  I immediately got scared and thought it was a snake!  I looked down and saw a cute, fluffy bunny rabbit beneath my feet!  As soon as it felt my fear it hopped away fast!  I just barely caught a photo of the cutie as I was still shaking from the fear!  We saw him a few more times too.  I think he likes to live under that deck.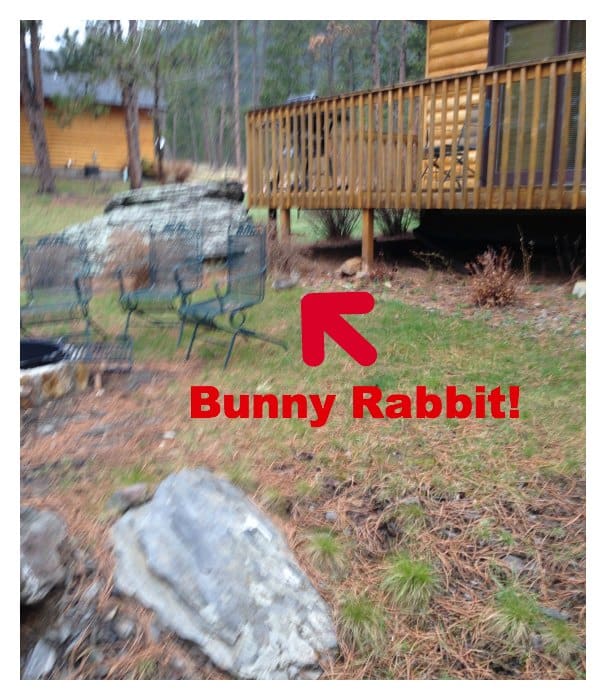 The kids had a blast at this KOA!  There's so much for them to do that they never get bored!  Not only will they meet new friends but there are many activities and exercise too!
Mount Rushmore KOA Play On Activities:
Climbing Wall
Jumping Pillow
Mini Golf
3 Playgrounds
Fishing Pond
Sand Volleyball
Basketball Court
Horseshoe Court
Giant Chess/Checkers Set
Mount Rushmore Ride On Activities:
Shuttle to Mount Rushmore Evening Lightings (fee)
Bike Rentals (fee)
Paddleboat Rentals (fee)
ATV Rentals (fee)
Golf Cart Rentals (fee)
Horse Trail Rides (fee)
Note:  Some of these activities are seasonal.
Splash Activities:
2 Swimming Pools
Foam Fun
Splash Pad
Waterslide
Hot Tubs
Places to Eat at Mount Rushmore KOA:
Ponderosa Restaurant
Papa's Pancake Tent
TurlteTown Ice Cream/Pizza
Palmer Gulch Grapes & Grinds
Fiddlesticks and General Store
Chuck Wagon Dinner Show
I have personally tried the Ponderosa Restaurant and found the food to be amazing.  I had to most tender roast I have ever tried in my life!  The breakfast is pretty darn tasty too!
Mount Rushmore KOA General Activities:
Wine Tastings
Evening Movies
Local Musicians
Chain Saw Artists
Native American Dancers
Sunday Morning Worship
Wagon Rides
Fire Truck Rides
Scavenger Hunt
Gold Planning (fee)
Tie-Dye (fee)
Wireless Internet
Business Center
Internet Cafe
Horse Trail Rides (fee)
The kids enjoyed a movie that was in a small movie theater on the property.  They even did a craft while there too!  The internet is free included.  I think the kids got the biggest kick out of exploring the land and the bike ride rentals!  There were tons of kids there and everything was a race!  It was fun to watch and great exercise for the kids too.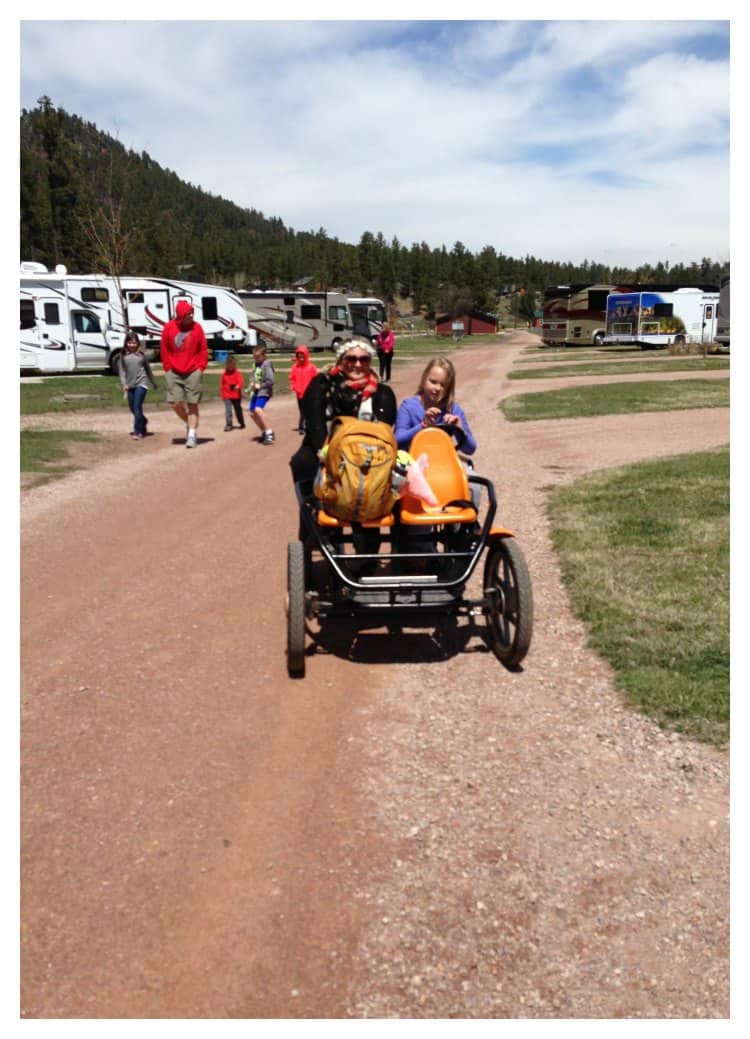 Overall we had a really good time at the Mount Rushmore KOA!  The staff was amazing!  I can't tell you how much Mike and Phil helped us with anything we needed!  If I ever head back to Mount Rushmore I will definitely stay with these guys!
Head over to the Palmer Gulch website if you want to make a reservation.  One thing to note, the GPS directions are wrong.  Be sure to use these directions so you don't get lost.
Be sure to head over here to check out the rest of our RV Travel Adventure!