French Toast Muffins
Check out our neat and amazing recipe for our delicious French Toast Muffins! If you have been looking for some nice and maybe some sweet breakfast recipes, then you can look no further! The recipe below will bring you through all of the steps that you will need to take in order to make these amazing French Toast Muffins! If you happened to like this recipe, then you should be sure to check out our Pumpkin Belgian Waffles, our Copycat IHOP Pumpkin Pancakes, our Best Hash Browns, our Best Strawberry Crepes, our Easy Egg Muffins Recipe, or even our Easy Breakfast Pizza Recipe!
If you like these recipes that we have here, and you are looking for some even better breakfast recipes, then you are in luck! Check out this simply amazing cookbook for over 101 Breakfast and even some Brunch recipes right at your hand! With this cookbook, you will never have to ask yourself what you should make for that morning's breakfast! Even if you happen to have company over, these recipes will surely please everyone!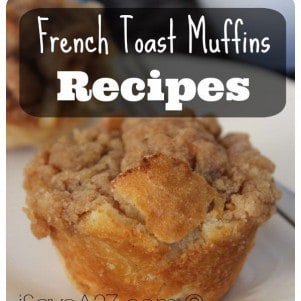 French Toast Muffins
Ingredients
Instructions
Cut bread into 1/2" cubes.

Coat muffin pan with butter.

Divide bread between all 12 muffin cups.

Whisk together the milk, eggs, sugar, vanilla, and cinnamon until blended.

Slowly add about 1 1/2 oz of liquid over bread in each cup. I use a baster to make this easy.

Cover and refrigerate for several hours.

Preheat oven to 350.

Combine butter, brown sugar, flour and cinnamon.

Mix until you have a well blended crumbs.

Cover the muffins evenly with this topping.

Bake for 25 minutes or until tops are golden brown.

Let cool for 10 minutes.
Nutrition facts are provided as a courtesy.