Honey Garlic Chicken Recipe made in my Ninja Slow Cooker
Disclosure:  I was given a product to review.  My new love for my Ninja Slow Cooker is 100% my own!

Honey Garlic Chicken Recipe made in my Ninja Slow Cooker
I just tried my brand new Ninja Slow Cooker and I am blown away because I thought it was only a slow cooker before I tried it myself.  Look at this beautiful Honey Garlic Chicken recipe I just made.  My family loved it!  It was so easy to make too.  The chicken was the most tender chicken I have ever tried.
There aren't many recipes out yet for the new Ninja Slow Cooker so I had to try to adapt recipes to make it work.  Luckily I can tell you what works and what doesn't before you try it.  I found a recipe for Honey-Garlic Chicken wings on the Food Network website so this is where I started.   I'm not a big fan of chicken wings to I used chicken breasts instead.  I also added some jam because I love the sweet and spicy taste mixed together.  I'm not a big fan of real spicy foods so this is a perfect combo to bring out the best taste possible.  It's completely kid friendly too.  If you like the heat, just add more red pepper flakes.  I learned about the sweet and spicy combo when I read this Lil Smokies recipe over at MoneySavingAmanda.com.  It works well in this chicken recipe too!
This Ninja 3 in 1 slow cooker can do so many more recipes than I even imagined.  You can make cakes, one pot dishes or even sear steaks with it!  It has a many different options on it.  You can use it just like an oven.  It has a built in stove top option that has a low, medium and high setting.  It's a slow cooker as you can tell by this recipe but it's better than a regular slow cooker because it will switch off and over to a keep warm auto setting.   But the best part is, it's super easy to clean because it has a professional non-stick pot!  Basically you just rinse it with soap and water.  I love that part!  Stay tuned for many more recipes too!  I saw a recipe where you can make cupcakes with half the fat in them and use the Ninja slow cooker to steam them.  I haven't tried it yet but it's soon to come!  Next recipe will be meatloaf though first.   I already have my hamburger thawing.
Check out all the specs of the new Ninja Slow Cooker 3 in 1 cooking system here on Amazon.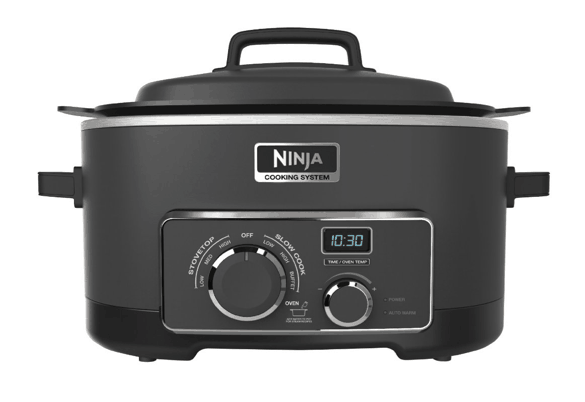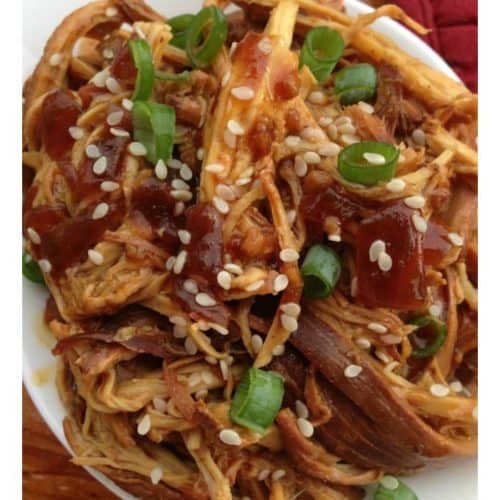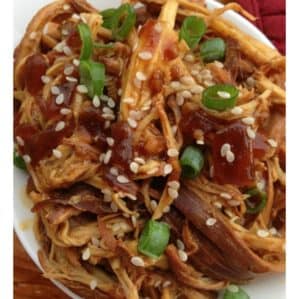 Honey Garlic Chicken Recipe made in my Ninja Slow Cooker
Easy Chicken recipe made in the Ninja Slow Cooker
Ingredients
5

large chicken breasts

skinless

1/4

cup

low sodium soy sauce

3

tablespoons

minced fresh garlic

2

large onions diced

1/2

teaspoon

crushed pepper flakes

1/4

cup

blackberry or grape jam

don't use the sugar free kind

1/4

cup

honey
Instructions
Spray the bottom of your Ninja Slow Cooker with vegetable oil to prevent sticking.

Place all 5 chicken breast side by side at the bottom of the slow cooker. You won't need the racks or pans for this recipe.

In a separate bowl, combine the remaining ingredients and mix well.

Pour over the raw chicken and set the slow cooker to cook on high for about 4 hours or on low for 7 hours.

Top with Sesame seeds and scallions (optional)
Nutrition facts are provided as a courtesy.

If you are looking for more Ninja Cooking Recipes, you  may want to check out this cookbook:  Ninja Cooking Easier, Healthier & better, Ninja Cooking System 75+ recipes