Candy Corn Bundt Cake
Are you ready for the fall and a little cooler weather?  I know I am.  I'm so ready for a pumpkin spiced latte and some pumpkin scones too.  School is about to start and I am being flooded with Halloween ideas on Pinterest.  Anyone else fall into a Pinterest coma about an hour before falling asleep for the night?  It's turned into a habit of mine.  One recipe that you have got to try this year is this Candy Corn Bundt cake.  It's absolutely beautiful to look at.  This is one of those recipes that is a no fail and very forgiving if you make a mistake too.  I love recipes like that.  Another thought is the frosting.  It's so easy the kids could do it.  It's amazing how a little bit of food coloring can give your cake that "wow" factor!
One of my favorite was to make this cake is in a heavy bundt pan.    It gives the crust a firm texture and really holds it shape.  I wished I could get my hands on one of those old cast iron bundt pans but they just don't make them anymore.  If you do find them, they are priced about $100+ and probably worth every penny.  I saw a vintage Wagner Ware bundt pan in great condition that was priced at $265!  That's a bit much for a bundt pan but I'm guessing that would be a collectors dream.
Based on Wiki:  A Bundt cake is a cake that is baked in a Bundt pan, shaping it into a distinctive ring shape. The shape is inspired by a traditional European cake known as Gugelhupf, but Bundt cakes are not generally associated with any single recipe. The style of mold in North America was popularized in the 1950s and 60s, after cookware manufacturer Nordic Ware trademarked the name "Bundt" and began producing Bundt pans from cast aluminum. Publicity from Pillsbury saw the cakes gain widespread popularity.
Interesting huh?!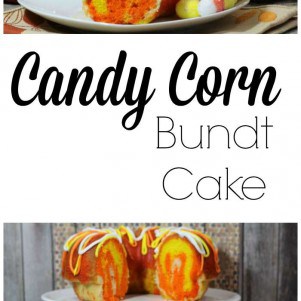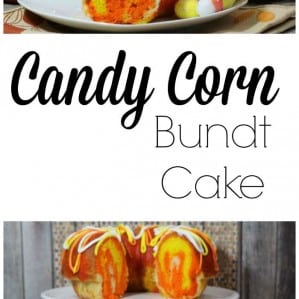 Candy Corn Bundt Cake
Ingredients
1/2

C

unsalted butter

room temp

2

egg whites

2

eggs

2

C

flour

1

tsp

baking powder

1/2

tsp

salt

1/4

baking soda

3/4

C

buttermilk

1 1/2

C

sugar

1

tsp

vanilla

Orange

and yellow gel food coloring

Frosting Ingredients:

1

C

soft unsalted butter

4

+ C powder sugar

4

TBSP

heavy whipping cream

Orange and yellow gel food coloring
Instructions
-Preheat oven to 350 degrees. Prep bundt cake pan.

-Sift flour, baking powder, salt, and baking soda together in a bowl.

-Beat butter on high for 30 seconds.

-Add sugar and vanilla extract to the butter until well combined.

-Add egg whites, one at a time, mixing after each.

-Add eggs, one at a time, mixing after each.

-Add 1/3 C flour mixture to the wet mixture followed by adding 1/3 C of the buttermilk; add 1/3 C flour mixture again then add 1/3 C buttermilk mix on low speed, add 1/3 C of flour and add the rest of 1/3 C of buttermilk mix in low speed until thoroughly blended.

-Divide the batter into three bowls.... add orange gel food coloring to one.... add yellow gel food coloring to the second and Leave the batter white in the third bowl.

-Spray the bundt pan with Pam spray.

-Begin by spooning in the white batter then the orange next then last the yellow batter on top.

-Bake the cake at 350 degrees for 30-35 minutes or until an inserted toothpick comes out clean.

-Allow the cake to cool in the pan for about 20 minutes then remove the cake from the Bundt pan and place on a wire rack until completely cooled.

Frosting Directions:

-Cream the butter and powder sugar until it looks light and creamy.

-If it doesn't cream add several drops of the heavy whipping cream until it creams. Once the frosting has the right consistency then divide it into 3 bowls.

-In two of the three bowls add several drops of gel food coloring. 1 st bowl add orange, 2nd bowl add yellow, 3rd bowl stays white. After each color addition stir well to mix the colors.

-When the colors are right, starting with the orange frosting using a spoon drizzle the frosting on the cake. Allow the orange frosting to dry. Next again using a pastry bag or a spoon drizzle the yellow frosting on the cake. Allow it to dry. Lastly, drizzle the white frosting on the cake and allow it to dry completely.
Nutrition facts are provided as a courtesy.