Pudding Filled Cupcakes
Check out our neat new recipe for some amazing Pudding Filled Cupcakes! If you're looking for a way to make your ordinary ol' cupcakes more interesting, then check out below how to make some amazing pudding filled cupcakes! If you like this recipe, be sure to check out some of our other great desserts! Like our Blue Velvet Cupcakes!
Need more cupcakes? Head over here and check out this great Betty Crocker Cupcakes Cookbook!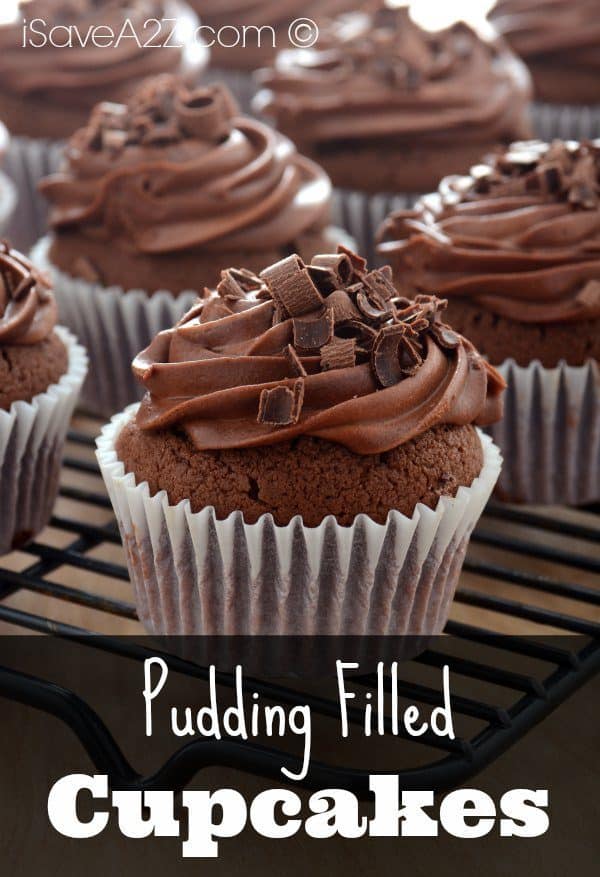 Pudding Filled Cupcakes
Instructions
Start with the pudding. Take a saucepan and combine the sugar, cornstarch, and cocoa powder over medium heat. Pulverize mixture with back of spoon and remove lumps. Stir in milk. Cook over medium heat until thickened, should be bubbly. Turn the heat down to medium low and pour some of the chocolate mixture into two beaten egg yolks, and pour the egg mixture back into the pan. Cook and stir for a few more minutes before turning off the heat to stir in the butter, salt, and vanilla. Transfer to a bowl and cover with plastic wrap. Allow to cool in the refrigerator.

Now to make the cupcakes. Preheat oven to 350 degrees F. Melt chocolate in microwave carefully. Take electric mixer and mix cream butter, white sugar, and brown sugar. Add your eggs along with baking soda to combine thoroughly. Add in the buttermilk slowly and combine until smooth. Fill muffin cups 3/4 of the way full with the bater and bake for 20-25 minutes. Cool cupcakes for 10 minutes. Cool completely and remove before frosting and filling.

Now to finish the cupcakes, cut out a cone shape on the top of the cupcake. This is where the pudding is placed. Fill with pudding, replace the top, and frost the tops.
Nutrition facts are provided as a courtesy.