Salted Caramels
Check out our amazing new recipe for our great Salted Caramels! If you have been looking for a good recipe for some nice salted caramels, then you can look no further! The recipe below will bring you through all the steps you need to make these desserts all on your own! Check out some of our other caramel recipes such as our Caramel Apple Cupcakes, or even our Caramel Cake!
If you love caramel and would love some more recipes, then check out this great cookbook for plenty of many different caramel recipes!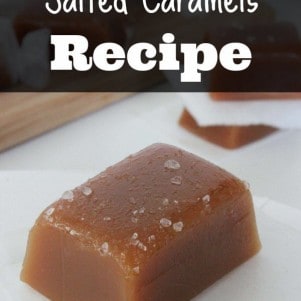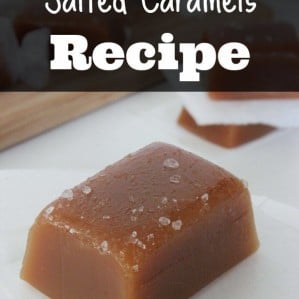 Salted Caramels
Instructions
Spray with non stick spray and line an 9x5 loaf dish with parchment so that excess paper comes up the sides.

Cut up butter into slices and combine with cream and microwave 1-2 minutes until butter is melted.

In the medium to large saucepan, combine the sugar, corn syrup, and water.

Stir just until the sugar is moistened and uniform, being careful not to splash sugar on sides.

Heat over medium heat until the mixture comes to a boil.

Cover with a lid for 1 minute (this helps wash any sugar on sides back in).

Remove lid and do not stir the after this point.

Place the pot with the sugar mixture over medium to medium-high heat.

Let the sugar syrup come to a boil without stirring.

Cook until mixture reaches 320, the syrup will begin to darken slightly.

Turn off the heat and slowly add the warm cream and butter mixture a little at a time while gently whisking (will bubble violently).

Turn burner back on to medium-high.

Let the caramel come to a boil and reach 240 without stirring.

Remove from heat and whisk in the vanilla.

Pour into the prepared pan.

Cool 20 to 30 minutes then scatter the salt over the caramel.

Let the caramel cool 4 hours.

Lift out of the pan using parchment paper and onto a cutting board.

If caramels are still too soft, refrigerate for 30 minutes.

Cut the caramels into candies with a very sharp knife.

Cut squares of wax paper a little larger than caramels.

Wrap each in the wax paper and twist the ends.
Nutrition facts are provided as a courtesy.