I just made some of the most amazing Homemade Keto Ice Cream flavors with my kids!  I love summertime when my kids are out of school!  We always have the best time!
I just purchased the Chef'n Sweet Instant Ice Cream tray and it works like a charm!  Basically, you pour your favorite ice cream ingredients onto the frozen tray and it freezes it within minutes!  We really enjoyed it!!  What a fun little gadget for a summertime treat that's sugar free!
Here's the best part…  each person can make their own ice cream with their favorite flavors!  We used this instant ice cream tray three times and it froze each serving!
We ended up making a strawberry version with fresh strawberries.  We also made a chocolate version too!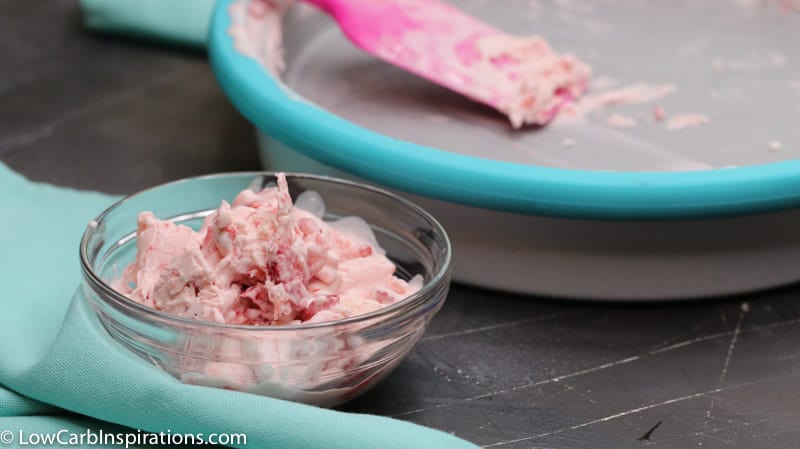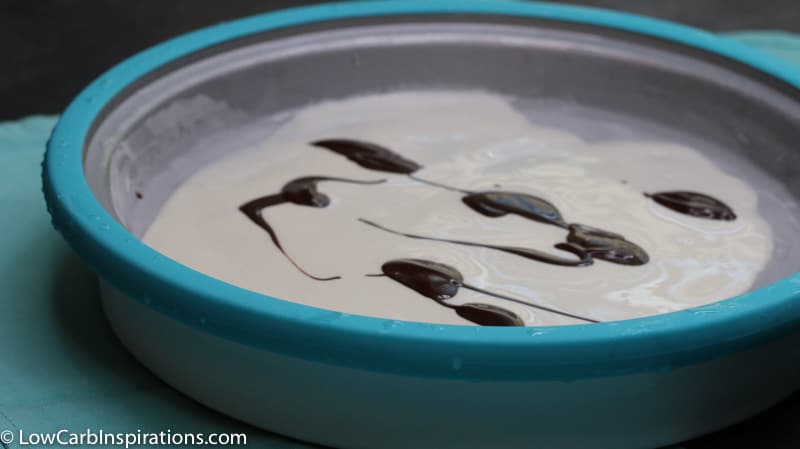 Homemade Keto Ice Cream Ingredients
Base Ice Cream Ingredients
1/2 cup coconut milk, unsweetened and full fat
1/4 tsp vanilla extract
1/2 tsp Lakanto Monkfruit sweeteners, confectioners blend
1 teaspoon coconut oil
pinch salt
pinch Xanthan Gum
Homemade Keto Ice Cream Instructions
1. Use a completely frozen  Chef'n Sweet Instant Ice Cream tray.
2.  Mix all the base ingredients in a small bowl first.
3.  Add your favorite extracts or syrups for flavor!  I only add 1 or 2 drops of Lorann oil extracts.  They are pretty powerful!  If I am using Jordan's Skinny Syrups for sweetness and flavor, I might add a teaspoon full or one pump.
Optional Base Cream Ingredients
You can substitute unsweetened coconut milk for any of these substitutes.  Just keep in mind the calories and carb count are different for each.  The nutrition label below is for the base ice cream ingredients listed above.
Almond Milk, Unsweetened
Heavy Cream
Cashew milk, Unsweetened
Heavy cream and water (1/2 and 1/2 measurements so the ice cream is not so rich and creamy)
Unsweetened Coconut milk and melted butter
Unsweetened Almond milk and melted butter
Heavy cream and unsweetened coconut milk
Heavy cream and unsweetened almond milk
Optional Topping Ingredients
Optional Keto Friendly Sweeteners
Feel free to use your favorite keto approved sweetener.  The amount will depend on your taste.
I like using any of these Keto Sweeteners:
Erythritol
Lakanto Monkfruit, Powdered
Lakanto Monkfruit liquid drops
Swerve, Confectioners powdered blend
Swerve Golden Blend,
Pyure All Purpose blend
Liquid stevia drops
ChocZero Syrups
Note:  I use Jordan's Skinny syrups to add sweetness to my coffee, tea, alcoholic beverages and even in Keto Ice Cream recipes like this!  They have never spiked my glucose and are a wonderful way to add sweetness to anything you desire!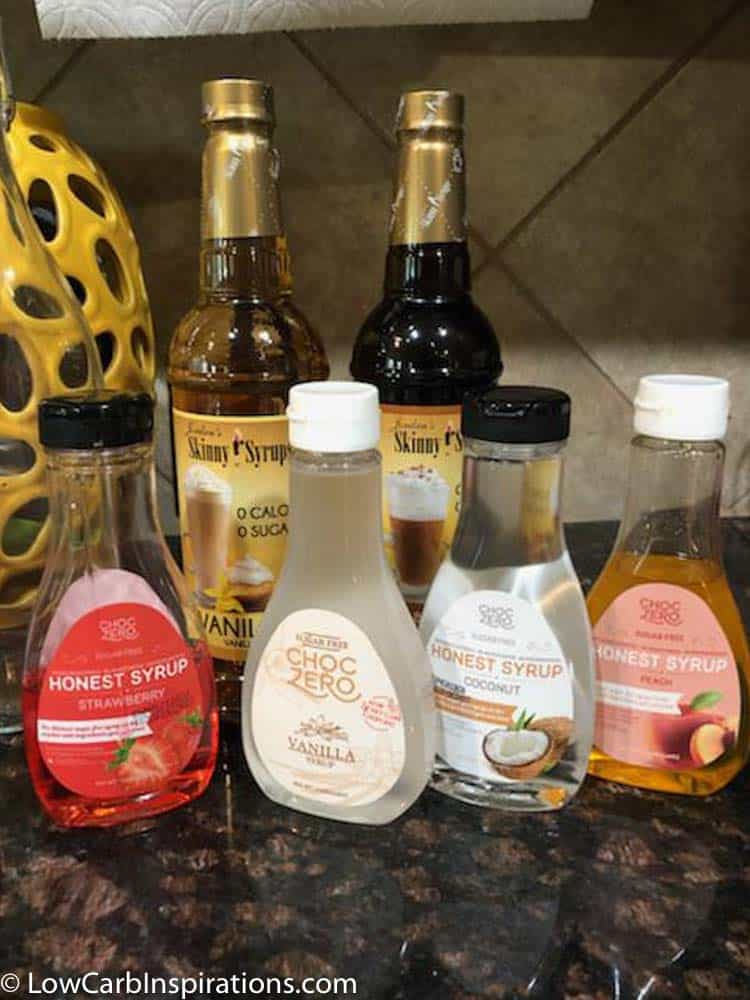 I am also in love with ChocZero Syrups too!  They have a ton of flavors!
Optional Extracts for Different Flavor Combinations
Lorann oils are perfect for adding flavors to ice cream!  We have tons of Lorann oils we use in lots of our baking recipes, ice cream recipes, and Keto syrup recipes!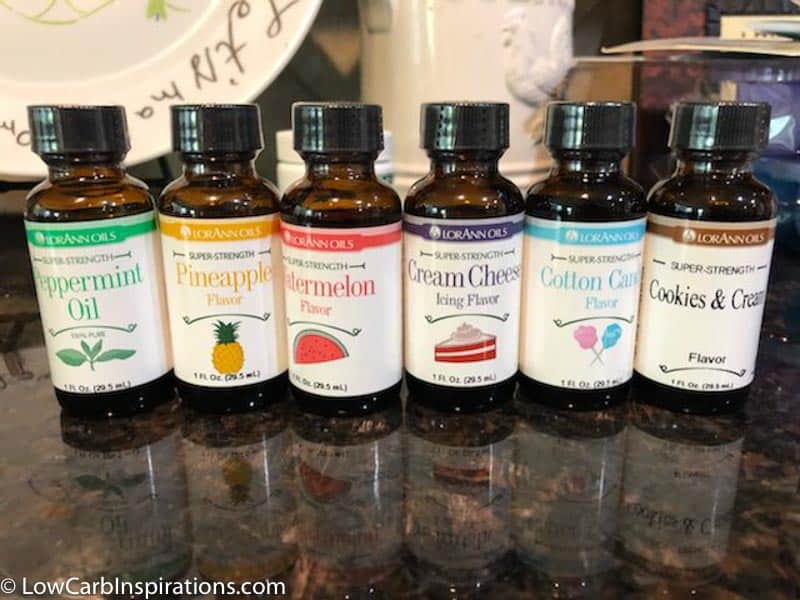 Optional Oils for the Base Ice Cream Recipe
Adding fat to this recipe gives a nice creamy texture and allows for the ice cream to roll smoothly.  If you choose to omit the fats, the ice cream may roll in a crumbly texture.
Coconut Oil
Coconut Butter
Coconut Manna
MCT Oil
Note:  The coconut oil, butter, and manna tend to overpower a lot of the flavors in this ice cream recipe.  You need to really like the coconut flavor to use these.
Chef'n Sweet Instant Ice Cream Tray Use Instructions.
1. You must freeze this tray 24 hours before use. After 24 hours, it does freeze multiple servings when you use it to make one serving after another. I don't know how long before this tray stops freezing or stops freezing the ice cream. We made 3 servings. I rinsed the tray and put it back in the freezer in between measuring out each serving ingredients.
2. To clean this tray, rinse it with warm water and completely dry it before placing it back in the freezer.
3. If you are adding fruit, do it after you pour the base layer of ice cream liquid on the tray. It's easier to combine the fruit once the ice cream has partially frozen.
Homemade Keto Ice Cream Nutrition Label
Serves 2
Calories 137, Total C 3.5g, Fiber 0.9g, Net C 2.6g, Sugars 1.1g, Fat 14.3g, Protein 1.1g