Easy Turkey Cupcakes Idea
Easy Turkey Cupcakes Idea
Check out this super cute and Easy Turkey Cupcakes Idea!  I have some amazing and crafty friends!  You should see my social news feed!  I am always in awe when I see some amazing work!  Today I am featuring my good friend, Yvette!  She is a dear friend and always willing to try crafty projects!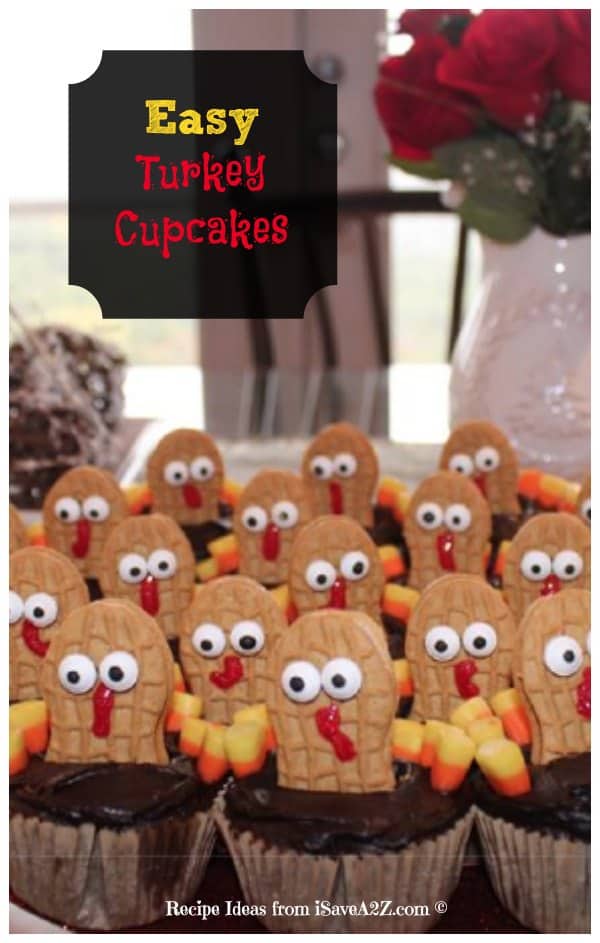 Here's what you need to make Easy Turkey Cupcakes:
Grab your Favorite box Chocolate Cake mix (from scratch would not make this an "easy" recipe)
Nutter Butter Cookies
Candy Corn
Chocolate Frosting
Cupcake wrappers (black, brown or clear preferred)
Directions for Easy Turkey Cupcakes:
Prepare your cupcakes based on the directions of the cake box.  I always prefer Devil's Food Cake mix so that's my go to for this recipe.  Let them cool before you begin to decorate them.  If you start too soon your frosting will melt and you will have a mess.  I would cool them for a few hours just to be safe.
While your cupcakes are cooling you can start to make the turkey's.  Place two small dabs of frosting (to be used as glue) on the top of the Nutter Butter cookie and place the Googly eyes on the frosting.  Use the red gel frosting to draw the nose on the turkey.  TIP:  Place them all on a cookie sheet to decorate them and place them in the freezer for a while (about 20 minutes or so) to help the frosting act like a glue.  This will create a hardening effect to help them stick and not drop down when you pick them up to place them inside the cupcake.
Next, Frost your cupcakes generously covering the complete cupcake.  Using a simple butter knife will do.  You don't need special tools for this part.
Be this time your Turkey heads should be nice and cold and ready to stick down in the center of the cupcake.
Lastly,  stick the candy corn candies pointed tip side down around the back of the head to create the turkey feathers.
Voila!  That's it!  Easy Turkey Cupcakes that are delicious and super fun for the kiddos!
Yvette did a great job, don't you think?!!  I do!  Thanks for sharing your project Yvette!  I love it!!!  Now let me see if she saved me one!  lol