Homemade Electrolyte Drink Recipe
Homemade Electrolyte Drink Recipe
Thank goodness for this Homemade Electrolyte Drink Recipe!! I've started the Ketogenic Diet and I have learned that electrolytes are mandatory for this way of life. It's not a suggestion. If I don't have this drink, I feel horrible and the scale doesn't move in the way I want it too! Seriously.
If you are new to the Ketogenic Diet (Keto Diet for short), here's a good explanation of how it works and how to start: Simple Way to Start the Ketogenic Diet
The Ketogenic diet "flushes" your system… You need salt to hold in some of the water to stay hydrated. I found this to be very confusing in the beginning. Your body will signal what it needs and soon you will know exactly what you are low on by those signals.
This is my morning drink. Sometimes I drink it twice a day. If I don't drink it, I get headaches.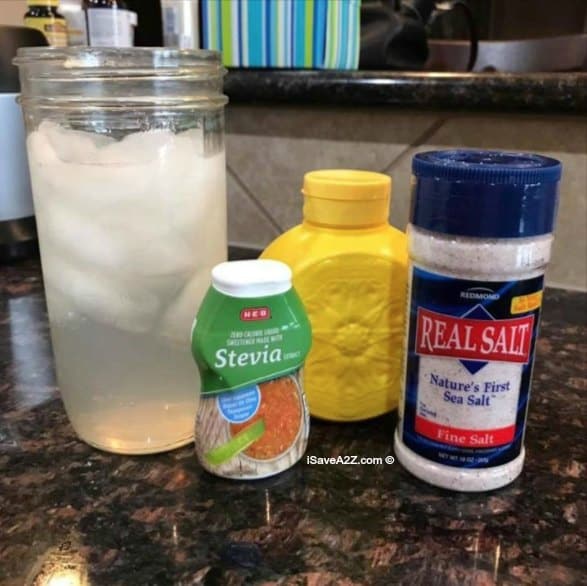 Homemade Electrolyte Drink Recipe Ingredients
1/4 teaspoon Himalayan
2 tablespoons lemon juice
1 squirt stevia
8 oz water
optional: NoSalt for potassium
For those of you doing the Beef and Butter Fast Challenge, be sure to add the NoSalt to this mix for potassium. It's extremely important to get your electrolytes when doing the Keto Diet or any really strict form of the Ketogenic diet. I would add a 1/4 to 1/2 teaspoon.
Did you know Himalayan salt has 84 trace minerals?!
Homemade Electrolyte Drink Recipe Instructions
Mix all the above ingredients with a cold glass of water.
I've been on the Ketogenic Diet (also called Keto Diet) for months now. This recipe is one I use often. I might even go as far to say that I can't live without it. I buy some really good lemon juice at Costco too.
Here are a few more suggestions to help you stay hydrated:
Pickle Juice
Bone Broth
Powerade Zero
Homemade Electrolyte Drink Recipe Nutrition
Serves 1 (1 cup)
Calories 7, Total C 3.1g, Fiber 0.1g, Net C 3g, Sugars 0.8g, Fat 0.1g, Protein 0.1g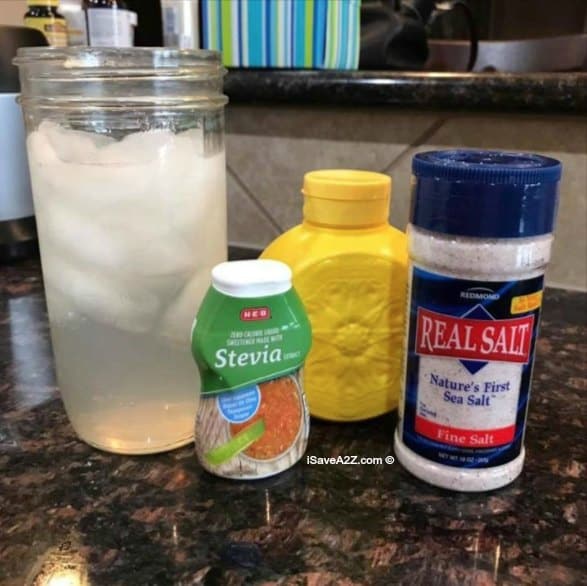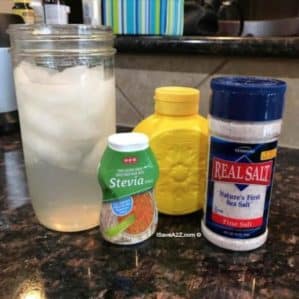 Homemade Electrolyte Drink
Instructions
Mix all ingredients together in a cup.
Nutrition
Serving:
1
cup
|
Calories:
7
|
Carbohydrates:
3.1
g
|
Protein:
0.1
g
|
Fat:
0.1
g
|
Fiber:
0.1
g
|
Sugar:
0.8
g
|
Net Carbs:
3
g
Nutrition facts are provided as a courtesy.
Be sure to pin it on Pinterest for later!