Pumpkin Cheesecake Parfait

Pumpkin Cheesecake Parfait
Check out this neat and amazing recipe for our fantastic Pumpkin Cheesecake Parfait! If you have been looking for some great pumpkin recipes for this fall, then you are in luck! The recipe below will bring you step by step into making the absolute best Pumpkin Cheesecake Parfait from your very own kitchen! If you're looking for more pumpkin recipes, check out our Spicy Pumpkin Soup, our Copycat Pumpkin Cream Cheese Muffins, our Copycat Pumpkin Spice Latte, or even our Copycat IHOP Pumpkin Pancakes recipe!
If these recipes are just the kinds of recipes that you have been looking for, then I have some good news for you! Check out this neat cookbook with even more pumpkin recipes that will sure to widen the variety of pumpkin foods for you and your family this fall! Be it for Thanksgiving, Halloween, or any other special occasion, you can't go wrong when you choose any of these great pumpkin recipes! If you love pumpkin, you should also check out our Homemade Pumpkin Pie Recipe!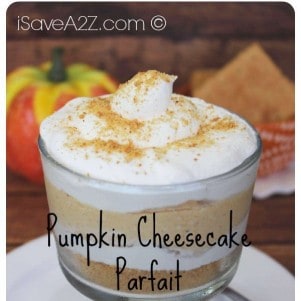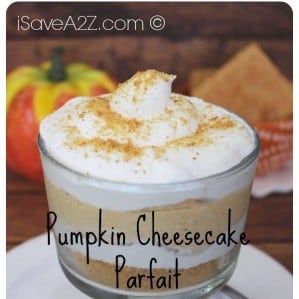 Pumpkin Cheesecake Parfait
Instructions
Pulse graham crackers in a food processor to crush.

In a large bowl, beat cream cheese until smooth.

Add pumpkin, vanilla, brown sugar and spices.

Beat until combined.

Fold in 8 oz of Cool Whip into the pumpkin mixture until blended.

Transfer mixture to a zippered bag and clip the corner for piping.

Transfer remaining Cool Whip to a zippered bag and clip the corner for piping.

Place a layer of crushed graham crackers in the bottom of each serving container.

Pipe alternating layers of whipped topping and pumpkin mixture into each serving.

Garnish top of each with a dusting of graham cracker crumbs.

Refrigerate for about an hour.
Nutrition facts are provided as a courtesy.