Easy Mango Peach Jam Recipe

Easy Mango Peach Jam Recipe
Wanna know how to spend quality time your kids?  All you have to do is promise to make them something delicious from their favorite fruit.   You have got to try your hand at this Easy Mango Peach Jam recipe for example!  My daughter loves peaches.  We have a huge peach tree in our front yard.  It's hard to keep her away from the tree until the peaches are ready.   She could hardly believe that we turned her peaches into a jam without going to the store.  There is something pretty special about homemade jams and jellies.  The make wonderful gift ideas around the holidays too.
I always enjoy making tons of different types of jam with my family. We often go out and pick our own fruits just to turn them into some delicious jam that we can use on a spread for our delicious homemade buttermilk biscuits! It's always fun spending quality time with the family, and this Mango Peach Jam is one of the best ways to do so! It's a family tradition of ours, that these buttermilk biscuits are made every Sunday! Usually with cast iron white gravy but not during peach season.  Such traditions make it super easy to get the family together.
If you fell in love with this recipe as much as I did, then you are in luck! You should definitely check out this huge and amazing cookbook filled with plenty of amazing jam, jelly, and other preservative recipes! With all of these great recipes, you will never run out of these great jam recipes to make your biscuits, and other foods that would go well with jam, interesting! Out of all of these flavors, which jam flavor is your favorite? What is your favorite thing to spread your jam onto? There are so many possibilities, so don't miss out!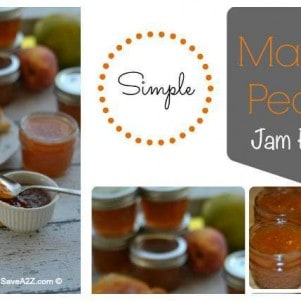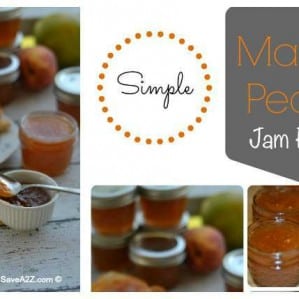 Mango Peach Jam
Instructions
Finely chop 2 cups of peaches removing pits.

Finely chop mango removing pits.

In a large sauce pan place both peaches and mangos. Add 1 cup of sugar and juice from 1 lemon. Over a medium heat let fruit cook for about 10-15 minutes. Once fruit comes to a boil add one package of fruit pectrin. Stir fruit so it does not stick. Continue cooking over a medium heat until sauce becomes thick.
Nutrition facts are provided as a courtesy.
Pin it here for later: