Pumpkin Chocolate Chip Cookies

Pumpkin Chocolate Chip Cookies
Check out our neat and absolutely delicious recipe for our Pumpkin Chocolate Chip Cookies! If you have been looking for some amazing pumpkin recipes for this fall, then you can look no further! The recipe below will bring you through all of the steps that you need to make in order to make these delicious Pumpkin Chocolate Chip Cookies! If you are looking for some other great pumpkin recipes, then you should be sure to check out our Spicy Pumpkin Soup, our Copycat Pumpkin Cream Cheese Muffins, our Copycat Pumpkin Spice Latte, or even our Copycat IHOP Pumpkin Pancakes recipe!
Are you ready for this fall? Not without some great pumpkin recipes, you're not! Check out this neat cookbook with more pumpkin recipes that will sure to widen the variety of pumpkin foods for you and your family this fall! Go check it out! Be it for Thanksgiving, Halloween, or any other special occasion, you can't go wrong when you choose any of these great pumpkin recipes! If you love pumpkin, you should also check out our Homemade Pumpkin Pie Recipe!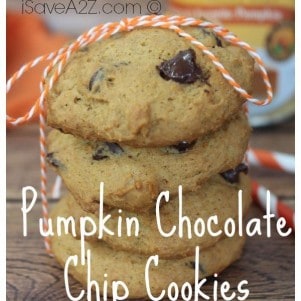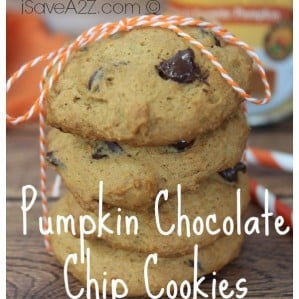 Pumpkin Chocolate Chip Cookies
Instructions
Beat together the butter, egg, brown sugar, sugar and vanilla.

Add pumpkin and beat until mixed.

Combine the flour, salt, baking powder, baking soda and pumpkin spice.

Combine wet and dry ingredients and mix together.

Add chocolate chips and stir until well distributed.

Chill the dough at least 1 hour.

Preheat oven to 350.

Line baking sheet with parchment paper.

Form dough into 1 1/2" balls and flatten to about 3/4" thick.

Bake for 8-10 minutes.

Press additional chocolate chips into the top of the cookies, if desired.

Allow the cookies to cool for at 10 minutes on the sheet before transferring to a cooling rack.
Nutrition facts are provided as a courtesy.