Vodka Martini Recipes: Creamsicle Martini, Raspberry Martini,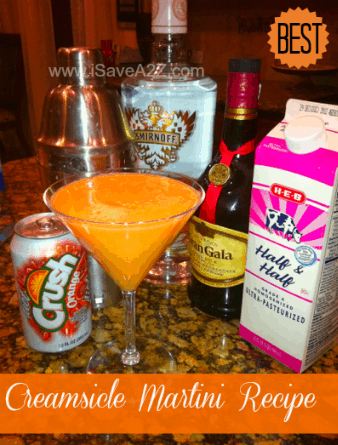 Vodka Martini Recipes
I have plenty of Vodka Martini Recipes.  If you are looking to try something a bit different, try the Creamsicle Martini Recipe.  Ever since Smirnoff came out with the Whipped Vodka, I've had a blast creating new recipes!  These have always been a big hit at the parties too!  With each Vodka martini drink you can Sugar the rim of the martini glass as an option.  Just use a bit of lime juice to the glass rim and dip it in a sugar plate.
Creamsicle Vodka Martini Recipe
1 oz Whipped Smirnoff Vodka
1 oz Triple Sec
1 oz half & half cream
6 oz Diet Crush Soda (You can use the regular but I always try and cut out the sugar when I can)
Raspberry Vodka Martini Recipe
1 oz Vodka
3/4 oz Raspberry Liqueur (sour or regular)
3 oz Cranberry juice (red)
lime wedge
2 raspberries
Vodka Martini Recipe
1 1/2 oz vodka
3/4 oz dry vermouth
Dirty Martini Recipe
3 oz vodka
1 oz dry vermouth
1/2 oz olive brine (extra dirty – add more olive brine)
These are just a few of my favorite Vodka Martini Recipes.  If you have a good Vodka Martini Recipe, please share it with me!  Leave a comment!  I love comments!
Enjoy!