Pretzel Turkeys
Check out our neat and amazing recipe for our adorable Pretzel Turkeys! If you have been looking for some different great Thanksgiving themed treats, then you can look no further! The recipe below will bring you through all of the steps you will need to take in order to make these super cute Pretzel Turkeys!
If you happened to like this recipe, then you should check out some of our other Thanksgiving treats! Such as our Turkey Krispie Treats, our Peeps Mini Turkeys, or even our Turkey Cupcakes! f you just so happen to bake sweets quite often, and you are looking for some new recipes to try, then this neat cookbook here might be of interest to you!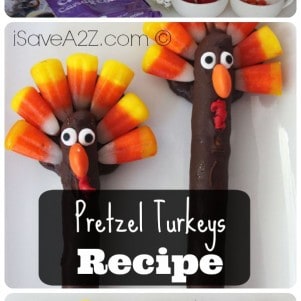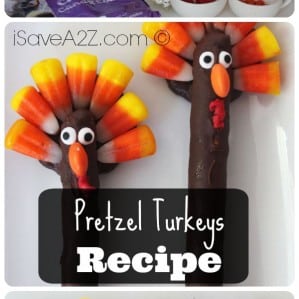 Pretzel Turkeys
Instructions
Lay cookies out on wax paper leaving room for pretzel rods to lay on top of each cookie without touching each other.

Using a spoon drizzle a little chocolate around on cookie to glue candy corn in place.

Heat Chocolate Chips in tall glass or cup by microwaving for 30 seconds stirring and repeating until melted. Allow to cool for 2-3 minutes.

Dip pretzel 2/3 way in melted chocolate and roll to coat completely. Shake off excess.

Lay on wax paper on top of cookie as shown in picture.

Place candy corn in fan shape on cookie around pretzel rod.

Place in refrigerator for 10 minutes to set candy mix.

Using a spoon place a little chocolate to "glue in place eyes and Reese's Piece on end for beak.

Place Red Candy Chips in corner of zippered sandwich bag and microwave for 45 seconds. Knead to make sure it is smooth and melted.

Clip corner of bag and pipe a waddle under the beak of each turkey.

Immediately place in refrigerator for 10 minutes to set candy mix.
Nutrition facts are provided as a courtesy.