No Bake Strawberry Angel Food Cake

No Bake Strawberry Angel Food Cake
Do you ever have those days where you just don't feel like being in the kitchen but you have already committed to bringing an amazing dessert somewhere?  Today was exactly this way for me.  This No Bake Strawberry Angel Food Cake is a total cheater recipe.  It gives an amazing presentation but I didn't do a fraction of the work!  Shhh!  No one has to know, right? 
No baking required!!! Perfect dessert for busy schedules!!
No Bake Strawberry Angel Food Cake Ingredients:
Angel food cake
Strawberry pie filing (2 cans)
1 large tub of whipped cream
Optional:  Fresh cut strawberries for the very top
No Bake Strawberry Angel Food Cake Directions:
Cut up a pre-made angel food from your local grocery store.  I cut them up into large bit sized chunks.
Layer ingredients with the strawberry pie filing, angel food cake and whipped cream.
Repeat the layers until the bowl is filled and all the ingredients are used.
Finish it with a dollop of whipped  cream and strawberries at the very top.
Refrigerate until you are ready to serve it!
Super easy right?!!
Feel free to pin it here for later:
It's obvious how we love no bake dessert ideas.  Here are a few more that are way too good to pass up:
Ice Cream Sandwich Cake Recipe – I made this recipe for my dad one year and he swore I special ordered his favorite cake from the bakery!  The best part about this cake is that you can make it with any flavors or toppings you love!  My baby loves Oreo cookies so we topped it with those and drizzled it with chocolate!  My friend loves chocolate and cherries so we used some Blue Bunny Chocolate lovers ice cream sandwiches and topped it with a can of the cherry pie filling!  Did you know they make cookies and cream ice cream sandwiches now?!  So many options!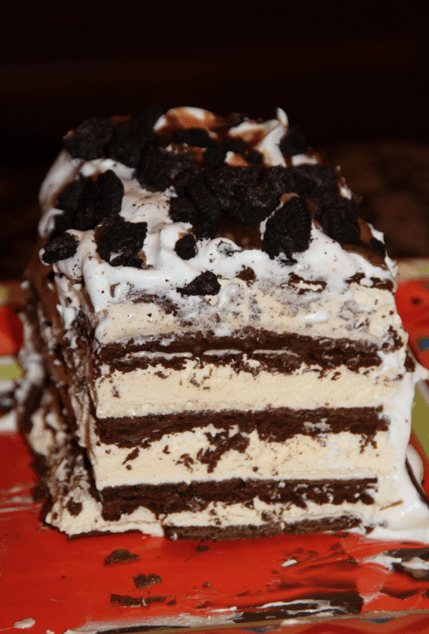 No Bake Watermelon Cake Recipe – this recipe is perfect for those counting calories.  It's still super fun like a cake but much better for you.  This recipe can even be made paleo friendly if you use the coconut whipped cream recipe that's included.