Simple Donut Recipe
How about a simple donut recipe that uses canned dough?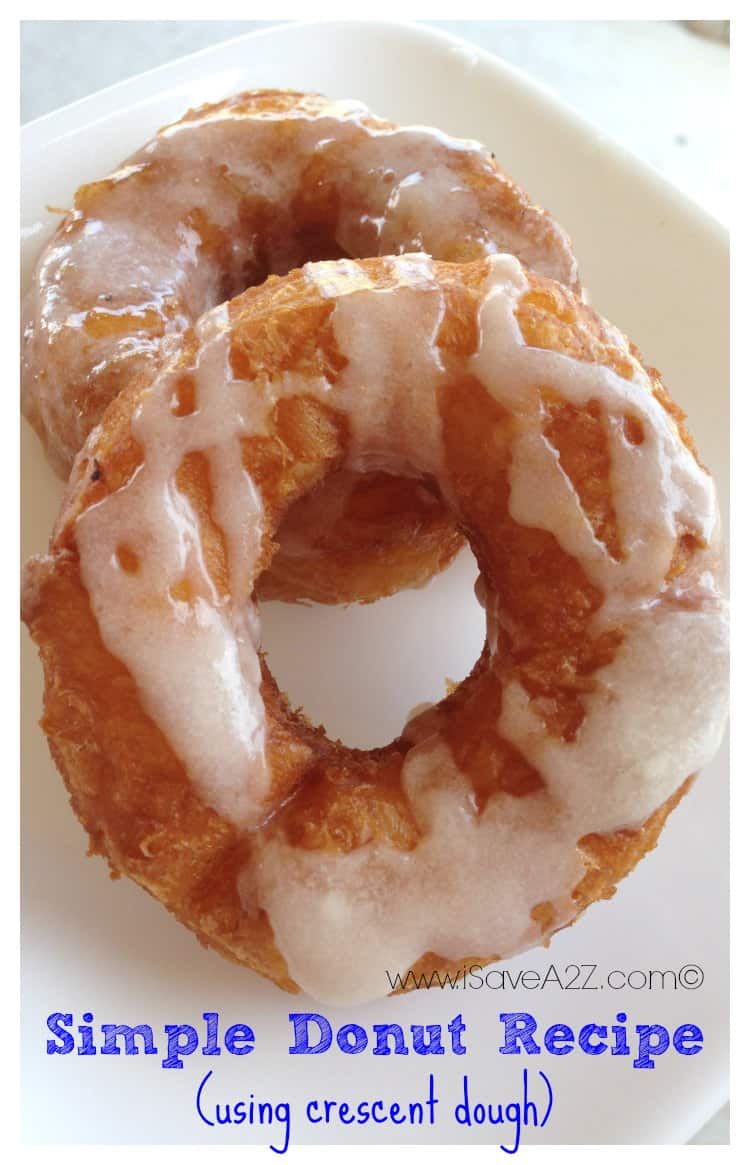 Imagine this…  it was late one night and we started talking about warm, fresh donuts.  You know the kind I'm talking about right?  The kind that come out hot off the line at Krispy Kreme donuts.  It was way too late to head out the door for a fresh donut.  Heck, they probably weren't even open, let alone hot now.
I gazed in the fridge and then gazed in the pantry and nothing looks as appealing as the taste of a fresh, hot donut.  As I looked back in the fridge I noticed I had some regular cans of biscuits and cans of crescent dough.  Hmmm…  I wonder if I could make a donut out of the canned dough varieties I had on hand.  I looked in the pantry again to make sure I had powdered sugar or even regular sugar.  If I had powdered sugar I could easily make a simple glaze topping and if I had regular sugar I could make a cinnamon coating fairly easily.
I filled a small sauce pan about 1/3 full with vegetable oil and started the heat on a medium temperature.  I broke open two different cans of dough.  I opened the buttermilk biscuits and the crescent rolls.  We grabbed a small circle cookie cutter and a larger circle cookie cutter to make our shapes.  The crescent dough comes pre-sliced into the crescent shapes so we pinched those back together and laid out the dough flat so we could cut out our donut shapes.  We also made a few heart shaped donuts too.  The kids had fun helping in this process.
Next we had one bowl with cinnamon and sugar and one with a simple glaze sauce.  To make the simple donut glaze we put about 1 cup of powdered sugar with a teaspoon of melted butter.  If the glaze is too thick, you can add more milk but add a little bit at a time until you get the exact consistency you need for the glaze.
By the time you cut out your shapes of dough and make the glaze, your cooking oil should be hot and ready to go.  Before we started cooking them we laid out our wire baking racks so the donuts would dry after they are done cooking.
We dropped a few donuts in the hot oil and flipped them after only about a minute.  Once they are golden brown on one side you need to flip them to cook on the other side.  How long you cook them will depend on how hot the oil is.  If you notice them get too brown too quickly, your heat may be too high.  Once they have a beautiful golden brown color on each side, they are done.  Place the on the wire baking racks to dry.  We immediately put glaze on top of them at this point.  If you are using the cinnamon sugar coating, you will want to coat them before they get placed on the rack.  I found that if you use a good pair of tongs just like these ones seen here on Amazon you can flip and dip the donuts very easily.
Those donuts barely got a chance to cool before everyone jumped in to grab one.  They were going faster than I could make them!  I have to say a fresh, hot donut is absolutely amazing!
I tried both the regular canned biscuit dough and the crescent dough and I actually prefer the crescent dough.  Don't get me wrong, both tasted pretty good but the crescent dough donuts had a lighter taste.
If you ever have a late night craving for donuts this is a perfect recipe to try.