Easy Macaron Recipe
Check out our new and Easy Macaron Recipe! If you've every wanted to try, or learn how to make these adorable little desserts, this recipe is the most basic way to make these for yourself! Not only are these macarons super cute, but they can also make to be a fancy dessert for a party or special occasion!
Making Macarons
I know I've always wanted to try these out, now you can too! If you liked this recipe, we have plenty more delicious desserts here on our site! Check out some of the favorites! Like our Simple Donut Recipe, our Chocolate Chip Pudding Cookies, and even our Strawberry Mousse Pie!
How to Change Colors of Macarons
Pro Tip!: If you want to change the color of your macaron, mix in the paste food coloring (not the liquid; less is more!) in with the egg whites!
UPDATE:  I just have to share with you a new product that just hit the market!!  I found a fun French Macaron Kit on Amazon here!  These mats have a slightly raised edge for each macaron which helps to make them uniform in size.  I used to have a mat with circles on it but this raised edge is extremely helpful!!  It also has a fun piping tool to help squeeze the batter out for each Macaron.  How cool is that?!!!  I figured if anyone was in the market for a French Macaron Kit they would want to know about the latest and best tools available.
Enjoy!
How To Make Macarons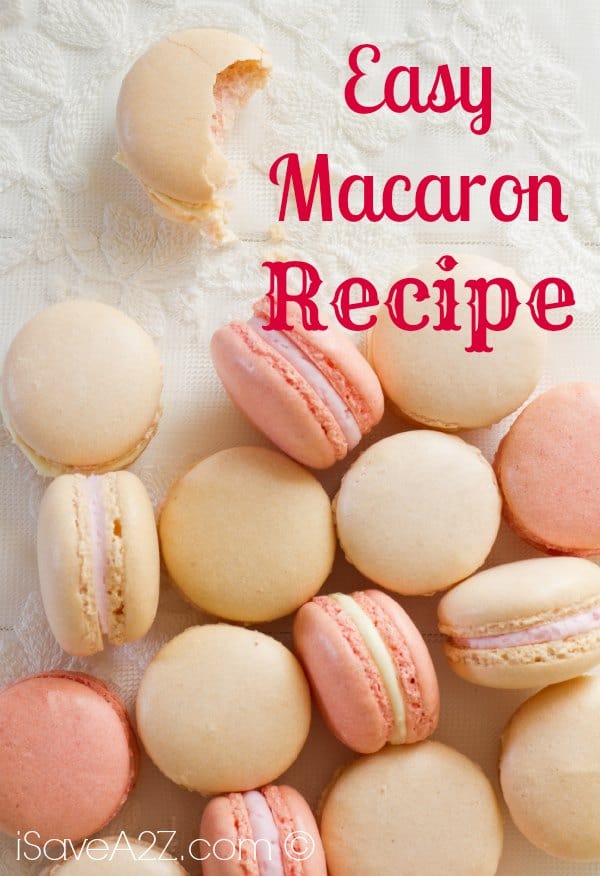 Easy Macaron Recipe
Instructions
Preheat the oven to 320F or 300F for a fan oven.

Sieve icing sugar before the ground almonds, into a bowl and mix together carefully.

In a separate bowl, whisk the salt and egg whites until soft. Add the fine sugar a little at a time. Continue to whisk until glossy and thick. Stir in the sugar / almond mix.

Use a piping bag with a 1cm nozzle and fill with macaron mixture. Place a silicon mat onto a baking sheet. Use the piping bag to form small blobs on the sheet.

Tap the side of the baking sheet to help the mixture lose air bubbles. Leave to dry for 20 mins. It will become shiny.

Bake macarons for 7-8 mins then open the oven to release steam. Close and cook for another 7-8 mins. They are fully cooked when they are firm.

Slide mat onto a wire rack to cool completely. They break easily if not completely cooled.

Make the filling:

Take the softened butter and beat it until it is fluffy, then add the icing sugar and continue to beat it. Beat in any other flavorings you choose here.

Place 1/2 tsp of filling on flat side of one macaron, and place it together with another like a sandwich. Twist slightly to bond the two.

Macarons can be eaten immediately but are best after put in the refrigerator for 24 hours.
Do you want to try this easy macaron recipe?