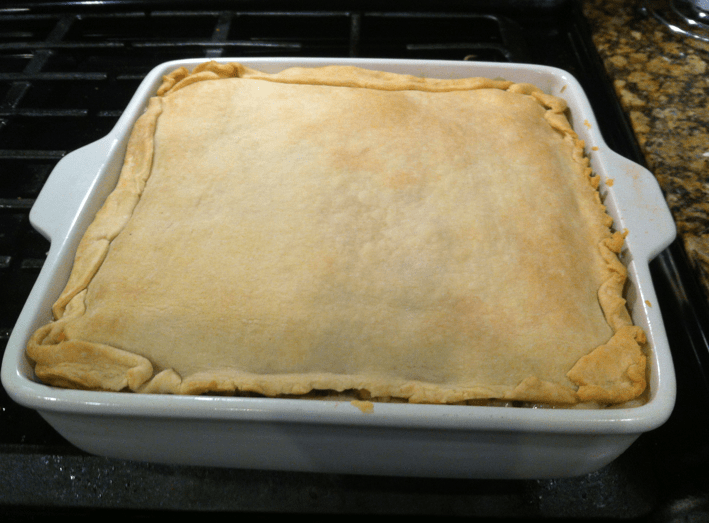 Easy Pot Pie Recipe
If you like Pot Pie, then you will LOVE this Easy Pot Pie Recipe I have for you!  This has become a weekly favorite in our home!  I love it for three different reasons.  First, because  super yummy!  Second, because it's super easy!  And lastly, because I can make it with leftover meats I have.  Folks, it just doesn't get any easier than this unless you are ordering out!
In fact, I only make this when I have more than enough meat left over and something different needs to be done with it and I never have the same tasting pot pie because it's always different depending on what is left over.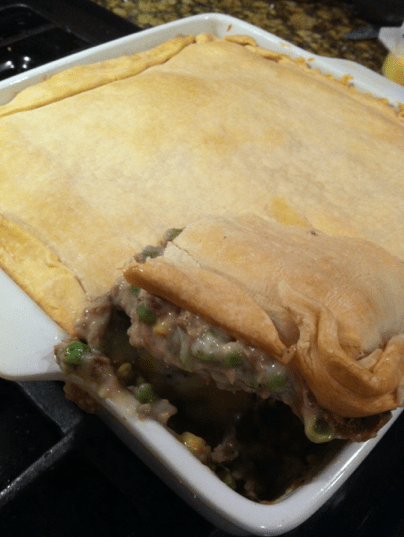 Here are some yummy Pot Pie Combos I've made before:
Chicken with Cream of Chicken soup, Peas, carrots with cheddar cheese
Sausage with Cream of Potato soup, California mixed veggies, black beans and mozzarella cheese
Hamburger with Cream of Mushroom soup, Corn, Peas, Carrots and monterey jack cheese
Brisket with Cream of Celery Soup, Corn, Peas and Cheddar cheese
And those are just to name a few…  Let's just say, I haven't made  a combination that my family didn't love!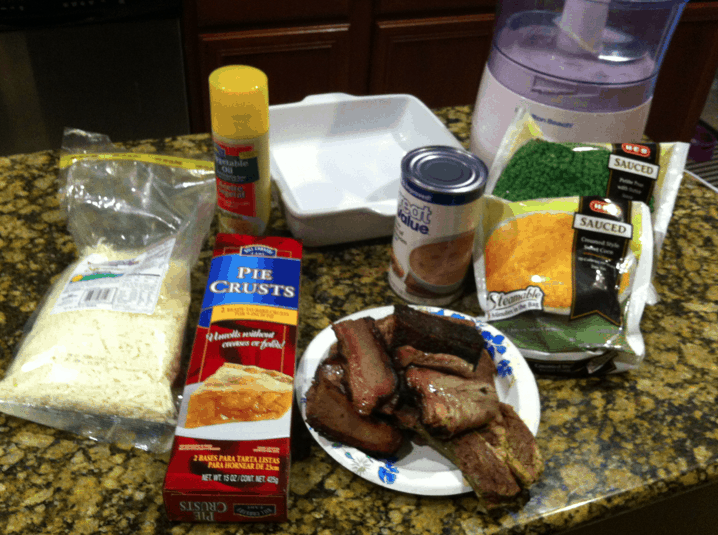 Prep Time: 5 minutes
Cook Time: 45 minutes
Ingredients needed for this Easy Pot Pie Recipe:
1 large can of Soup (or two small cans)  I've used Cream of Mushroom, Cream of Chicken or Cream of Potatoe (just add the soup, no water or milk)
1 large bag of frozen veggies (any kind you like) or 3 cans of your favorite veggies, drained
Any Meat product you have left over will do.  (I've used left over bbq brisket, steak, chicken, turkey, hamburger, sausage)
Rolled Pie Crust found in the refrigerated section of your local grocery store
Shredded Cheese (any kind you like) Optional
Spray Cooking oil
Directions:
Preheat the oven to 350 degrees F
Dice your meats (I use a food processor for this part)  In this recipe I used left over steak and brisket
In a medium sized bowl, combine your soup, frozen or canned veggies and meats.  (there is no need to thaw the veggies)
Next, spray the bottom of your pan (you can use a pie pan or a baking dish) and unroll the pie crust.  My pan was square so I spread out the crust at the bottom and tore off the sides and added them in the corners since the pie crust is round.
Add your mixture
Sprinkle with shredded cheese
Unroll your top pie crust and cover the mixture
Spray the top of the pie crust with the cooking oil.
Bake for 45 minutes or until the top is golden brown and Voila!  You're done!
I would let it set for about 10 minutes to cool (however this never happens in my house, lol)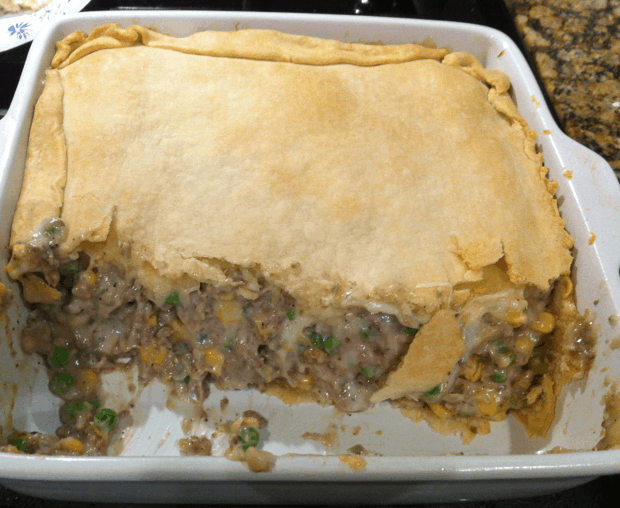 NOTE:  If you are using left over meats they are probably already seasoned.  If you not using left over meats be sure to add some salt and pepper to taste.
Here's another one I just made with Potato Soup, left over ham, vegetables and cheese!  It was so good!  I love that you can make this meal taste completely different every single time you make it!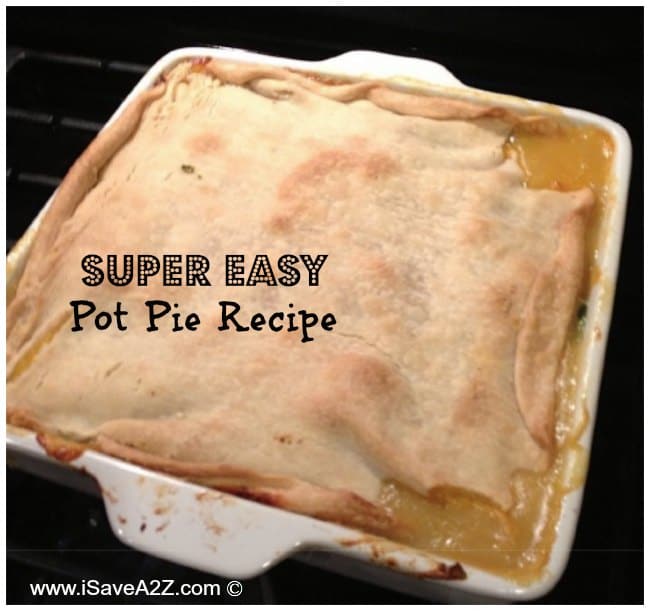 See,  I told you that was an Easy Pot Pie Recipe!
Enjoy!  Please report back if you plan to try this one!  I bet it will become a weekly favorite in your home too!