Cast Iron Skillet Chocolate Chip Cookie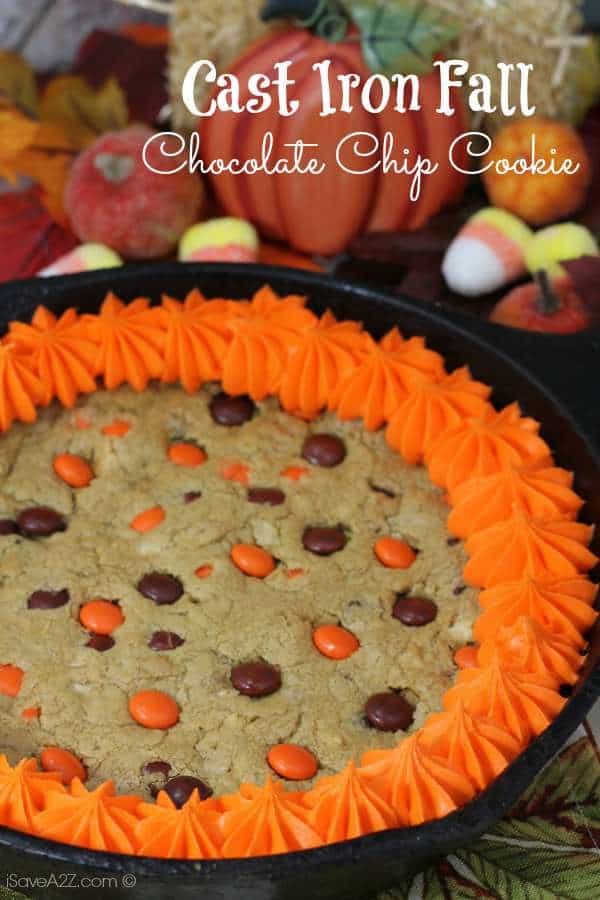 Fall is in the air already!  I'm so excited for all things in warm, soft tone colors with pretty desserts that follow.  We decided to start it off with a beautiful Cast Iron Skillet Chocolate Chip Cookie.  Sure, you can make this cookie in any cookie sheet pan but the cast iron skillet gives this cookie a crust that you will not soon forget.  You thought I was kidding when I said I have a new found love for my cast iron skillet pan set didn't you?  Be sure to stay tuned too.  I've got some really good dutch oven recipes coming up this month.
Speaking of cast iron skillets, cleaning them has been a learning experience for the whole family.  This cookie was not an issue at all but I made fried chicken for dinner and had to run out the door soon after.  My daughter, who had never cleaned a cast iron skillet before, set the pan in the sink and started to soak it with water.  She thought she was doing me a favor.  Bless her heart.  When I got back home late that even, I saw the pan at the bottom of my beautiful porcelain sink soaking in soap and water.  I immediately grabbed the pan out of the water and saw the biggest rust ring that had formed on my sink.  I tried alm0st everything to clean it.  I tried bleach, scrubbing pad, CLR cleaner but nothing had worked.  How could a rust stain be so darn stubborn.  This is when I learned about Bar Keeper's Friend.  There's a liquid type and a powder type.  I have friends that swear by this stuff so I bought them both.  Guess what, the powder can took the rust stain off with very little effort at all.  The liquid type did not work as well as the powder.  I created a thick paste to help scrub the area and voila! it's came right off!  I felt the need to share this story because cleaning these pans can be a pain in the butt if you don't know what you are going especially if there is food that has stuck to the bottom of the pan.  I thanked my daughter for attempting to help me but I also explained to her that all you have to do is put a little bit of water in the bottom of the pan, leave it on the stove to heat up a bit and the crust (or whatever is stuck on the bottom of the pan) will come right off with very little effort.  I also taught her how to season the pan again after she washes it.  It may seem like a bit of a process but it's so worth it.  These pans only get better with age and they will last more than a lifetime.
Frosting Tip:  I gave you the full homemade version for the orange frosting.  You can save a bit of time if you need by purchasing some icing that is already prepared the color you need.  Check out this set of Wilton icings on Amazon.  They also have the Wilton tips that screw onto them to make the decorative edge too.
Cookie Tip:  This recipe can be a super simple one by buying the pre-made cookie dough in the refrigerator section of your local grocery store too.  I sometimes do this when I have my daughters friends stay the night.  The love to create a beautiful cookie design but they love to eat it more.
Remember, you can change up the colors of this cookie for any occasion too.  Just think of the red, white and blue candies and frosting color for the 4th of July!  Or think of red, green and white for Christmas.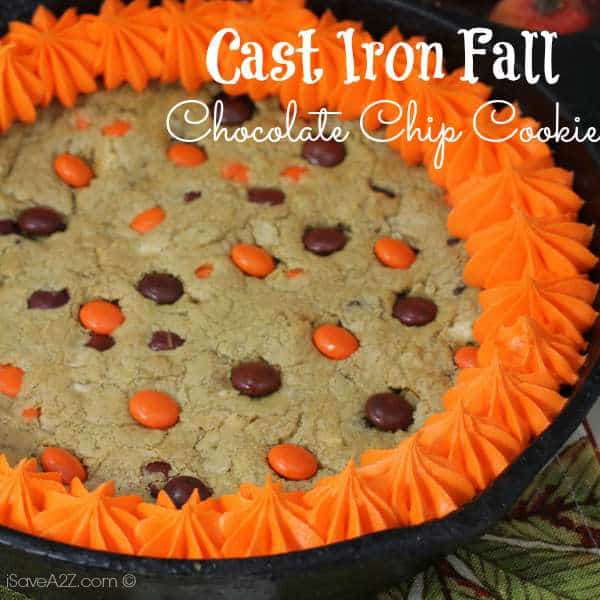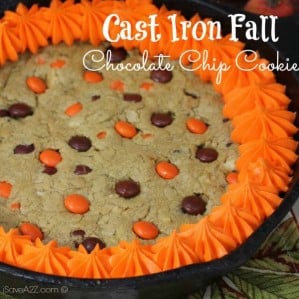 Cast Iron Skillet Chocolate Chip Cookie
Ingredients
Cookie Ingredients:

2 1/4

C

flour

1

tsp

baking soda

1

tsp

salt

1

cup

unsalted butter

room temp

3/4

C

sugar

3/4

C

packed light brown sugar

1

tsp

vanilla

2

eggs

room temp

1

C

semi sweet chocolate morsels

1

C

white chocolate morsels

1

C

Reese's pieces

orange & black

Frosting Ingredients:

1

C

soft unsalted butter

4

+ C powder sugar

4

TBSP

heavy whipping cream

Orange gel food coloring
Instructions
Cookie Directions:

-Preheat oven at 350 degrees. Treat cast iron skillet with baking spray.

- Add flour, baking soda, and salt in a bowl. Set aside.

-Put unsalted butter in a mixing bowl. Add both sugars and vanilla beating until creamy.

-Add in one egg at a time, beating after each addition.

-Slowly add the flour mixture 1/3 at a time until thoroughly combined.

-Add the semi- sweet and white chocolate morsels to the batter.

-Spread the batter into the skillet until it is even.

-Sprinkle the orange and black Reese's pieces on top of the raw cookie.

-Bake at 350 degrees for 30-40 minutes or until an inserted toothpick comes out clean.

-Remove from oven to allow to cool completely.

Frosting Directions:

-Cream the butter and powder sugar until it looks light and creamy.

-If it doesn't cream add several drops of the heavy whipping cream until it creams.

-Add several drops of orange gel food coloring. Mix well to blend the color throughout the frosting.

-Test to see if the frosting can form and hold a stiff peak by taking a spoonful of frosting and turning the spoon upside down. If the frosting stays on the spoon it is ready if not then....

- Add more powder sugar 1/2 C at a time.... mix well.

-If ready scoop the frosting into a pastry bag with a star tip.

-Twist the open end of the pastry bag to push the frosting to the tip

adding last touch to the cookie:

-Holding the frosting bag with tip straight up add the orange frosting by following the outline of the skillet to the edge of the cookie.
Nutrition facts are provided as a courtesy.